I want to thank everyone for their kind words of encouragement from my previous post. It is daunting to put such private thoughts and feelings out there like that and it was amazing to have so many people comment, email or Facebook (is that a word?) me. I am not a lone and I now have some new coping skills to add to my arsenal. Thank you from the bottom of my heart!
Am I better? No. Will I be? Yes. Will there continue to be ups and downs? Of course. Such is life and such is the battle with GAD and major depressive disorder.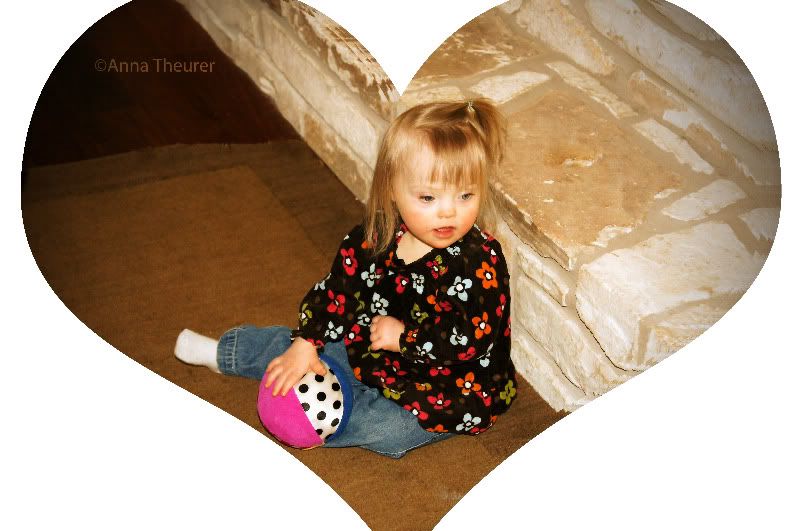 Ellie Heart's-A-Lot Bear
There is nothing like a little photography therapy to soothe the soul.
Two bones. Which one will Sophie choose? And it goes to the Red bone.
Ellie: "Oh please bring the bone to me. Oooh ooh please, bring it to me so that I may taste and then throw it for you. Then you can bring it back to me. I will drop the bone for you again and then you can get it and give it back to me. Please. Please."

I recently downloaded a trial of Photoshop Elements. Tips would be much appreciated. I do not think of myself a professional photographer by any means. I just really enjoy taking photos and it is even more exciting when you have an excellent subject such as my daughter or my darling furbabies (Tama excluded as she loathes the camera). Looking into Ellie's Baby Blues (and well Sophie dog's puppy eyes with her little ear quirked up for that matter) make me melt into a puddle of mommy mush.
Anyway, I am enjoying all of the editing features of Photoshop (when I can manipulate the tools they way I want to), but I find the Organizer difficult to use as well as trying to upload to photobucket. I found myself moving the photos into the Mac's iPhoto, which is what I was using previously. Then moving them to my desktop and then to photobucket. As it turns out, after much wasted time and tons of frustration (so much for soothing my soul) I was not saving them into JPEG mode. Oops. I have lost some photos and had other editing issues which makes me want to beat my head against a wall. Frustration partially undoes the happy, warm, and fuzzy feeling created when taking the photos. Ack! It seems like I have a lot to learn and a lot of tutorials to view. Thus far, I believe I like the editing in Photoshop, but love the organization of iPhoto. Plus I am now trying to use Photobucket to upload onto the blog as I have *gasp* run out of free storage space with blogger/google/picasa (they are all the same--photos saved to picasa).
So please bear with me while I try to figure out all of these photo options.
Hum. I think that I will try to stand up from this step. Let me just throw my water down. It is all good. Sophie dog is here to watch me.
Look! Look! Look at that!
I stood up all by myself and I cannot figure out why Mama is crying.
Perhaps I should try to go to her.


In case anyone was wondering, we survived the BIG snowstorm of 2011. I chuckle a bit as I say this as I am not a native Austinite. I come from the land of St. Louis and Philadelphia where there is snow during the winter. Where it is cold during the winter. Where people have snow scrapers, coats, snow boots, and shovels. In Austin, we consider 50 degrees cold I do not even think we have snow plows. A half-inch of snow shut down restaurants, schools, and Ellie's gastroenterologist's office so I still do not have the results from the Upper GI. The following day, it reach 70 degrees and there were no longer signs of snow. Houston and Corpus, I hope that you guys are okay.
Off to bake cookies and figure out which team I feel like rooting for in tonight's Super Bowl game.