*These are all cell phone pics. I apologize of the poor quality.
This is what we have been up to.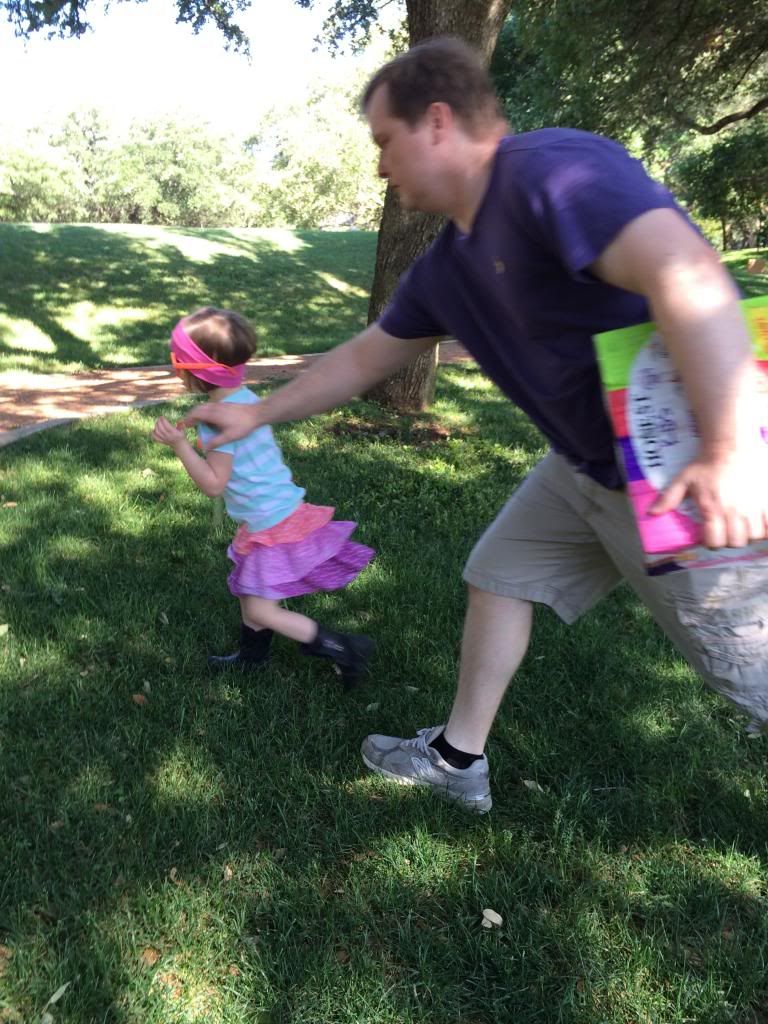 Actually, the above is a daily theme. Run Chicka Boom run!
I have neglected this blog for the past few weeks, but I have a great excuse. VACATION! A WEDDING! My husband, Ellie and I flew into Chicago and then drove a very long time to Stoughton, WI where were shared a "cabin" with my parents off Lake Kegonsa. We stayed there for 5 nights with my brother and his fiancé stopping in for grilling, winery tours, and pure relaxation.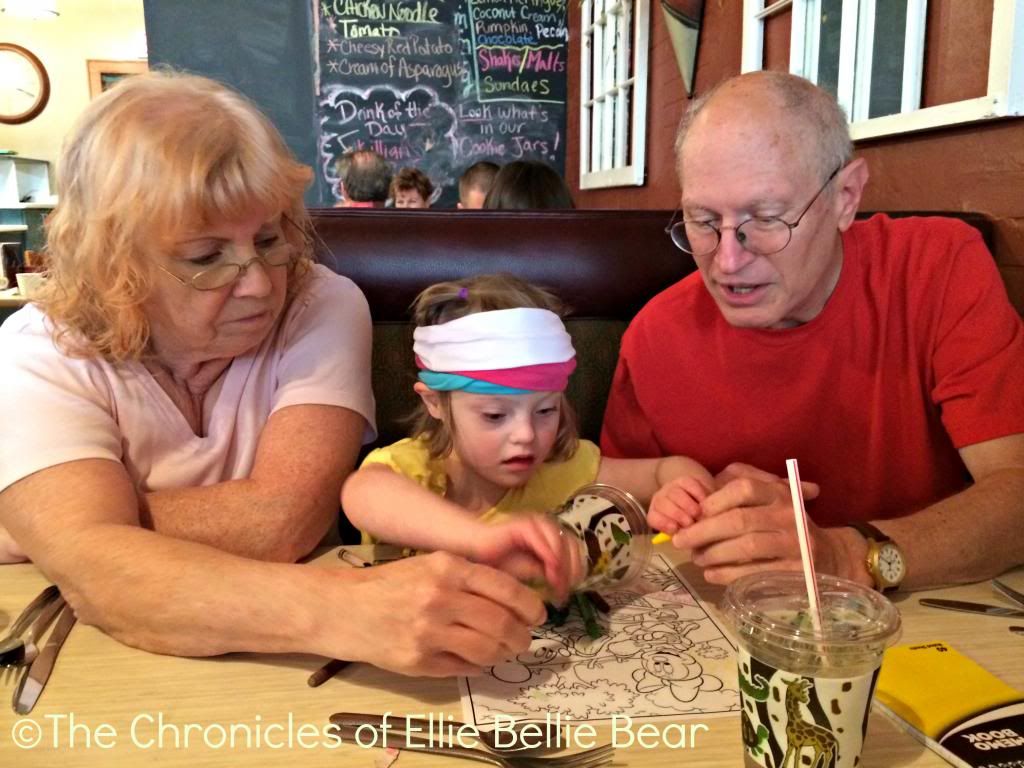 My parents with Ellie. Bear has style with all those headbands.
The Koffee Kup. Yummy pancakes.
Over the weekend, we all caravanned to Rockford, Ill for Matt and Amber to tie the knot. I was the Matron of Honor :-) Ellie was the Flower Girl. I know what you are thinking. . . Ellie was beautiful. She was a stinker. Did she actually go down the aisle?
Even though girlfriend is nearly 5 years-old, she is developmentally hanging out around 2.5-3 yo level. Perfect tantrum age. Contrariness. Attitude. Thirty-pounds of dead weight when pulling the Boneless Toddler Drop.
The rehearsal was quite interesting. I was to walk Ellie down the aisle. Come on! You didn't actually think we were going to let her walk by herself, did you?! She did the diva walk and then threw herself onto the altar. She would not get off the altar. She screamed because all the bridesmaids and groomsmen were on the altar. She wanted to climb on the minister and call him "dada".
The decision was made that Andrew would physically pick her up at the end of the aisle and then take her outside for the ceremony.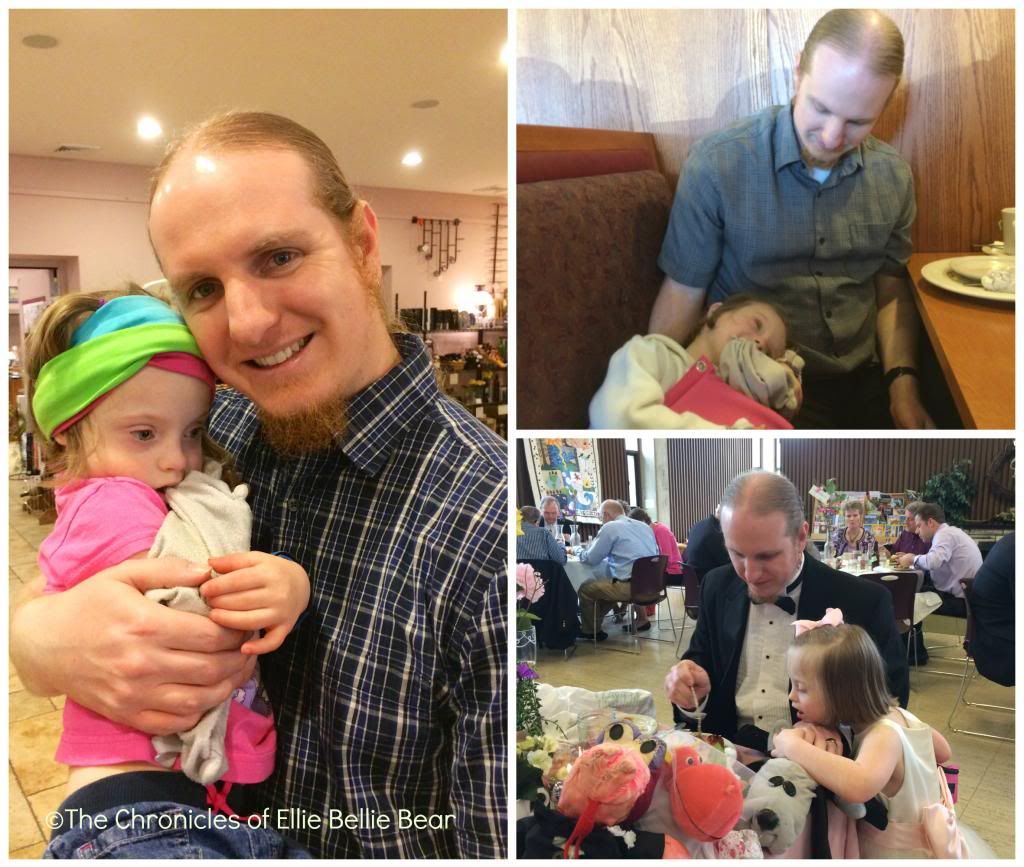 Ellie's favorite person: my brother Matt. Ellie actually has Matt's eyes.
Surprisingly, Bear was a rockstar at the rehearsal dinner. She SAT and colored. Well, she sat at a completely different table by herself and colored. Miss Independent.
I got attacked by a nerf gun. Thanks, John L!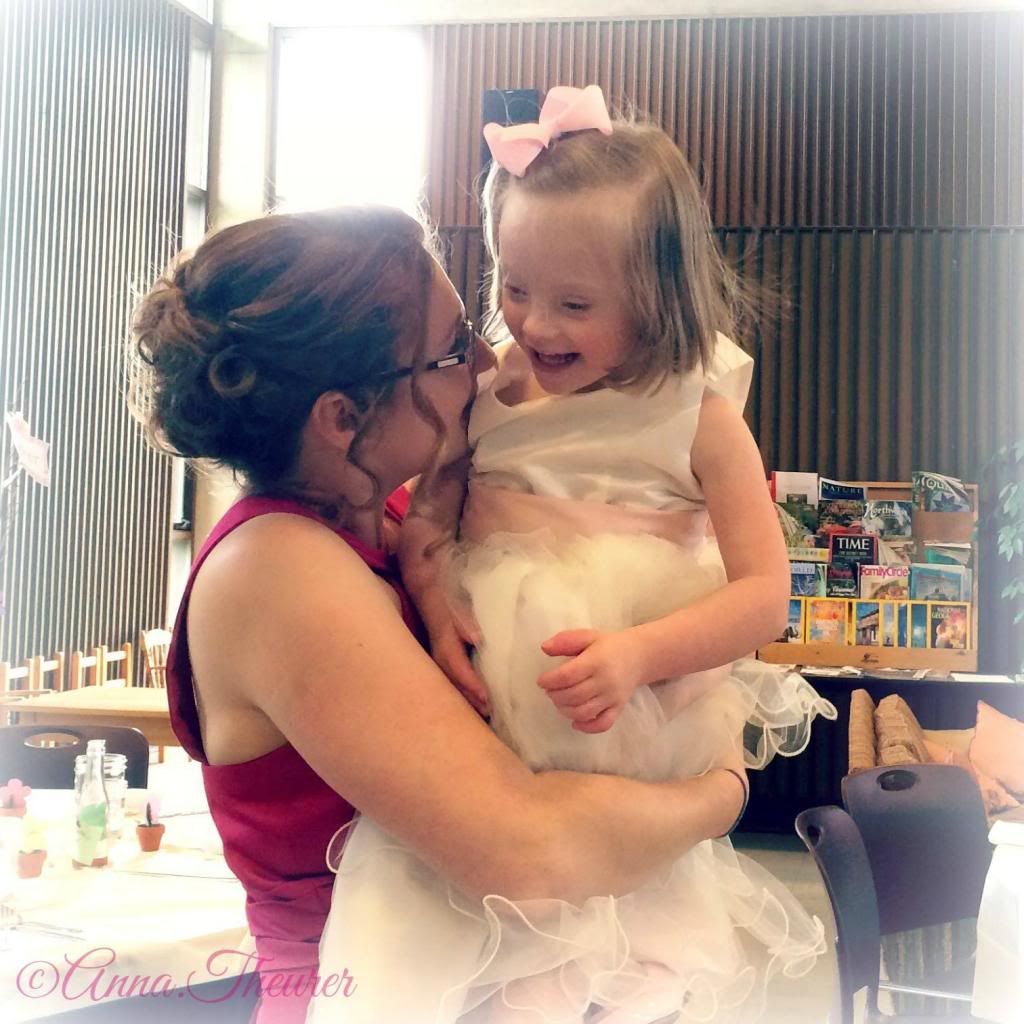 The Wedding:
I cried. A lot. I cried when Amber was getting her hair done. Then teared up while the woman was doing her make-up. I about lost it while standing on the altar during the ceremony. Amber was so beautiful (I forgot to ask permission to share her photo so maybe you will get to see her in the future!). My brother looked positively smitten when he got that first glimpse of her.
There was a jacuzzi tub in our hotel room. Ellie thought it was a playscape and
kept moving her toys in there.
As for Ellie. Oh Ellie Ellie Ellie. We had been dealing with some GI issues for a while now. She decided to pull the opposite problem on the day of the wedding. Andrew got to the church late because she needed and emergency bath. I am so thankful it happened before she was in her dress. Ellie did NOT want to wear her wings. She did not want to line up with me. She wanted to run full throttle down the aisle before everyone. She screamed. She went boneless. I am certain the whole church heard her. Just before it was our turn, I plunked those wings on her and marched her down the aisle. She was lovely and went right to Andrew. No shenanigans.
Sorry it is so blurry but you see the wings! Do you see her WALKING nicely?
Girlfriend colored the whole time at the reception while stuffing her face with cookies and held off the second need for a bath until after the reception. Poor Andrew got stuck scrubbing the floors of the hotel room with a towel and bar soap because someone tried to change her own diaper.
The Lavatory Situation:
Our trip home when like clock-work for the most part. I would like to mention that we flew on American Airlines. We had to wait 30 minutes to board our plane due to a "lavatory situation". When I texted my mom, she though we were talking about Ellie. No, this was not Ellie. In between each flight, the fecal matter from the lavatories on the plane are pumped out. Someone pumped it INTO the plane. As in the bathroom on the plane flooded with urine and feces. The supposedly "deep" cleaned it but it stank to high heaven the entire flight. Everyone was gagging and complaining. We felt so filthy that we had to have "emergency" showers upon getting home. Did I mention this was American Airlines? You think that I would learn after last year's debacle.
Moving on! Ellie Bear has a wicked sense of style. I mean, why wear one of something when you can wear 3 or 4 or 5?
Headbands have become quite the in-thing.
She likes to wear 4-5 of them at the same kind to form a turban-like head piece.

Ellie is really into sorting object by color, size, and shape.
She is starting to build more elaborate towers.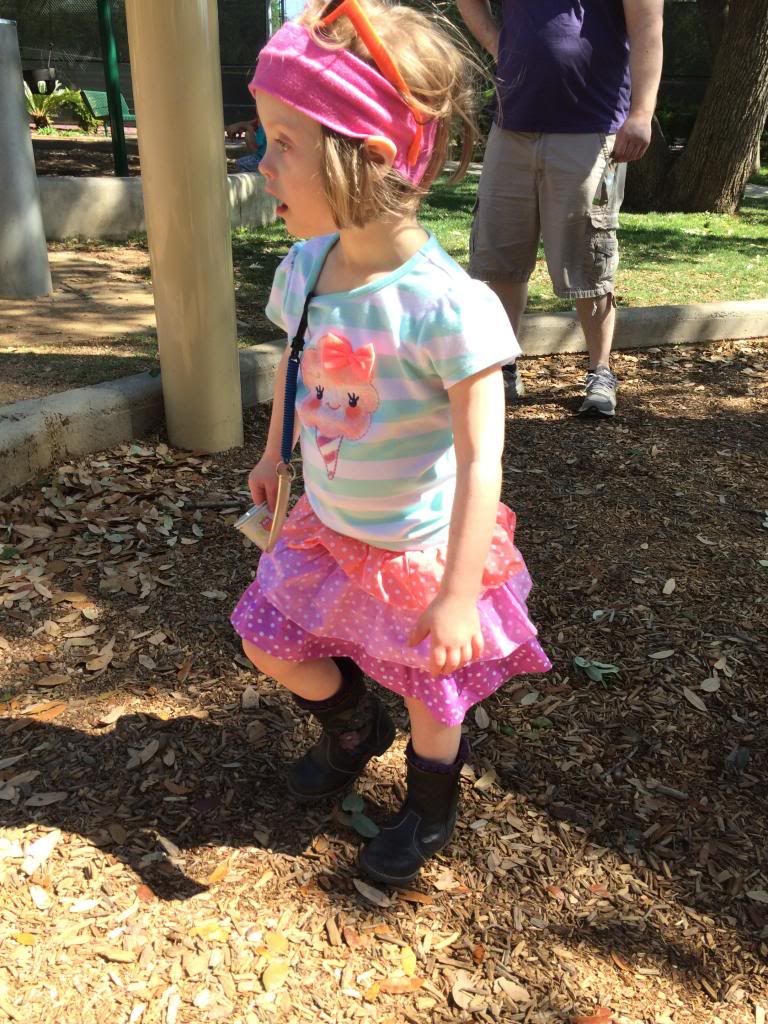 I really have no explanation for this get-up.
winter boots, big orange sunglasses with a pink headband, of course.
Tomorrow is Ellie's last day of school. I am certain that this summer will be rather entertaining and exasperating. Tune in for more Ellie antics and my bemoaning lack of childcare.