Baby Bear is well, no longer a baby. In fact, Toddler Bear isn't even accurate anymore. A full school year has passed and I think it is time I get used to having a Pre-school Bear. *sniff sniff*
Her school pic from this year.
The time has come for Ellie's room to become more of a sanctuary that compliments her status as a "big girl". It is long over due seeing as the crib had been dissembled and donated over a year ago due to
Ellie's little Cirque-du-Soleil escapades
.
Sometimes, I think that these transitions, as small as they may seem, are more difficult for this mama bear than for Ellie.
I recall clutching that pregnancy test in a 24-Hour Fitness bathroom stall when those life changing two lines appeared. Pregnant! After months upon months of trying. I so much wanted Andrew to be involved in preparing for Baby Bear's arrival that I allowed him to choose the nursery decor. My manly (and sexy!) husband chose dogs. A red and blue theme with puppies frolicking about. The prediction that Ellie would grow to love dogs as much as Andrew (and me!) came true. I am certain that her dog-obsession resulted from our Sophie Princess Puppy Paws forcing herself into Ellie's personal space as opposed to the decor of her nursery.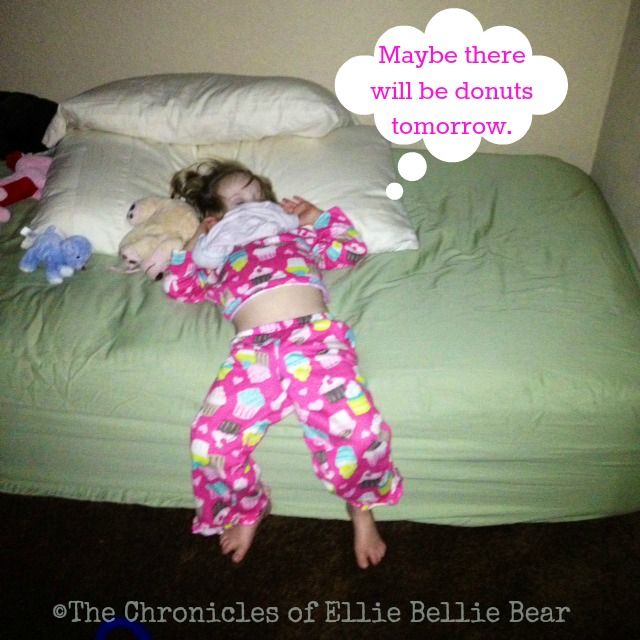 This is how you sleep on a big girl bed.
alternative sleeping arrangements
The crib is gone and a lone, twin-sized mattress rests on the floor for her room, without its box spring or frame. . . a place where Ellie occasionally deigns to sleep (vs. the floor). The walls are dingy from little fingers and the pictures appear to be hung upon the walls haphazardly since we had to rearrange the room to accommodate the mattress.
Tomorrow, we are going to start painting "The Big Girl Room". The last remnants of the nursery brushed away. It is bittersweet for me. My baby is now "big girl". Yet, she is not such a big girl that her room is going to be plastered with Justin Bieber posters. No, they will be plastered with cupcake pictures.
That's right, folks. Cupcakes.
I mean, really, are you surprised?
A sneak peek of things to come! This Mama Bear has gone crafty!
*April and Linda, I promise that I have not forgotten about the Liebster! Still working on it.