My friend, Michelle, wrote this emotional post on
Fear and Isolation
on her blog
The Hailey Herald
last week and has granted me permission to share it on
The Chronicles of Ellie Bellie Bear
. She is a mother to 3 beautiful children - 2 boys and a little girl with a little something extra who reminds me so much of Ellie. I really identified with her writing - "
oh my goodness! How did you know that is how I feel sometimes!?
"- and I imagine that many of you can too.
The Hailey Herald
Fear and Isolation
by Michelle
Today, I'm going to touch on something I haven't felt in a couple of years. I probably felt it the most when Hailey was first born, those first few fragile months. Those first months while we watched our daughter almost holding our breaths...not sure if heart failure was going to be slow or fast...not sure when open heart surgery was...at the same time, we dealt with the shocking news of a Down syndrome diagnosis. Those first few months were isolating. I felt alone in the world. I felt like no one knew what I was going through. I felt different than all my friends with typical children. There is no way they could understand what I was going through. I felt like an impostor with parents with other children with Down syndrome because I wasn't sure how to navigate that world. The isolation made me angry...made me sad. It enveloped me at times. I couldn't sleep and I turned to lots of Graeter's ice cream at 3 in the morning to make it better (no, that didn't really work either). Hailey's open heart surgery was finally scheduled and life moved on. The feelings dissipated some. I had other things to focus on. I had a healthy little girl who had tasks that needed accomplished. The boys were back in school and we had two soccer schedules to juggle.
I remember the isolating feeling returning a couple of time over the past 4 1/2 years. I don't remember it lingering though. I think it reared it's ugly head when Hailey was crawling and then again when she started walking. I know I've dealt with it some waiting for my daughter to learn to communicate. Since the very beginning though, it never stayed. It was a thought or two and it was moved to the back burner again.
Last week, however, the overwhelming, smothering feeling returned. It hit when I wasn't looking and it hurt. It stopped me in my tracks. I have a feeling when it started. We were out and two little girls were standing beside Hailey that are just a little older than her. There was one on each side of her. They didn't speak to her, they just stared. They didn't interact with her...they just laughed and ran away. No, they did not do anything wrong, but I could see it. They saw the differences with Hailey and there is nothing I can do about it. I can't make kids like her. I can't make kids play with her.
The next day, it hit me that Hailey does not have any friends. No typical friends that she has play dates with...she occasionally has play dates with kids that have Ds, but let's face it, that is not the real world. The majority of Hailey's world is with people who are typical. I have to find a way to build up Hailey's community. Hailey needs typical friends. She does well at school with the typical kids, but she doesn't get invited to any of their birthday parties and she's only 4. How will it be at 5, 6, 10? Will it be better when she's in a school environment and not just preschool? Will it be worse? It makes me anxious and gives me a panic attack just thinking about it. I suddenly feel like I'm that brand new mom in the world of special needs. I feel like I'm starting all over again. I feel alone again....I feel isolated.
Fortunately, I know what triggered this and I knew what the issue was. I also realize that spending a TON of time at home this summer (due to attempting to potty train Hailey) is compounding the feeling of isolation...it's can be isolating spending so much time in the bathroom at home with your 4 year old. I'm partially through this episode and I'm working on a game plan. Unfortunately, I know that isolation and fear will come back again. Maybe next week...maybe next month...may not be until next year, but it will return. I know I am not alone in these feelings, but sometimes they just stink.
In the end, I know I am not alone. This world may have it bumps and it is not the road I planned to travel, but with this little girl leading the way, it is bound to be full of smiles, dimples, laughter, fun and hugs.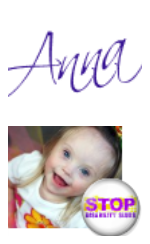 Follow us on Facebook!
https://www.facebook.com/pages/The-Chronicles-of-Ellie-Bellie-Bear/216738345037166