Something big is on the horizon for 2015. In November, this beautiful little peanut appeared in Target's catalog. So many people are talking about how lovely this little girl, Izzy Bradley, is playing with that large B toy. What if more retailers were to feature children with different abilities?
Changing the Face of Beauty is a campaign aiming to recruit 15 major retailers to feature people with disabilities in their advertising during the year of 2015. YOU can be a part of this!
How? Go to the
Changing the Face of Beauty's Facebook page
to share a picture of your
loved
one and tag with #IMREADY #changingthefaceofbeauty. You can share
your
picture or the Changing the Face of Beauty campaign on other modes of social media--Instagram, Twitter, Google + or on your personal Facebook page. Be sure to tag some major retailers that matter to you in your post.
This campaign is already working for in an ABC News article,
Infantino Toys
states "
"We are committed to using models that reflect the same diversity you see on a playground. Check out our Facebook page to see our cutie cover model, who is rocking her extra chromosome."
Continue to spread the word so that more retailers like Target and Infantino "reflect the same diversity that you see on a playground" !
I don't know about you, but Ellie says "Hey Kohl's and Gymboree,
#IMREADY for change. We want YOU to include models with disabilities in 2015. We want YOU to be part of the #15in2015 . 15 retailers including models with disabilities in 2015. We know you see us. Represent us."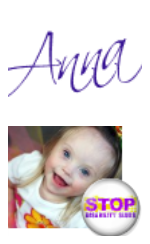 Follow us on Facebook!
http://www.facebook.com/annatheurerfitness
http://www.beachbodycoach.com/annatheurer
https://www.facebook.com/pages/The-Chronicles-of-Ellie-Bellie-Bear/216738345037166