"What is that in her mouth?!"
one and two and three little chewy tubes!
"What do you mean there is something in my mouth?"
(Top Right: how adorable is that picture?--Ellie with Jack-A-Roo holding hands)
Many of you may have noticed in previous posts that Ellie is wearing one or two or seven brightly colored stretchy necklaces and have asked me what they are for and where to get them. These necklaces are therapeutic
chewy necklaces or chewelry
which are used to satisfy Ellie's oral sensory cravings.
These necklaces are great for children who:
chew on their clothing
chew on their hair
chew on objects, toys, furniture
frequently bite, chew, grind teeth, or fidget

typically seen among toddlers
kids with autism, ADHD, ADD, Sensory Processing Disorder [SPD]
and other developmental or neurological disorders

need to "wake up" their oral motor muscles for eating
I have written a more detailed post on the various chewy tubes for oral aversion, oral seeking, increasing oral motor muscle strength, and speech development. These posts can be found
here
and
here
.
Ellie has extensive oral seeking behaviors. She must always have something in her mouth. She typically has toys, books, paper, writing implements, and even the edges of furniture in her mouth. She is attempting to satisfy some oral need and she is
not
teething. These behaviors have affected her play and they have affected her socially.
"
Ellie, we don't want to play with you anymore. You chew on our toys." "Ellie ate my book!"
Believe me, I understand because these other kiddos are past the eating chalk stage. They are past gnawing on toys. Yet, my daughter is still in that stage and is destroying their toys or at the very least leaving a long string of spittle on their dolls or blocks. Antibodies anyone?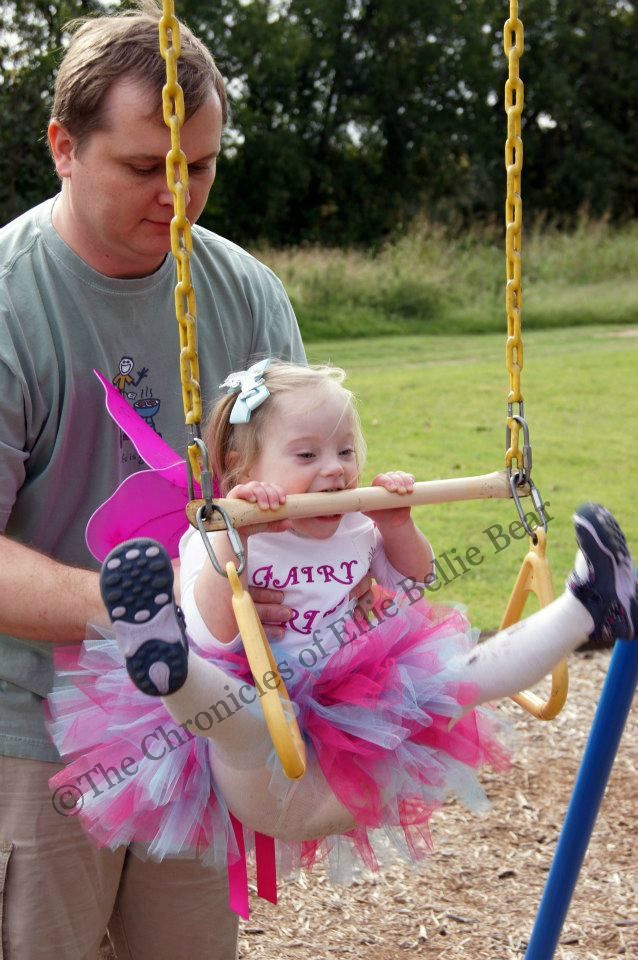 So you mean biting the playground equipment is not socially acceptable?
The chewy necklaces have really helped Ellie. She can chew on her necklace while listening to a book. Yes, she can listen to a book now! She can chew on it while building a block tower. She can chew on it while coloring. Now, mind you, she does need reminders occasionally because those crayons or that playground equipment look(s) oh so tasty. Yet, all you have to say is "Ellie, use your chewy" and she pops that necklace right into her mouth.
Ellie is a thrower and a climber. We have lost many chewy tubes due to throwing. Ellie has nearly injured a few innocent bystanders with a flying P-Tube or Tri-Chew. These necklaces allow her to chew while leaving both hands free for climbing.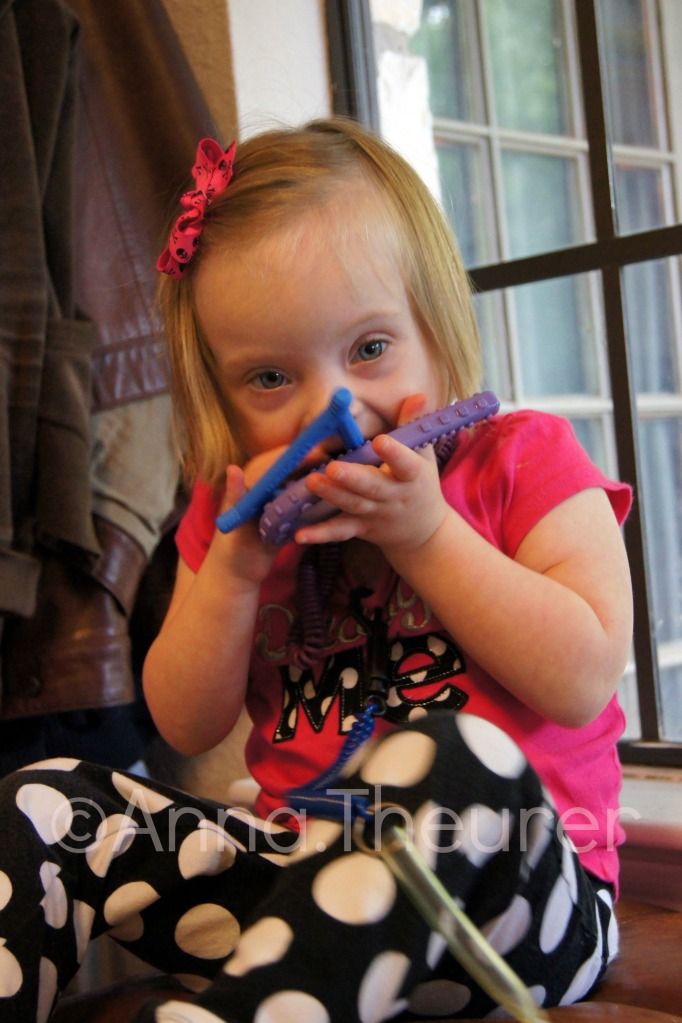 Chewy Tubes R Us: Tri-Chew, P-Tube, Chew-Ease, Chewy Necklace
They are also stylish. Well, in my opinion they are not, but all the little kids are the playground beg my daughter to share her necklaces with them.
"Ellie, can I have one? Can you share with me?"
My daughter, ever the fashionista. The cool toddler on the block. The trend setter!
We buy our chewy necklaces from
National Autism Resources
. You can get the necklace + bracelet in the color blue on Amazon.com but I am paranoid about the bracelet. I can just picture Ellie strangling herself with the bracelet. Plus, my spoiled little Bearity Bear likes to tell me what color she wants to wear each day. . . .er colors.
Goodness! I know that I have at least two more of these! A purple and a white, perhaps.
Because one chewy just isn't enough and because the Bear must wear the color or colors that suit her ever changing mood, we bought our in batches (you can do one, 3, or 7). Because it would be such a shame to own more than one color and *gasp* be missing one of the colors of the rainbow, we specified our color choice in the "comments" section during the online check out.
For an added sensory punch, place these bad boys in the fridge for a few minutes. . . or if you are Ellie Bear, the freezer. Yes, she does this herself, Little Miss Independent.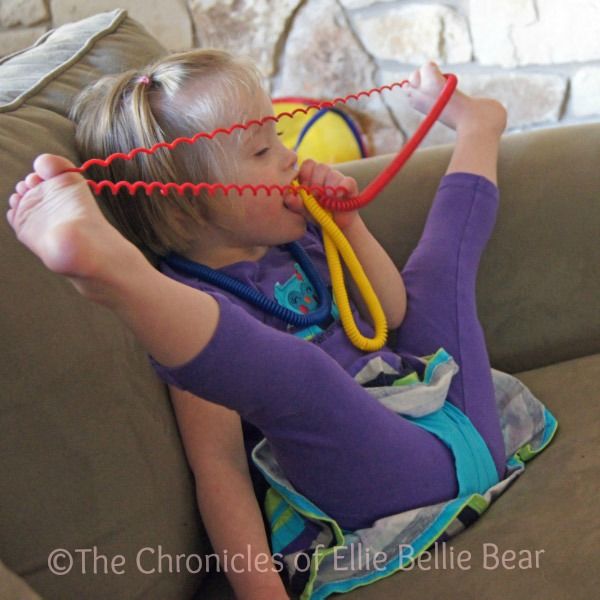 Don't mind me. . . just working on those thigh muscles.
That's right, we own
all
7 colors. Pink has been discontinued much to the Bear's dismay. So. . . if anyone happens to come across a pink one, please alert me!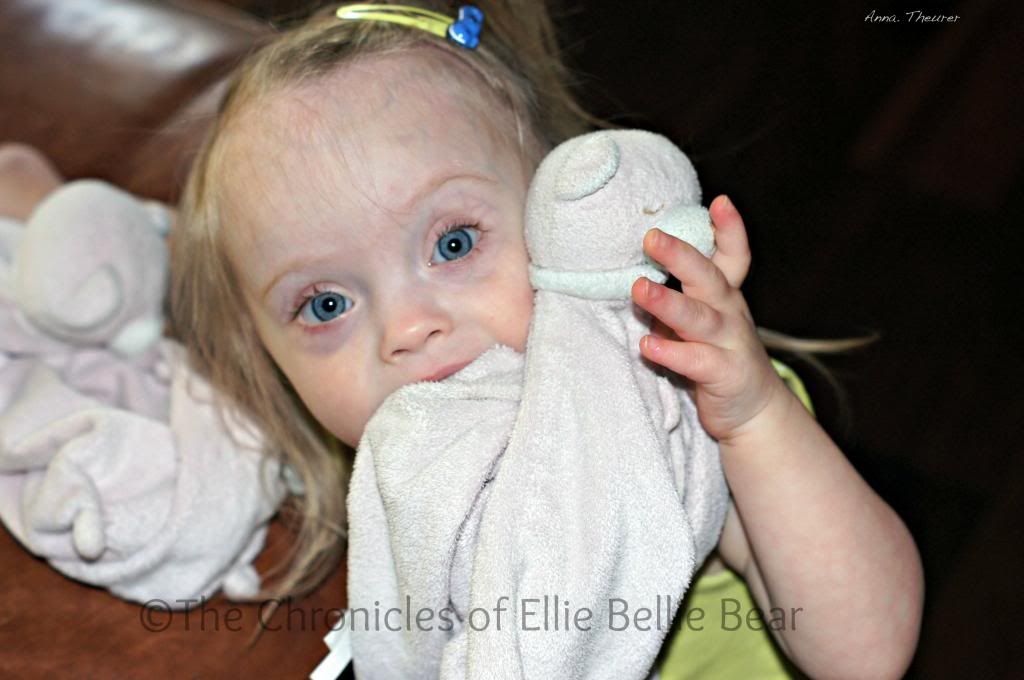 What about blankie? I can still chew on my blankie, right?