Ellie Bellie Bear here. I am writing to teach you all about how to properly eat at a table full of lovely people and elicit grins and happy smiles all around.
How can you not smile at this lovely yogurt face?
Yes, that is my hair band around her neck.
My mommy says that
we
I have come a long long way on the self-feeding. I don't know what she is talking about. I was totally giving myself a facial in the following pictures I was promised that yogurt and oatmeal are both great for exfoliation and moisturizing. I look lovely!
I Feel Pretty. Oh So Pretty! Look Ma! No eczema!
Soon after the above self-feeding experiment, Mommy came home with different spoons. Short stubby little spoons with deep buckets and chunky handles. I was a little leery at first until I realized I could fit way more into my mouth without the precious food falling onto the floor. However, they are not as good for catapulting food across the room. To get that glorious splatter effect, you have to throw the actual eating utensil. In this household, when that happens, Mommy says "time out" and moves my chair into the middle of the room. Screaming is an excellent way to let people know you are displeased. Although Mommy cringes. I see it in her face as she tries to secretly ignore me. So I scream louder. I am very good at screaming.
Mealtime is all about relaxation and enjoying the culinary experience. Kicking your feet up so-to-speak. This is me being
very
ladylike. Admire my beautiful feet.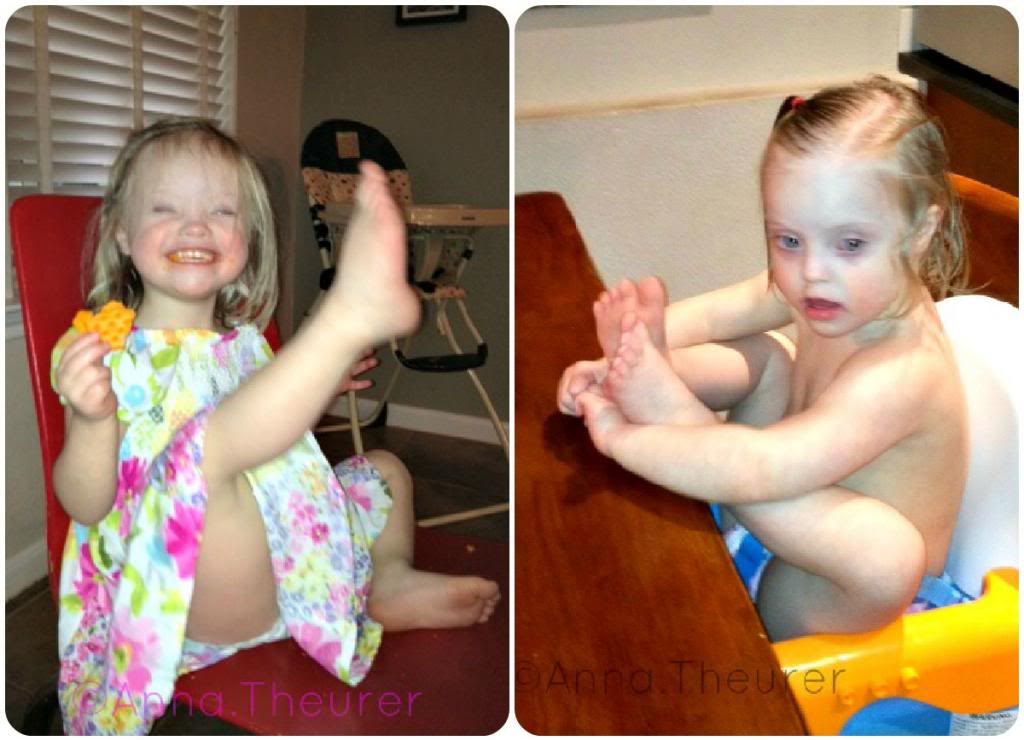 Yoga anyone?
Sometimes it gets a little dull at the dinner table while waiting for the food to arrive so it is important to self-entertain. Like so. . . ooh, there is my
Buh-bo-bah
! Think of this as practicing your self-help skills.
Belly Belly Button You're Oh So Fine! Ooh, Belly Button I'm So Happy Your Mine
-Sandra Boyton, Happy Hippos
Finally, it is polite to let the cook know that you really enjoyed the food. I recommend scraping the bowl clean and then flipping it over to make sure you did not miss any morsels of yumminess.
If the food is especially tasty, it is common courtesy to share your food because sharing is nice.
Share. Thank. Please.
Oh and do not drink to much.
This photo was taken at Andrew's company picnic this past summer. I cannot help but laugh. She looks like a drunk toddler, but I promise she only had water!
The Bear is ready for fine dining. Take me to Fogo de Chao please!