Ellie signs "bread". For once, her sign looks pretty close to what Rachel Coleman demonstrates on Signing Time. Ellie's fine motor skills are improving!
I had her a piece of toast since that is what she typically wants, well at least this week it is what she typically wants.
SCREAM! Throws bread while shaking her head "NO!" Frantic signing of "bread". SCREAM!
Yet, I just gave her bread.
Does she really want bread?
Yes, Ellie does want bread. Just not toast. Tortilla. Croissant. Toast. Regular slices of bread. Those are all breads to Ellie.
I wanted tortilla bread, mom!
This same situation occurs with cracker. Because, you see, any large food item that she does not know the sign for is cracker. Especially Zone Bars. Ellie
wants
to communicate with me. She is
trying
to communicate with me. And I need the power of telepathy.
The breakdowns in communication are hard on both of us. She gets frustrated and I get frustrated. She is screaming because I don't understand her and I am feeling like the ultimate mom failure because I cannot read my 3 year-old's cues.
Ellie has learned the PEC system [
picture exchange communication
]. This communication system has been implemented in her school and in her ABA therapy. I decided to do my own little Ellie-Bear version. I used real photos as opposed the the traditional colored line drawings. Some I took on my iPhone and others I used from the internet. I should probably warn you that if you google "PECs" you will find some official PEC photos, but also some young men who have photographed their pectoral muscles shirtless. Just saying!
I got a little overzealous with the laminator and velcro! Because I laminate A LOT, my hot sexy husband got me a little laminator from Costco. It was cheap and saved me from frequent trips to Lakeshore Learning which surely would have ended up with me spending way more money on learning tools in addition to using their laminating machine. The photos that I use are square and I place them onto a 2.25 x 2.25 grid.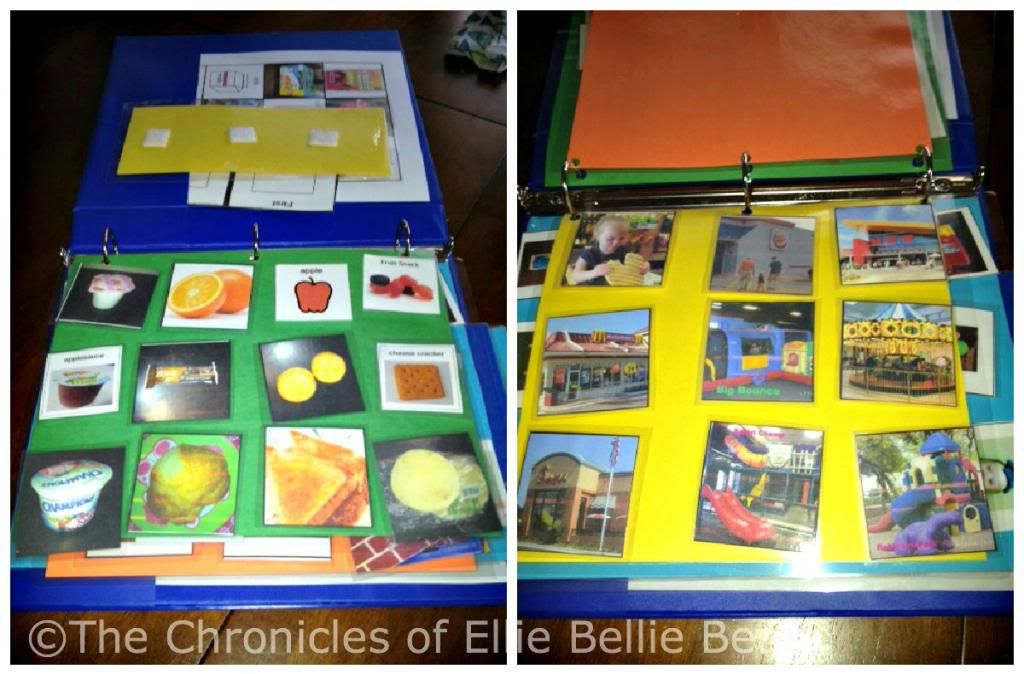 I have created a page each in a binder with these PECs--foods, activities (i.e. paints, crayons, chalk, other toys that I hide from her, iPad), places (i.e. Target, Central Market, Restaurants, Big Bounce, Parks). Now, mind you, Ellie Bear is a big sensory seeker. The thrill of removing items from velcro is too much for this little girl. She will remove every single picture and then carry them to another part of the house. Therefore, I store this binder out of reach.
When she signs and says "eat", I pull out a small strip of laminated paper with velcro on it. I attach only a few food items (yeah, I don't want her pulling off the donut for every single meal! Or selecting a food item that I do not have). This gives her independence which is so important for a toddler. She gets to choose her food. Also, this helps prevent most, but not all, communication break downs.
When she sign's "bread", this is what it looks like:
For "cracker":
It also helps with TV shows. When she wants to watch "Potty Time" she hands me both "Signing Time" and "Potty Time". I just laugh because, well yes, Potty Time is also by Rachel Coleman.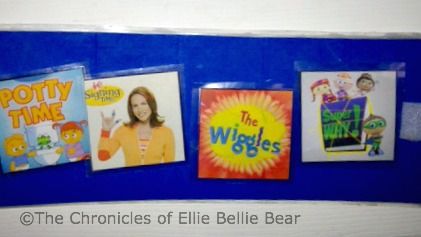 I have tried to upload the empty grid that I place my pictures into, but the pesky thing just will not show up in the blog post. If you would like a copy of the grid, you may email me at thechroniclesofelliebelliebear (at) yahoo (dot) com
*Note: This does not replace Ellie's verbal communication, but is rather an adjunct to it. She will hand you a picture while trying to say the word. Bear is on Phase III of the system.
**The true PEC cards have the word written above the picture. These words have helped Ellie learned to sight-read 15+ words.
*** The true PEC system is expensive. Speak with your child's therapist about using PECs as she may provide you with the ones relevant to your child. Or, you can create your own like me
Resources:
http://www.pecsusa.com
http://en.wikipedia.org/wiki/Picture_Exchange_Communication_System
http://www.childrenwithspecialneeds.com/index.php/downloads.html