When Ellie Bear was transitioning off of a bottle, we [we being the collective of myself, Andrew, and therapists] immediately implemented the straw cup. Our thoughts were "most places have straws, but none have sippy cups". Ellie started to drink rather quickly from a straw which was really quite impressive given the fact that most children Down syndrome have low muscle tone or hypotonia. This means that the muscles of her tongue, lips, cheeks, and jaw muscles have low tone and difficulty coordinating.
Until recently, I never really paid attention to
how
she drank from her straw cup. Ellie was inhaling the entire straw. Not only that, she was not achieving lip closure, which is very important for not only drinking but also for speech sound production! Rather than pursing her upper and lower lips around the straw, she was using her tongue as a base; a substitute for her lower lip. This meant the straw was going into her mouth more than 3/4 inch! Ellie also likes to bite the straw which can be quite a pain as it cracks both the cheap restaurant straws and the thicker plastic straws. Girlfriend has quite the bite! Ellie is also unable to obtain proper lip closure around those narrow, tiny straws that you see with juice boxes and Capri Suns (think coffee-stirrer-type straws). Her tongue would protrude and the juice would dribble down her chin and all over her clothes.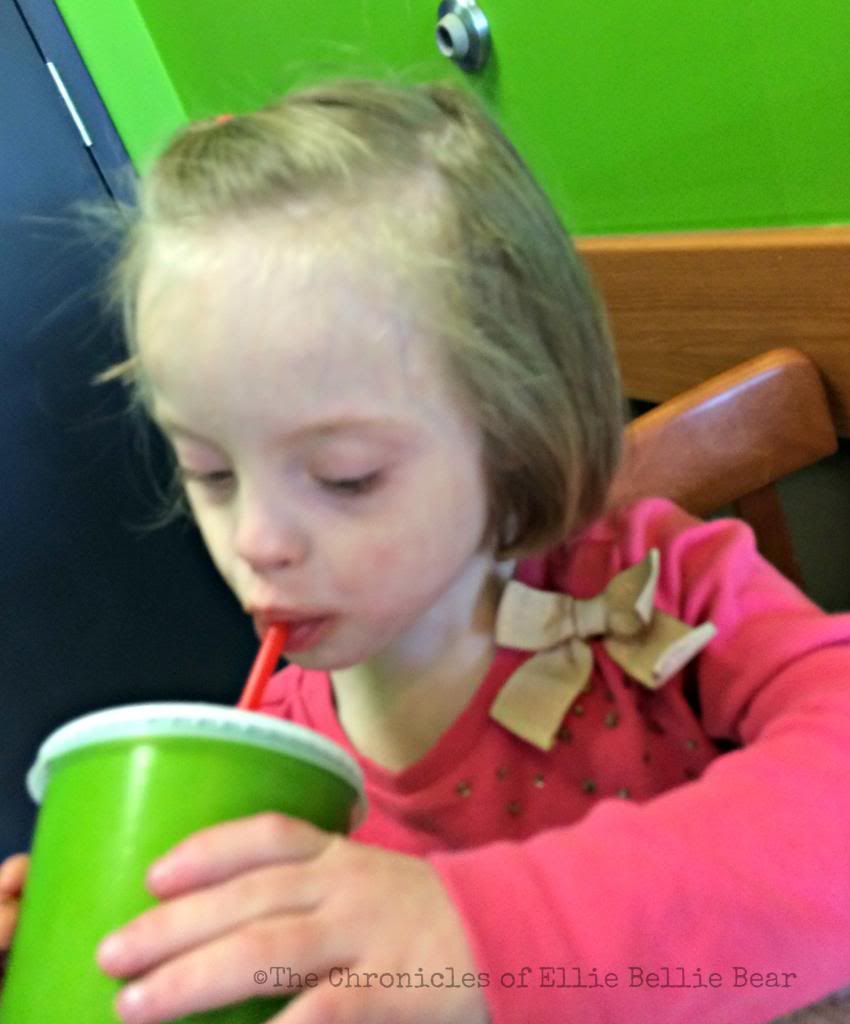 It is difficult to see but her tongue is supporting the straw.
The straw is also pretty far into her mouth.
For the past month, we started implementing the Lip Blok through ARK Therapeutics. This company provides a wide variety of sensory and feeding materials for children. Yes,
chewy tubes
! The
bear cup
! Various
feeding spoons
! Here is where I tell you: I was contacted by ARK Therapeutics to write a review on one of their products. Knowing that Ellie needed help drinking from a straw, I chose the
One-Way Straw with Lip Blok Kit
. While I am not being paid monetarily to write this post, I did receive the Straw Lip Blok Kit for free to write a review on it. The opinions in this post are entirely my own.
At this point, you are probably wondering what a Lip Blok is. It is this:
Essentially lovely thing prevents the child from pulling the straw too far into the mouth. It encourages the rounded lip closure using the bottom and upper lip. It discourages tongue thrusting by forcing the tongue to retract back into the mouth/oral cavity. It also prevents the dreaded straw biting and thus straw cracking/breakage. It is advised to start at 3/4-inch and then decrease to 1/2-inch and further to 1/4-inch.
The kit also came with 3 straws that have a one-way valve and clips. Ellie was adamant that we use the yellow straw because yellow is awesome by Bear standards.
During speech therapy, we placed the straw into Ellie's mouth and marked where her lips were hitting the straw. It measured at ~ 3/4 inches, which was the size of our Lip Blok. We inserted Lip Blok into the straw and let her get used to it. Now that she has gotten the hang of it, we have swapped it out for the 1/2-inch Lip Blok. This requires Ellie to work a little harder at getting her tongue, lips, and cheeks into the correct position for drinking. She is fighting me a bit, but it is slowly getting easier for her. After she masters the 1/2-inch, we will then move on to the 1/4-inch Lip Blok.
My Review of the ARK Therapeutic 3-Straw Clip with Lip Blok Kit
Pros:
The straws have little clips on the side of them so that you can clip it to an open cup. This prevents the straw from slip-sliding around.
The Lip Blok is BPA-free, Lead-free,

phthalates

-free, and PVC-free
The Lip Blok is also latex-free which is a big deal for me since I have a latex allergy.
The Lip Blok very easy to toss into my purse or the diaper bag. It is nice to not have to lug a cup around.
The Lip Blok fits into regular straws that you find at restaurants--just insert the long end into the straw.
The Lip Blok also fits swirly straws--slide the long end of the Lip Blok over the swirly straw.
The Lip Blok is also dishwasher safe. . . did you hear me? Dishwashers safe!
ALL the products by ARK Therapeutics are easy on the wallet. Honestly, wish I found them earlier when I was scavenging for chewy tubes. I would have saved myself a pretty penny!
ARK Therapeutics has great customer service. See below.
Cons:
This is not actually about the product, but the way the directions and website are worded. I requested the ARK's One-Way Straw Clip Assembly. The description says:
ARK's Straw Clip helps manage difficult situations by holding the straw securely to the cup. Assembly includes: 3
one-way straws
with a built-in valve, 3 Straw Clips, and 1
Lip Blok™
. Colors may vary.
I received the 3 straws with clips and the 1 Lip Blok. When I read the directions, they said that I could trim the Lip Blok using a scissors. It even showed a pictorial diagram of the scissors trimming the Lip Blok. I thought that was pretty doubtful as the Lip Blok I received was really firm. The directions discussed starting off at 3/4 inches then trimming to 1/2 inch and eventually ending up at 1/4 inch. Needless to say, I was unable to trim the Lip Blok and partially massacred it in the process.
Apparently, there are various types of Lip Bloks offered from ARK Therapeutics--flexible Lip Bloks and firm Lip Bloks. The Flexible Bloks can be trimmed. The Firm ones, cannot. This did not seem very clear to me. The customer service reps at ARK Therapeutics explained this to me and were kind enough to send me
Lip Blok 3-sized Hierarchy Kit
. They arrived very promptly in the mail and I was able to start Ellie on the 1/2-inch Lip Blok immediately.
Therefore, if you decide to purchase any of the Lip Bloks or kits that include Lip Bloks, read very carefully and do not hesitate to contact customer services with questions.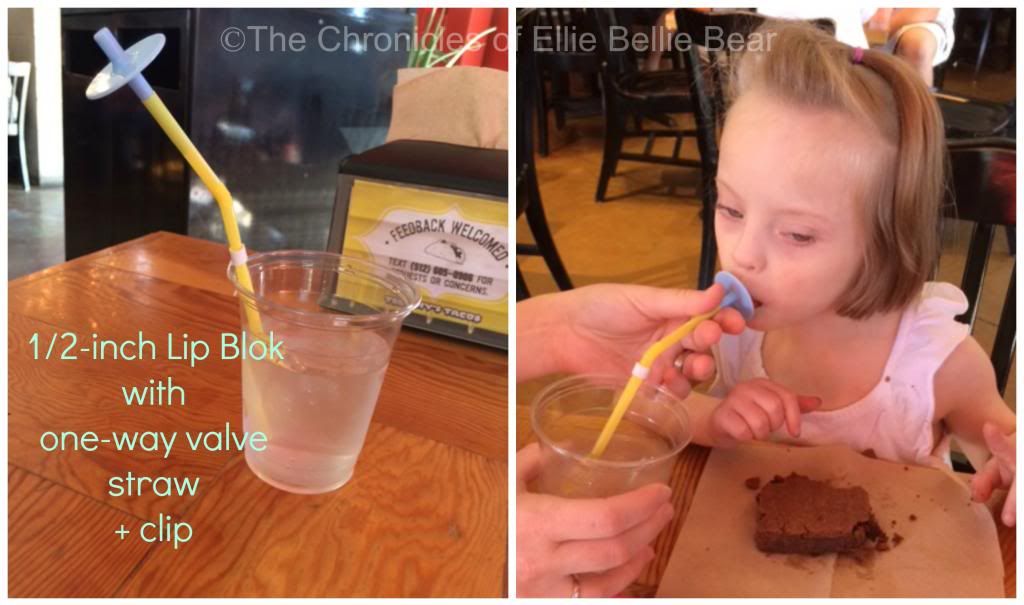 She actually doesn't need my help holding the cup or the straw. . .
I am just trying to prevent her from dumping the water out.
ARK Therapeutics is offering Ellie Bear's readers a 10% off all products through June 15, 2014. Be sure to enter coupon code ELLIEBEAR10 at the check out to get your 10% off!
Additionally, they are sponsoring a giveaway this week for the
Every Lip Blok Combo
which includes 3 sizes of Lip Bloks [1/4, 1/2, 3/4-inch] plus two flexible Lip Bloks that can be trimmed to any length [see link below for details about the product]. To enter, please answer in the comments below "What are the therapy goals are you and your child working on this summer? The give away ends at Midnight CST on Sunday May 11, 2014.
http://www.arktherapeutic.com/ELBL100AR.html