Not too long ago I wrote about
friendship
. Friendship is SO important that writing about it will be a frequent occurrence on this blog. I know that you many of you have heard the saying about some friends are meant to come into your life for a lifetime and others for a season, yada yada yada as I cannot remember the rest. . . but that ALL friends are dear and serve a purpose. That saying is very applicable in our daily lives.
Our Two Peas in a Pod
Okay, Ellie kept wanting to touch (grab) Grace's beautiful curls
and Grace was not happy about that.
Remember my fear of Ellie forming friendships? My fear that Jess' little girl Grace would not grow up with Ellie even though they are the same age. Again. . .I ask myself "what was I so worried about?"
I ask myself a lot these days "What was I so worried about?"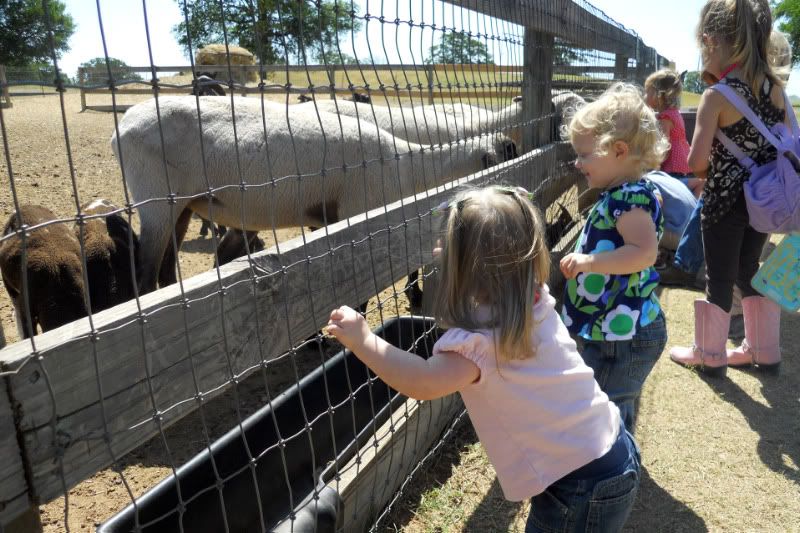 Ellie started to shake the fence
(probably not a good thing and I imagine
the goats did not enjoy it). Grace, like most kids,
started to imitate Ellie. Great, my
kiddo is the trouble maker!
We went to
Crowe's Nest Farm
out in Manor, Texas with a group of wonderful ladies and their children--all apart of a
mothers' club
I am involved in. A mothers' club that literally saved me from the darkness of postpartum depression last year when Ellie was just a tiny, feisty bambina with a full-head of Muppet hair and sparkly blue eyes. Ellie, one week-old, at a playgroup because I just had to get out of the house and aways from specialists (not that I don't like Dr. H, Dr. B, Dr. N so for and so on). A group that never looked at or treated Ellie any differently because of her extra genetic material. Woman and children who walked with us on the Buddy Walk because they care.
Ellie & W (from Mom's group)
looking at the chickens
Yep, that's my girl.
Trying to snag another boyfriend.
As we walked up the driveway of the Farm, I heard my sweet 4 year-old Godson Grant say "Mama, it's Ellie Bear. It's Ellie Bear!". Ooh the excitement in his voice just melted my heart.
Then these two turkeys, imitating each other like children so often do. . . "What was I so worried about?"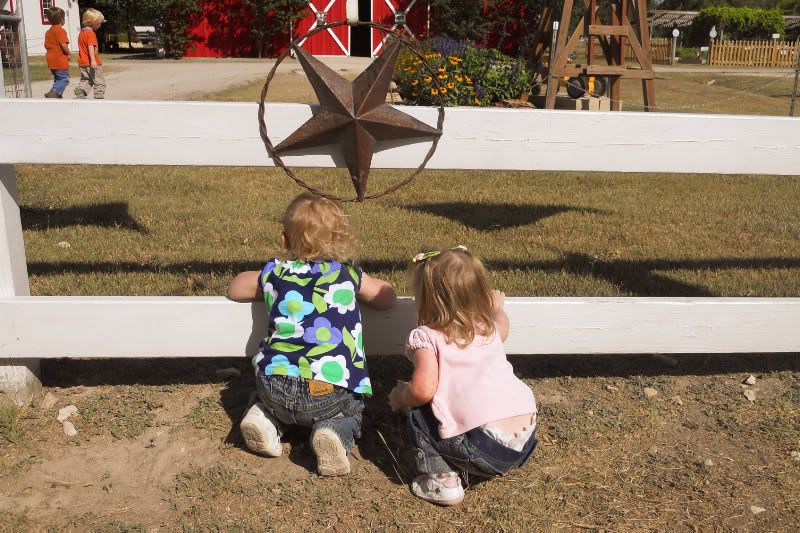 The Two Turkeys
Take a wild guess what Ellie and Grace are getting
ready to do? Yep, yank on the
Lone star fence decoration.
I know that there will always be worries cropping up throughout Ellie's life, but right now, I am embracing the love, acceptance, and friendship that is blossoming before my eyes. I am going to hold onto it, remember, and continue to chant "I don't need to worry!"
More farm pictures to come. . .took 77 this go around. Have no fear! I will not make you look at 77 photos. . .only some of them :-)