Before I get this blog post started, I need to introduce you to:
Cliff (Joshua). Oh my goodness, is he not darling with his reddish-hair and cherub cheeks? I know! I think so too as does the Warner family. They are leaving in less than a week to rescue this lovie BUT some last minute funds are desperately needed. Visit this
link
to donate or spread the word--it is THE
LAST FINAL PUSH FUNDRAISER
/ giveaway. Find out how you can help the Warners bring their little boy home and win a Kindle.
Cognitive Processing:
Ooh, mama, is that your camera? Let me walk right up into it!
Lately, it seems as though Ellie Bear is "connecting the dots", as my father would say. It is absolutely amazing to watch children learn. Watching them absorb the people and the environment around them. The thought processes that must go through sweet Bear-Bear's mind must be astounding. It is hard to believe that all of us started out this way.
Just like Daddy with the DIY! Ellie Bellie Bear to the rescue! Notice she has her little helper, the stuffed bear.
We had that eye-opening developmental pediatric visit a few weeks ago that resulted in a diagnosis (label) of Sensory Processing Disorder, but that visit seems to have triggered a spurt of something. I want to make it clear, I
like and respect
Dr. F. I believe she is very experienced and very knowledgable. If you had seen my darling Bear-Bear during this visit. . . well, let's just say she was a different child. The stress of being in a different environment perhaps? I am not denying that she has SPD. Nor am I agreeing. I am just shifting through a lot of information. True, there are definite sensory issues that MUST be addressed. HOWEVER, I believe that they are not as severe as Dr. F would be led to believe. After all, I
know
my daughter better than anyone.
Do you see that little stinker? She is on her TIP-TOES, conspiring with the Ame Cat to open the "forbidden" area of the house aka the media room. I tried this locking thing but it didn't fit with the door so I put on a different non-lever door knob. That will only delay the inevitable for so long. . . Sassy Pants!
I think that the actual developmental test (i. e. where are your toes, brush the baby's hair, roll the ball to me, etc. ) jolted something in Ellie's developing mind for ever since then, I have seen her imaginative play, functional play, and imitative play blossom.
Ellie walks everything around in the stroller. The dust pan on day, a rubber ducky & toy car another, today the bear. Never the baby though. I wonder what she has against the baby?
It makes me wonder just how much more therapy this kiddo needs. Yes, she does need help with the sensory oral cravings, but as for motor. . . Humph! She is now sitting quietly and playing. Not for long periods as she is only a toddler, but she can complete some tasks at hand. Of course half of the toy accessories are in her mouth while playing, but she is SITTING and playing. Ellie is becoming creative in manipulating her toys.
Imagination: "There there. Let me just put you in here like this. Perfect."
She is treating the stuffed bear like a baby taking him on rides.
Improvising: What a clever little Bear-Bear!
"Humm these things have holes in the center as well. Yep, that's right. Let's just put them right here."
She turned the little gears from her PlaySkool toy into stacking rings.
Domestic Mimicry AKA Imitative Play
Funny how much little ones like to imitate cleaning and mowing the lawn, but when they are older, they become "chores".
She is now using her toy dust pan and brush to "help mommy" clean.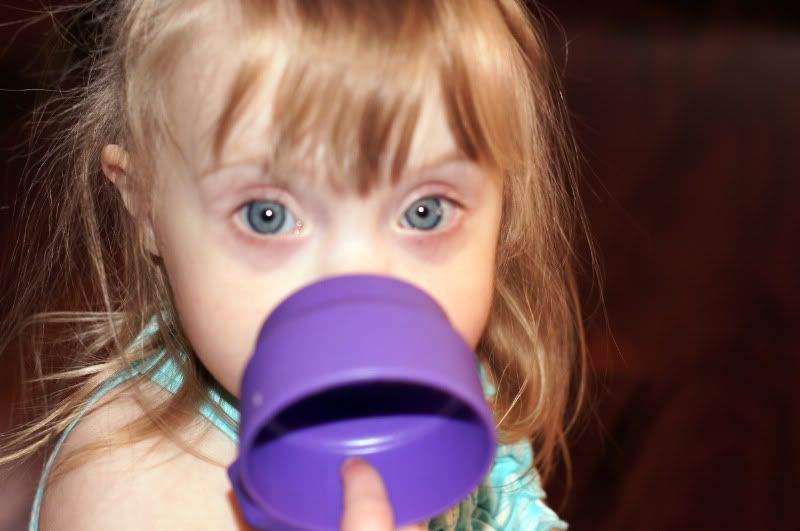 "Would you like some of this? "
"You didn't say I had to drink from the cup the correct way!"
You have witnessed in previous posts Ellie feeding the baby and then trying to feed Andrew. You have seen her nesting the IKEA cups. She is also really into "sharing" these days.
Sharing: "Hey Papa C, want my Chewy? It is really tasty. Here, I give it to. Ack! Papa C, you cannot keep it!"
Ellie Bear is learning. She is learning new things every day. I see her try to imitate signs (as in sign language), very poorly, but still it is
progress
because before she didn't even try to imitate. The synapses of her different, but highly intelligent brain are working at full speed.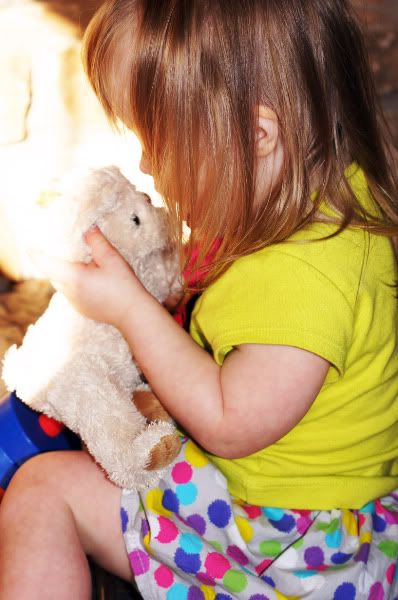 Every Bear-Bear needs her own little Bear to snuggle and care for.
It leads me to question our therapy plan. Our plan developed by Dr. F. Does she truly need Applied Behavior Therapy [ABA] therapy? Can we just stick with the increase in developmental therapy with the added sensory integration peace? Will I set my little girl back for life if I choose not to pursue the ABA therapy? Should I just go ahead an get an ABA evaluation then go from there. These decisions cause me to stay up at night wondering. Where do we go from here?