I am by no means an expert when it comes to teaching a child with Down syndrome how to speak. Or well, any child to talk. I am by no means an expert when it comes to children's literature and what makes one book superior to another. However, I
am
an expert on my daughter Ellie. It had taken me nearly 3 years, but Andrew and I have discovered books that my daughter will a) not eat; b) listen to; c) attempt to replicate sounds/signs while reading. In fact, the Bear is now SITTING and "reading" the books to us.
Signing "Book"
Ellie is well known among her therapists for her low attention span. When it came time for bedtime reading, The Chunky Chicken preferred to master her
chin-up skills
(she can do 6, chins ups that is) rather than read a book. Andrew and I persisted. We read even though it appeared she wasn't paying attention.
There are 3 types of books that really seem to hold Ellie's attention and motivate her to sign/speak:
Interactive Books: flaps, touch-and-feel
We started off with one word books that had sturdy (i.e. cardboard) flaps on them to keep her interested. The
Flaptastic Colors
book is/was her favorite (she did not care at all for the Shapes or Sizes ones). The flaps are long gone, having been torn off by strong fingers, but I caught her sitting quietly with it the other day signing the color featured on each page. Other paper flap books and pop-up books were disastrous. She was fixated on using her teeth to pull off the paper flaps or the adorable little pop-ups. Those Noisy-Peek-A-Boo books were dangerous in that she could get behind the flap, behind the book to the little electronic part with those dangerous little watch batteries. Yet, the
Flaptastic Colors
book was a success.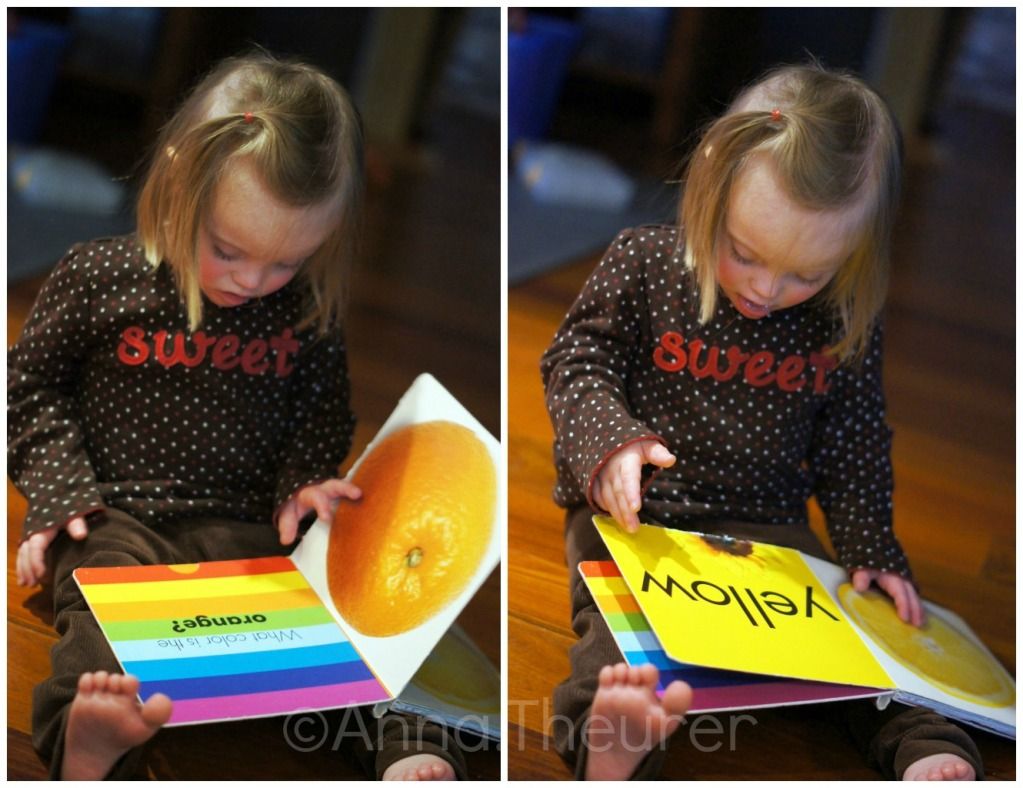 Right: notice the missing flap. Yes, that is correct, Bear modified the book!
One-Word Books
Other books that helped were the DK touch and feel board books such as
Puppy
or
Kitten
. One book about one object only. Therefore, every single page was "Puppy!", "Puppy", "Puppy", "Puppy". Surprisingly, with all of the repetition and with having our very own live Princess Puppy Boarder Collie, Ellie does not say dog, doggie, or puppy at all. However, she does say "cah" for cat and will sign dog. I honestly believe the only reason she would sit through most of these books is because they were tactile. That and the they each had a ball featured in them.
Can I just point out that she is SITTING!!!!!!
Also, she is not screaming, she is "saying" something of great importance.
I just don't know what exactly. I need an interpreter.
Look-and-Say Usborne Books
I frequently had dark moments when I feared my precious little girl would never speak, never utter a sound beyond "dada dada daddy". I worried about her signing. My girl
wanted
to communicate, but it seemed as though she was struggling. A while ago, our mother-in-law gave Ellie an
Usborne Look-and-Say
book.
Backyard
. It contained pictures of a ball and a swing--two of Ellie's absolute most favorite things. Every night she wanted to "read" the book. She would scream BALL and WEE (for swing). That was it. She would skip immediately to those pages with the ball and swing and then shut the book. We would point out a few more objects on each page, say the word, and perform the sign whether or not she was looking at the book or hanging from her bookshelf.
Excited, by her looking at a whopping two pages of the
Backyard
book, I immediately purchased the
Usborne Look-and-Say Home
book (it has to be the "Look-and-Say". Usborne has other great books, but the Look-and-Say has less busy, more colorful pages). She ignored every single page except the one with the bath and the one that had this little, tiny, microscopic swing.
We were able to get Ellie to look at this page because there is a guitar.
Slowly, we were able to point out the computer, then the scissors, and finally paper.
Then, something happened. It all clicked! Ellie sits in our laps and signs and makes sound approximations for nearly every single picture on the pages of the
Backyard
and the
Home
books. She is "reading" to us. She actually said "pay-po" for paper. Paper is/was the very first two syllable word that did not have the same consonant-vowel repeat (i.e. mama, dada, baba).
Left: She is pointing out the uber tiny swing that is in the kitchen window. It is tiny. I need a magnifying glass to see it. Bear clearly does not need glasses. I need new ones. It is that old age of 32 years. Let me back up here. . . she is POINTING!!!!!
Right: She is really excited about the scissors and is trying to sign "scissors" with each hand. She is SIGNING!
I have learned that my daughter must be motivated to sit and look at a book. It must have objects in it that are familiar to her. As her confidence builds, she becomes more willing to attempt to say and/or sign other objects in the book. Repetition is key. We literally read the same two books every single night for months at a time. Yes, it can be extremely boring and I find myself sneaking a yawn occasionally, but to see my little girl enjoy a book and to see her language explode is well worth reading
Backyard
and
Home
for the two-thousandth time.
*Note: The Usborne books can be rather hard to find as they are from the UK. Frequently, therapists have access through them through book fairs and individual consults. Amazon occasionally has them as does Barnes and Noble, but you have to look pretty hard and check back frequently. I have heard that their "That's not my. . . " books are really good too. If you are an Usborne consultant in the United States, please contact me for I need to load up on books!*