If Ellie were a Disney Princess, she would be Ariel from T
he Little Mermaid
because like the redheaded mermaid, she did not want to be "under the sea". From birth, the Princess toddler was adamant that bath time was the worse sort of punishment imaginable. Ever hear a banshee scream? Come to our house at bath time. Want to watch a toddler do death defying acts in a bathtub? Again, visit our house.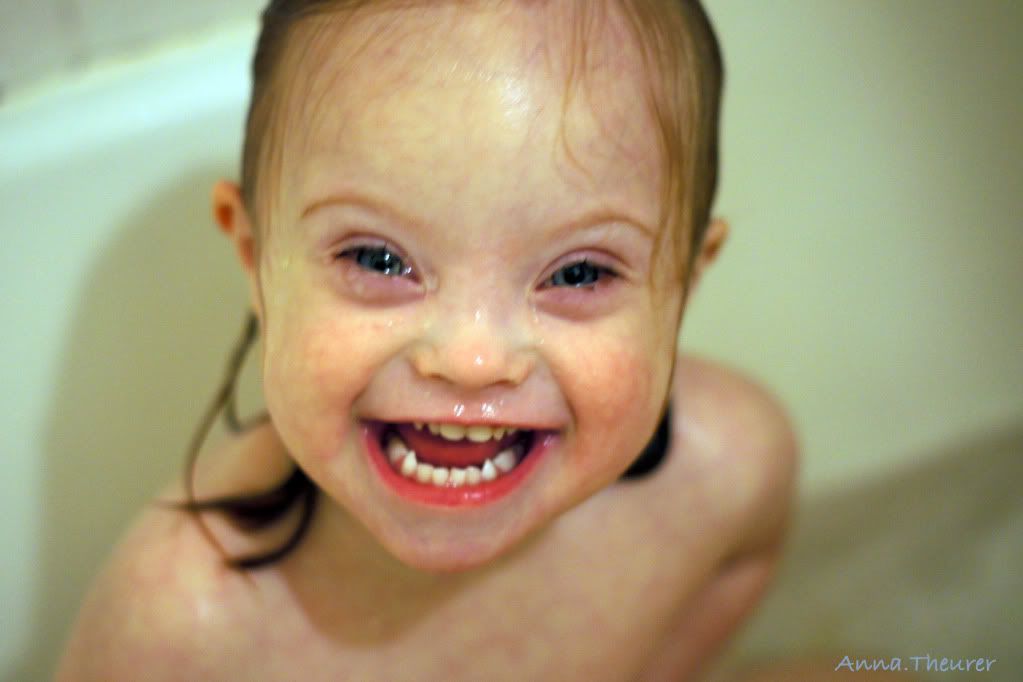 It has taken us over two years, but we have finally made it. Ellie loves bath time! I know that you probably don't give a whole hill of beans about this, but let me tell you, this is a HUGE milestone in the Ellie Bellie Bear household.
My dear daughter is typically a sensory seeker. She
craves motion
and often satisfies those needs by running, climbing, swinging, and by pushing ridiculously heavy objects that even I have difficulty moving. She is an
oral craver
. There is almost always something in her mouth. Hum. . . perhaps this is affecting her ability to speak?
However, in her sensory processing disorder world, she is an avoider in one area--her head. Mostly with water to be exact. She hates water on her head. I take you back to this:
This is before she turned a lovely shade of eggplant from screaming.
Look at those rolls of fat! Chunks!
and
this
:
I thought the Duck was working (see left), but it didn't last long (see right).
The Bear screams like a full-grown banshee when water comes into contact with her head. I was petrified to give her a bath. I mean, kids don't really need baths, right? They don't get
that
dirty. After much brainstorming and many experiments, we are finally able to give Ellie a bath without Andrew thinking I am performing cruel acts of torture. Let me tell you, it was so bad that I had to give baths without Andrew in the house.
Yeah, toddlers never get messy. (truth: we actually hosed her down in the backyard first)
How did we get here? It was a very slow and painstaking process. We desensitized her. Each solution would work for about 2 weeks before the novelty would wear off and the screeching began again. As she aged (yes, I know that 2 years-old is just ancient), bath time became more and more dangerous because not only was she slippery wet and squirmy, she was also mobile and would try to escape. I feared that I would be explaining to the ER just how my kid ended up with a concussion.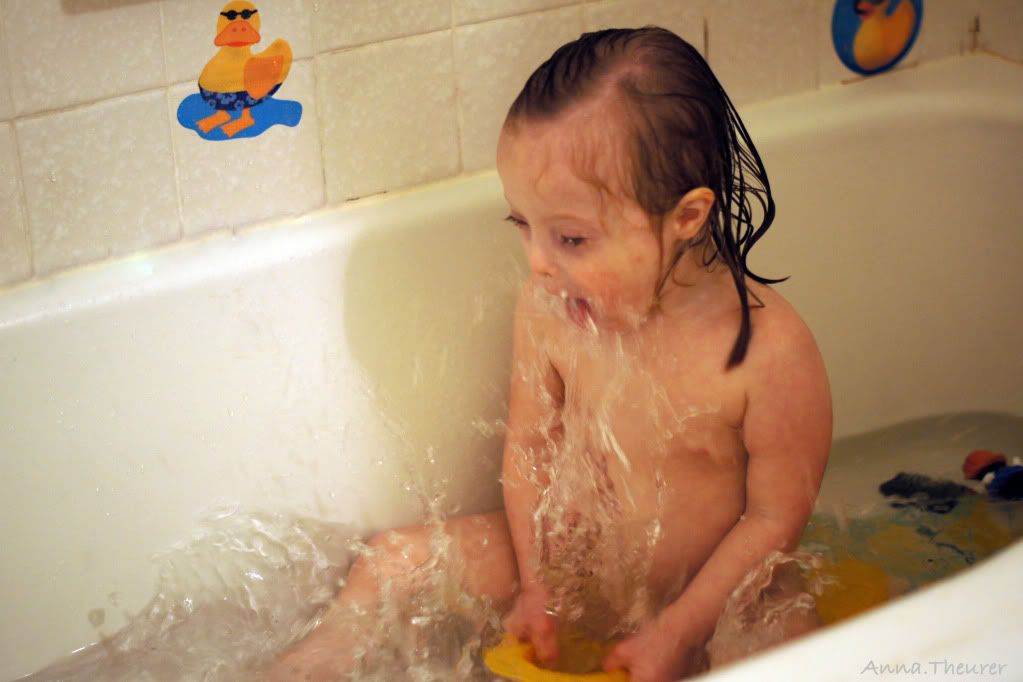 de·sen·si·tize
(d

-s

n

s

-t

z

)
tr.v.
de·sen·si·tized
,
de·sen·si·tiz·ing
,
de·sen·si·tiz·es
1. To render insensitive or less sensitive.
2. Immunology To make (an individual) nonreactive or insensitive to an antigen.
3.
To make emotionally insensitive or unresponsive, as by long exposure or repeated shocks:
"This movie in effect may resensitize people who thought they were desensitized to violence"
(Steven Spielberg).
4. To make (a photographic film or substance) less sensitive to light.
Desensitization Therapy is a type of behavior therapy with a goal of reducing a person's emotional reaction (i.e. fear, anxiety, guilt) to a phobia by gently and gradually introducing the person to said phobia.
With the input of Ellie's early childhood therapist, some opinions of other mama bears, and creative thinking on my part, we were able make Ellie less sensitive to bath time.
Here is how we desensitized Ellie:
Tried to make the bathtub smaller and more cushioned--the inflatable duck bath.
Lining the tub with towels to provide a cushion and sensory input on her bottom and legs (really hoping that this would distract her from her head getting wet. Yeah, totally did not work and was a real pain. I loathe washing towels)
Me hanging out in the bathtub with her
Holding Ellie in the shower with me
Going to the sprinkler park during the summer
Letting Ellie sit at the bottom of the tub while I showered
Letting Ellie sit at the bottom of the shower with me supervising outside of the tub
Letting the tub fill up with water while I took a shower with her
Sitting in a tub full of water, no shower, no mommy in the tub--success!
Another step that we implemented was using a detachable shower head with different settings. We got ours at a great price at Costco and it was easy to install. I have experimented with different sprays and pressures and I have found one that Ellie will somewhat tolerate.
It has been a few months and the Bear signs "bath", runs to the bathroom, and will climb into the bath fully clothed (yes, she is that excited). She enjoys playing with her toys and dumping water over her head (think of it as rinsing her own hair).