*I want to thank Meriah from With A Little Moxie from hosting this blog hop on 6/6/12. I am revisiting this post as the topic is "what has been said" about someone with a disability*
I bet this post title really got to you. Hopefully, you are fuming. I know I am (and crying). I love blogging and I enjoy checking out the "stats" on
The Chronicles of Ellie Bellie Bear.
I like to see who has visited from where and what was the most popular post of the day.
Typically, I see search terms such as "down syndrome baby" or "sandal gap toe ultrasound" and even "Ellie Bellie Bear". However, I was not prepared to see "ugly retarded baby girl toddler". WHAT?! Another punch in the gut. Another shocking reminder that while there are good people, there are people full of ignorance. Who searches for stuff like that? I am serious here. What sort of information is a person looking for when they type those nasty words into a search engine? Why did it bring up Ellie's blog? I really just do not understand.
Children are born good with an innate sense of acceptance and love. That is my belief. Ellie and I go to play-scapes and parks with older children. These children, maybe 8 years give or take a few years are just yearning to play with Ellie. They say "is that your kid? She is SO CUTE!". They do not see "disability". They see good. The adults in their lives (parents, TV, movies, etc.) that change their views. They are taught that differences are bad. It saddens me for then we are left with a society who googles "ugly retarded baby girl toddler" for who knows what reason.
I know that some of this comes with the territory of having a public blog, but I hope, that to whoever searched for an "ugly retarded baby girl toddler" left
The Chronicles
thinking "Wow, what a beautiful little girl! Look at all of the wonderful things she can do!". One can dream, right?
After all, when I look at Ellie, all I see is beauty. I see that she has the same straight blonde hair as my husband. She has the signature chubby Theurer cheeks. Her large, almond-shaped eyes are full of mischief and yes, intelligence. Those bright and sparkly windows to the soul are from my mother's side of the family. Ellie's smile is full of sass and straight tiny teeth. She may be a baby-girl-toddler and she may be "delayed" when it comes to achieving developmental milestones, but she certainly isn't ugly or "retarded" in the derogatory sense of the word.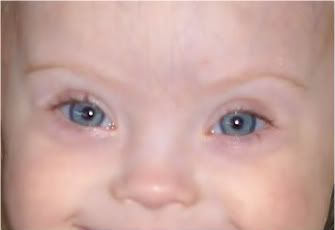 My daughter can and will do everything other children can do. She can walk. Fast. She can scale a staircase or playground like a gymnast. She can communicate her needs and look up at me with her bright eyes saying "mama". She can feed herself and create a lovely mess. She "walks" her baby doll in the stroller, "reads" books, and stacks blocks. Ellie plays fetch with our dog. She has the stereotypical toddlertude complete with full blown tantrums. Yes, it has taken her longer to accomplish these tasks, but she perfects them due to her great determination and motivation that rivals even the best of us.
Ellie is a beautiful baby-girl-toddler inside and out.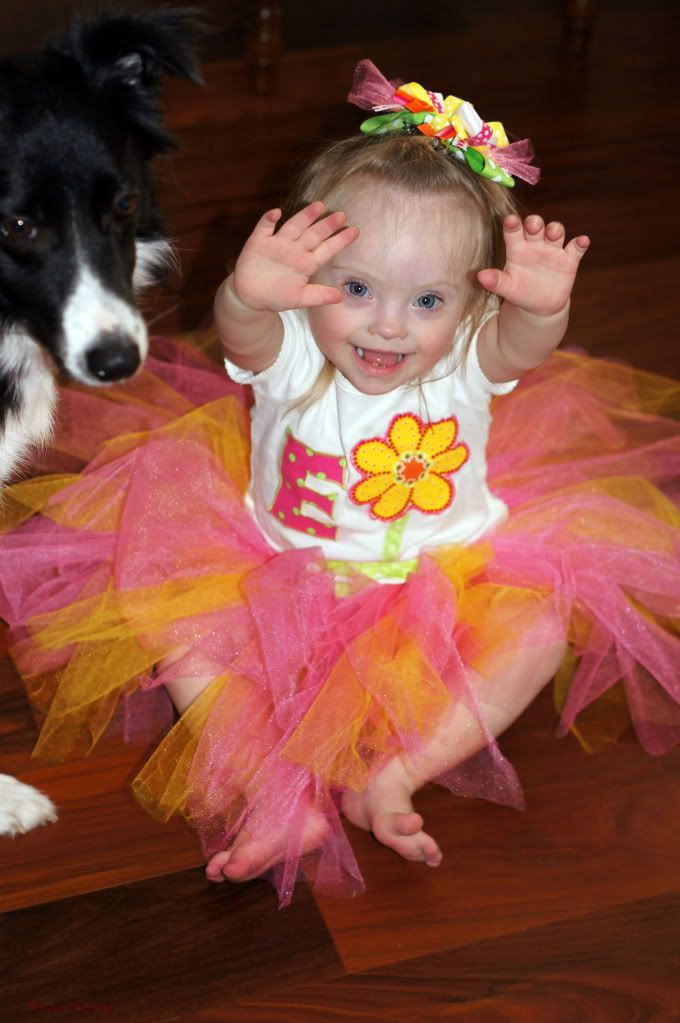 Mama Bear needs to grow a tougher skin because things will not change overnight. Perhaps I am 'preaching to the choir'. Yet, I can pray and I can hope that with each day and each post, I can reach out to the community dispelling myths, stopping disability slurs, encouraging acceptance, and educating one person at a time. After all, it is one of the main reasons I started this blog.
To my Ellie Bellie Bear:
I love you so much snuggle bear. You are perfect, absolutely perfect.

Co-Founder of Stop Disability Slurs
http://www.facebook.com/stopdisabilityslurs