Sometimes the blankie and the food-grade tubing just don't cut it. This has unfortunately become the case with Ellie. Or should I say a
teething
Ellie. That little lower incisor is finally making its debut making her her lower front teeth an even number of four. Whoo hoo. Oh and those 2 year molars are pushing their way in nice and early. Goody. Plus, I forgot to mention the upper and lower eye teeth.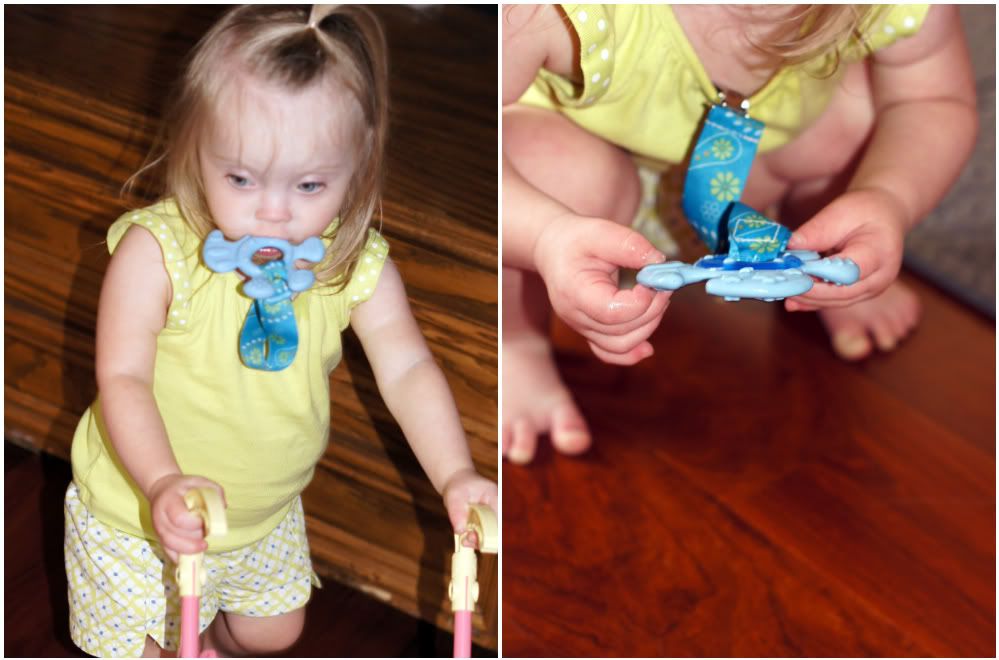 Sometimes you have to experiment. This is a regular teether. Because she is a thrower, I attached it to a pacifier holder to clip onto her shirt. It works well. . . some of the time.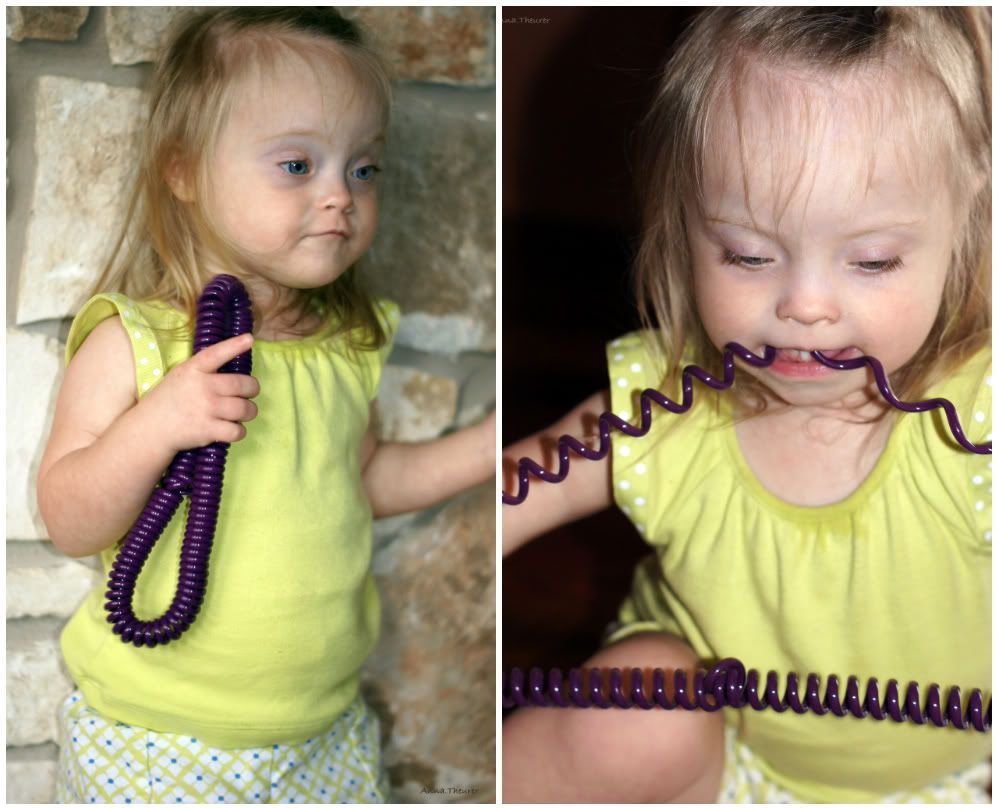 This is another type of "chewlery" and it worked great. . .until Ellie threw it at the mall, somewhere.
We have been experimenting, but sometimes nothing works like a good ole board book. Which, I might add, she is no longer allowed to be near unsupervised. Board books have been destroyed. Especially the spines. Ellie has a particular craving for the Sandra Boyton books. Must be the type of cardboard.
Sometimes one chew just isn't enough.
Surprisingly, the one item that seems to be working the best is a plain ole straw. I bought a huge bag of these colored straws at HEB for a whopping dollar. I carrying about 3 or 4 or well, a dozen around with me. All of her little buddies want straws too. I am the cool mom :)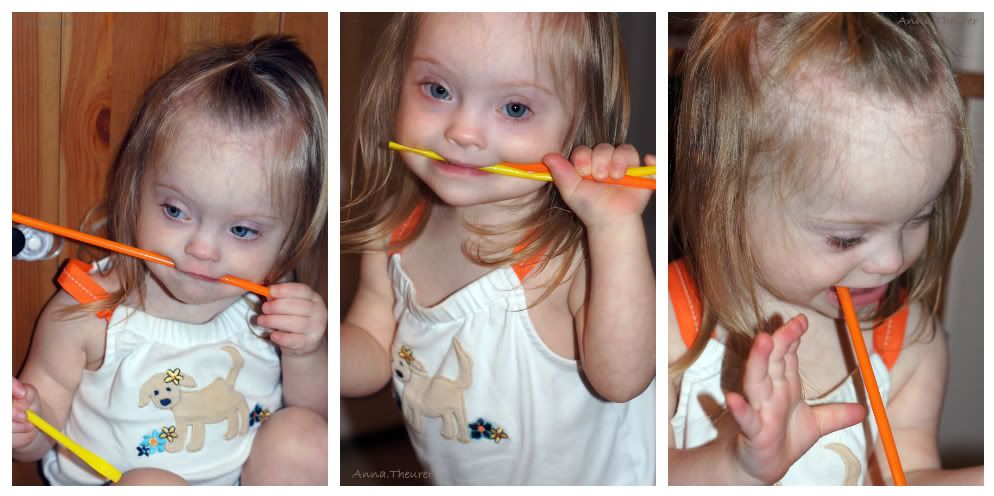 See how the straw coordinates with her outfit? Totally unintentional :)
On a side note, we started
applied-behavior-analysi
s [ABA]
therapy
a few weeks ago. We LOVE it! Ellie loves her therapist L. The Chunky Chicken is so excited to see her that she can barely get herself through the front door as she is squatting, smiling, and waving so hard. I like it because it gives me step-by-step, detailed directions on how to handle Ellie's sensory behaviors, how to teach her to play, how to help her communication ,etc. Structure. Perfect for an obsessive type-A mama bear. I will write a separate post on ABA therapy later, but they gave Ellie this thingy--she can now blow air out of her mouth! This is great for making sounds like "puh". As in "puh puh puh Puppy", for example. Now the Bear thinks it is great fun to blow air into her straw-cup thus sending milk/water everywhere. Yuck! Yet proud!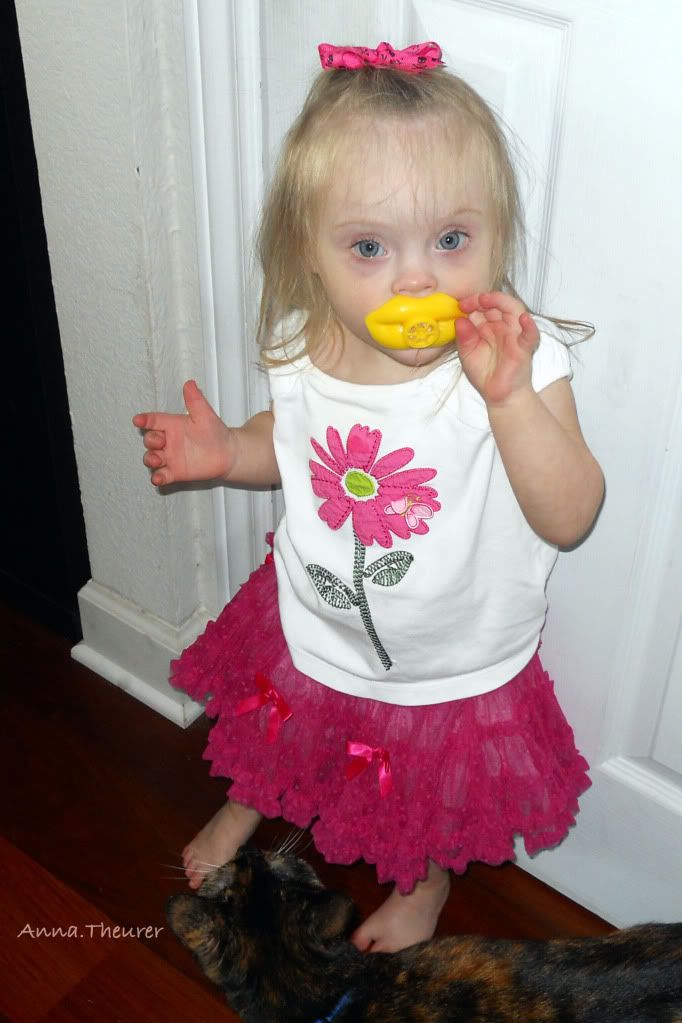 For more on Sensory Processing/Integration, click
here
.
Don't forget to vote for
The Chronicles of Ellie Bellie Bear
: Best Special Needs Blog PARENTS Magazine--click on the button at the top of the right toolbar :)
This is also the last week for Elden's
Change for a Change
.
The Taylor Family is still having a great fundraiser to help bring Andriy home. Visit their blog
here
for details on how you can help and be entered into a Give Away.
Finally, we are trying to come up with our Buddy Walk team name. I would love to hear your ideas--leave them in the comments section of this post :)

http://www.facebook.com/stopdisabilityslurs