I have lived in Texas for a little over 4 years now and I slowly see myself becoming more and more Texan.
The latest eye-opener was when a friend of mine on Facebook asked me how to smoke a brisket and I, well, I knew the answer! A few years ago, I would have assumed smoking meant inhaling nicotine through a cigarette. Now, I know it is BBQ lingo.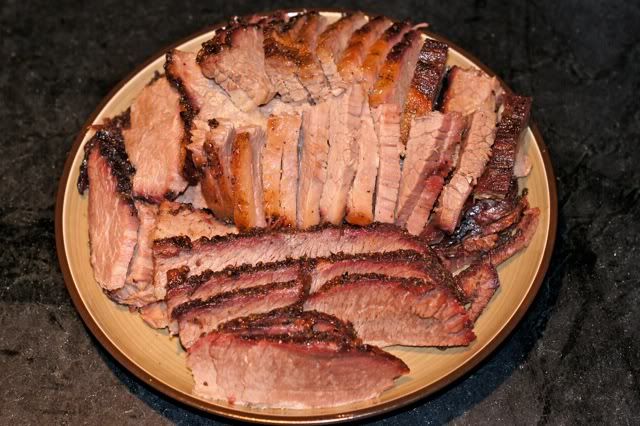 Oh yes. That's right. That is one, big heaping plate of brisket.
Do you see that "smoke ring". Look! I just snuck in some more BBQ lingo.
I grew up in St. Louis, the land of STL-style ribs. No brisket though. Well, I am sure that there was brisket, but I never really had it until I met Andrew. Then I lived a fair amount of time in Philadelphia where BBQ translated to hot dogs and hamburgers much to Drew-Drew's dismay.
This is how we raise our children in Texas. Instead of milk, Ellie got "Sause" when she was a wee bambino.
So here I am in Texas where there is a BBQ joint every other block (it is like Starbucks-they are taking over the world one block at a time). We are in the land of
Kreuz
Market,
Rudy's
(served at our wedding),
Smitty's
Market,
Franklins
Barbecue,
Coopers
Old-Time-Pit-Bar.B.Que,
Salt Lick
and
Mann's
Smokehouse. It is called "Sause" not sauce and the meat is to be eaten with your hands. Here is the thing, I like my meat naked. Yep, naked. No "sause" for me because in my opinion, if the meat is truly smoked to perfection and seasoned properly then nothing else is needed.
Andrew's BBQ masterpieced are that way. My favorite ribs come from Casa de la Andrew. They are so tender that the meat just slides right off the bone. Oh and the flavor. Sigh.
Anyway, back to the brisket. This past weekend Andrew decide to smoke a brisket. Just because. We have what is called
"The Big Green Egg"
.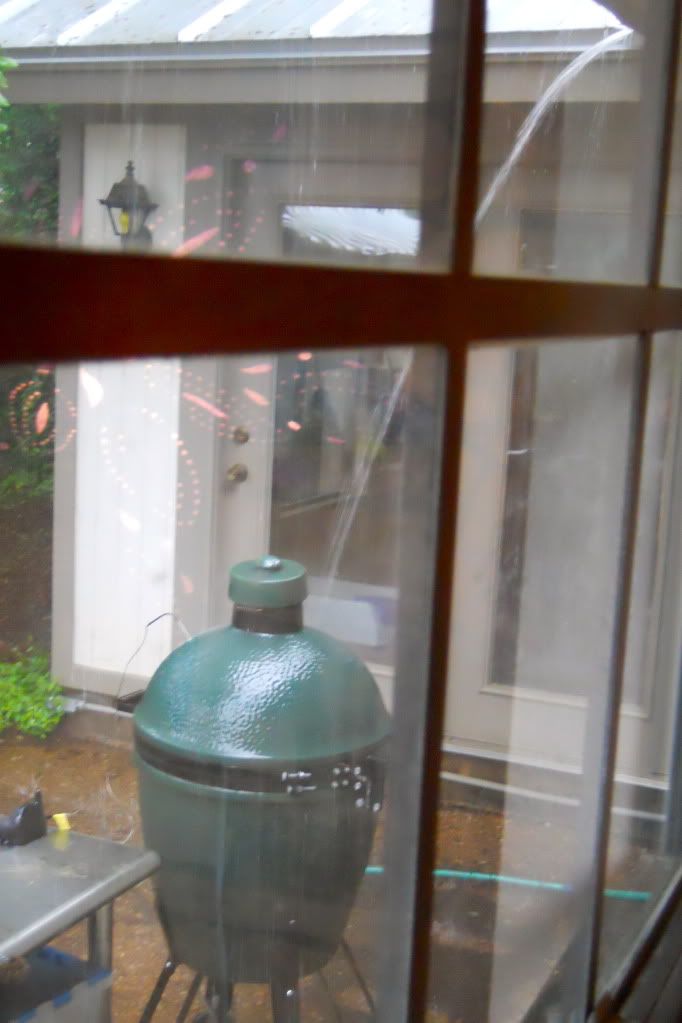 This is a random photo of our Green Egg. It was not taken with the most recent smoke out. However, I will tell you that we were indeed smoking something in it while that rain was shooting off of our roof and pelting the top the The Egg.
Should I divulge Andrew's secrets to the perfect brisket on here? What do you think? Perhaps I will give you a few secrets:
1. Be sure to leave the fat on the brisket while cooking. This is really important to achieve maximum moistness.
2. Apply brown sugar to the raw brisket and let it soak in over night. Then apply a little salt and a little pepper. Perfection.
3. Do not cook too fast or at too high of a temperature. Have patience. Baby your brisket.
Our Full-Blown Made-In-Texas Girl
She likes BBQ too.
Note: There was a big to-do over Kreuz and Smitty's. A family feud if you will. One got the original building and the other got the recipes.