We were recently invited by a dear friend of ours to attend an Easter Egg hunt. The campus of the church/school were divided in such a way that each age group had their own area to hunt. The 1 year-old group had eggs everywhere. . .in plain sight :-)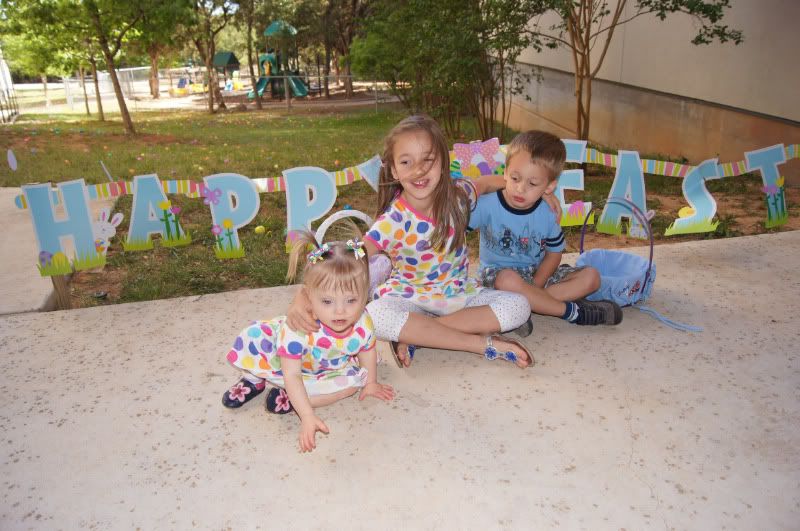 Ellie, Haley, Jaden
Look mama! I have a pretty blue egg. It goes with my dress. I bet it tastes yummy.
Ellie picked up pretty quickly that the eggs go in the basket. . . .
As soon as those brightly colored, plastic eggs hit the bottom of the basket, she would dump them out.
Let me just dump this.
Then she would bang the eggs together.
Let's not forget that she has to taste them. Apparently, she will "eat" plastic eggs, but not real eggs. Go figure.
Nom Nom. Nom.
Then repeat and repeat and repeat. . . .
Remember my friend concerns or my
friendship
post?
Haley & Ellie communicating via the Third Eye
What was I ever so worried about?
Buddies
Haley is like Ellie's big sister. They, obviously, are wearing the same outfit :-)
Let us not forget the handsome Jaden. I am relatively certain he is relieved that he is not dressed the same as the girly girls!
Jaden
Bear-Bear is not so sure about the Easter Bunny
More pictures to come. . . . once I sift through all 127 photos and then edit and upload to photobucket and then blog, etc.