My husband got a hold of the camera while I was in the shower. . .no it isn't what you think! Get your mind out of the gutter! Stop snickering :-P
So anyway, camera and husband. He decided to have an impromptu photo shoot with Sophie using one of Ellie's bright pink fru-fru tutus. (Sorry Maria!).
Oh, did I forget to mention that Sophie is our beautiful black and white hyperactive border collie?
How on Earth did he get that tutu on her and get her to pose? What kind of training methods is he implementing?
She is such a ham.
Well she is the Sophie Princess of the Puppy Paw-Paws.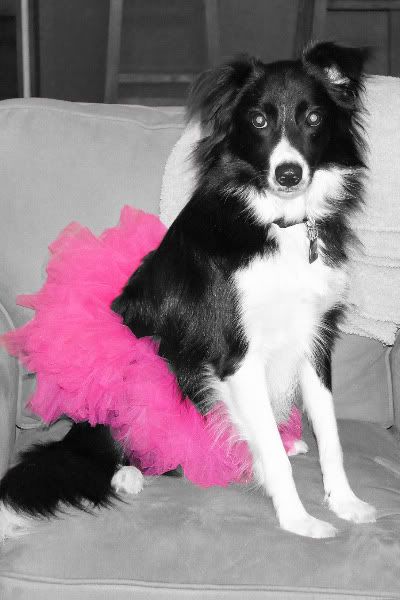 She even got to be on the furniture for the photo shoot
Look at her sitting all regal-like.
Princess Sophie
Clearly someone has too much free time.
Someone. . . Andrew :-) Isn't he handsome?
This coming from the person who recently posted photos of a stuff caterpillar.
Hey! I was practicing using the aperture settings on my camera.
Ellie looking alarmed. She isn't used to the camera NOT being focused on her. She is also concerned that her dear parents who love her very much have gone off of the deep end--stealing her stuffed caterpillar, dressing up the puppy. . .

Don't forget to vote for Ellie's blog. You can vote daily.
http://www.circleofmoms.com/top25/inspiring-families