Do you know the colors of the rainbow?
I had canceled my hair appointment twice. Once because I was in the car accident and the other time because Bear was sick. My lovely locks were becoming an unruly mountain of frizz so I was in desperate need of a trimming, er cut.
The cut is fine. Nothing exciting. Nothing drastically different. Just the same ole boring cut that I get year after year. When the hairdresser said that she had time for highlights, I thought "why not?". I could use some sprucing up with the holidays coming up. In fact, I could use some coverage over those white hairs that have been appearing since Ellie was born. (I blame Ellie for my hair follicles losing their pigment).
I glanced at my watch and knew that I would have plenty of time before meeting Ellie Bear at the bus. I was going to be hot. I was going to be sexy. I was going to be a trophy wife.
Okay, may not a trophy wife, but a girl can dream!
The highlights go nicely and the color looks good. The hairdresser then says "want me to add some red to it?".
Oh yes! Just like my baby locks! Just a little amp up of my natural color.
I was cute, huh?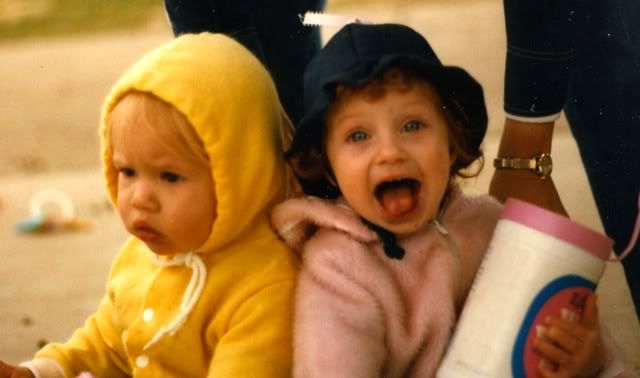 Guess which one is me?
I was going to look awesome just in time to see my family and Andrew's family and to take those Holiday photos. Tons of photos that I would actually be in. I would be the belle of the ball!
Er, not.
You see, my hairdresser and I have different definitions of red. Mine was going along the lines of auburn or cinnamon or strawberry blond. Hers was more in tune with the color of cherries. Those vanilla sundae cherries. Sort of like my old college days of dabbling with the Vampire Red Manic Panic dye. That red.
The thing is, I didn't realize this until she showed me what it was going to look like, after she dyed all of my new blond highlights. At this point, it was too late. I had enough time to have the dye toned down a bit and then run to meet the bus. My first thought was "I better warn my parents!" Then "I better warn Andrew!" Then "I wonder if I look good in hats?"
Now before you get all angry with my hairdresser, I am sort of to blame. At the last visit, we discussed various bold and bright colors for the
Reese's Rainbow Bobby fundraiser.
She had suggested red then. I just didn't imagine she meant bright red for this current, pre-holiday visit to the salon. . . Of course, the red is rather festive. Plus, I feel trendy. Edgy. Perhaps even a bit younger!
Rainbow Team
, here I am! Now let's hurry on up and raise the rest of that money. After all, I already have my hair dyed :)
Oh wait. You actually think you are going to get to see a picture of my daring new do? Just call me Candy Cane Anna!
Gah! Remind me to at least put a bit of make-up on before snapping and posting photos of myself.
This is my "come hither" look.
Yeah, I don't think it is that sexy either. Maybe I should practice in my spare time.
What spare time?
Jane, my luv, now I know what you mean about the burning scalp. Yowza!