I am certain that many of you believe that the title of this post is related to the fact that I have discovered a few strands of white hair. You would not be entirely mistaken. This week, I did indeed find a THIRD strand of fully white hair on top of my 31 year-old head. Oh why do these snowy hairs insist on cropping up around my face for all (and by that I mean me) to see rather than hidden in the back depths of my auburn noggin?
Do you see those white hairs? Nope, you shouldn't for I plucked those bad boys out immediately upon discovery!
I apologize. I am done bemoaning my aging head. Moving on. I am dying my hair for a completely different purpose. What, honey? I didn't inform you that I was dying my lovely, bouncy locks of sheer sexiness?
After great thought. . . all of 30 seconds, I have opted to dye this precious head of hair purple.
Yes. Purple.
For all of my high school and college buddies who thought I had grown up and moved passed my days of Manic Panic, I am being completely mature about this.
I am not, and I repeat not, having a mid-life crisis. A little over a week ago, received what Jane has referred to as "
The Cheekiest Email Ever from the Flight Platform
" and it was enjoyably cheeky. From all of my interactions with my blogging lovey Jane, this one was rather cheeky and rather enticing. Which means I jumped into her request with both feet as fast a humanly possible. At the risk of becoming Billy No-Mates, Jane pleaded with us to help her. To help her raise money and raise awareness. . . by stealing readers. Okay, that is not completely true. Jane always has grand plans when it comes to fundraising. Plans that involving drastic weight loss (she is doing the 50lb thing right now which equals I do not know how many stones) and then there was the chili being dumped on her head. Fundraising has been rather difficult. Hence the need to expand readership and add a little enticement.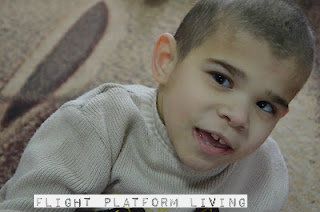 Bobby
Photo: Flight Platform Living
Jane had the great privilege not too long ago to witness sweet
Francine's Adoption
as well as visit
Orphanage 50
. As many of you already know, there are several orphanages in Eastern Europe filled with unwanted children. Children with disabilities because their parents were told by society that their kids are better off hidden away. Not all orphanages are horrible. In fact, those at Orphanage 50 have caring providers who want the best for their wards before they are sentenced to a horrible life in a mental institution at the age of 5 years.
Jane (2nd from right) with Albert Pavlov and staff from Happy Child Foundation
Photo: Flight Platform Living
Orphanages in general operate on limited funds with limited staff and with too many children. In the case of Orphanage 50, there is a dire need for space. Too many orphans and not enough room. Imagine, a new building for little children to thrive in while they wait for their forever families. Jane has met the people involved--Albert Pavlov of the
Happy Child Foundation
. She knows that their hearts are in the right place--for the children. Jane has pledged to raise money for her Bobby and for the construction of a building for Orphanage 50. For information on Orphanage 50 aka the
Chernigov Facility at Kalinovka
, please visit
here
. The
Happy Child Foundation
has constructed a building previously for this orphanage. To learn more about the
Happy Child Foundation
, visit
here
.
This building was constructed by the Happy Child Foundation in Kalinovka
Photo: Flight Platform Living
I know that you are wondering what the color purple has to do with Jane, Bobby, and Orphanage 50.
The Second House That Love Built
While a great deal of money has been raised, Jane has lost money on the fundraisers she has conducted. Jane has reached out to several bloggers with the hopes of raising awareness among new people and perhaps, if possible raise a buck or two for Bobby and the orphanage. To sweeten the pot and to hopefully get this
current fundraiser
off the ground, when $3,000 is raised, we will all dye our hair an outrageous color. . . and Jane will be posting pictures of us in all of our awesome rainbow glory.
Future site for The Second House That Love Built; Orphanage 50
Photo: Flight Platform Living
Ah ha! So you all thought I was just going to randomly dye my hair on a whim did you? Not until the $3,000 are raised! You can help make this happen by spreading the word and donating if possible. I know that I have asked you all for so much over the past few years and I know that money is tight. Believe me, my purse strings feel the pull too. Please know that I am forever grateful to all of you who have donated and reposted my pleas for help. So many children are now home with their families because of your amazing generosity. Some of the orphans are now on the My-Family-Found-Me page at Reece's Rainbow. I firmly believe that nothing is impossible. Please, I am asking for awareness. For you to spread the word. Or if you happen to have some spare change laying around in the back seat of your car or couch cushions that you would like to donate to the cause, Jane & I would be forever grateful. All of us together can make a difference for Bobby and for those children who are living in Orphanage 50.
Photo: Flight Platform Living
Now I know that all of you will be insanely jealous of my purple hair, but do not despair. Email me at the chroniclesofelliebelliebear@yahoo.com if you too would like to show your support and participate. When we reach the lucky $3,000, dye your hair any color of the rainbow (or all the colors) and send me your pic. I will have dear Jane post it on her celebratory blog post. Plus, whenever someone comments on your glorious hair, you can spread awareness by telling them the reason behind your dye-job!
Come on! Join in the fun! Even Ellie "dyed" parts of her hair pink using cupcake icing.
Notes:
Dye does not have to be permanent.
The Second House that Love Built Fundraiser
.
Orphanage 50 aka The Chernigov Facility at Kalinovka
Happy Child Foundation
--
The Happy Child Foundation is a non-profit organisation which strives to improve the lives of impoverished, neglected and diseased children by harnessing donor funding, personal contacts, community resources and skilled expertise.
For all of you readers who use Photobucket, can you help me out? They upgraded to something and since then, I have trouble getting my watermarks to show up. I go to "edit" and then add the text "Ellie Bellie Bear" or "Anna.Theurer". I save it and it appears on the photo. However, when I paste the URL to Blogger, it does not appear on the photo (as you can see above). What am I doing wrong?