Forget-Me-Not Friday is a blog host sponsored by Jane at
Flight Platform Living
with the goal of bringing about awareness of orphans with special needs in Eastern Europe. To learn more about why this is such a cause close to my heart, please click
here
. Have tissues handy.
First off, do you remember
Shawna and Lindsay
? I met these beautiful, beautiful girls in person over the weekend. Their forever mama is a member of our local Ds group and when we had our musical kids' gathering, she brought her son and two, lovely little girls. Shawn and Lindsay have been home for a few months and they are thriving. Living proof that a forever family is balm to the soul.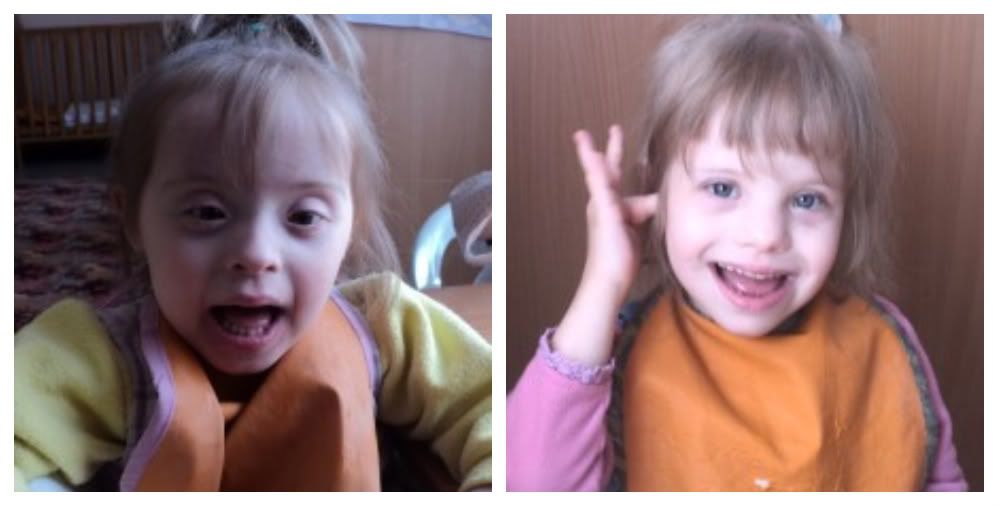 (Shawna & Lindsay now Naomi and Hannah)
Secondly, do you remember our dear Shannon? Honestly, I feel like the
Sphak family
has endured the longest pregnancy ever. Less than 2 weeks ago, little Shannon's forever father met her for the very first time (Mama had to stay home with the kids) in Bulgaria. The smile on Shannon's face as she hugged her papa is breathtaking.
Shannon
While Shawna, Lindsay, and Shannon have families, there are so many other children who do not. So many other children who have been discarded and sentenced to live in mental institutions all because they are "defective", "unworthy", "broken". All because they have Down syndrome, Cerebral Palsy, Fetal Alcohol Syndrome, Crouzon's syndrome, HIV, or some other disability. Each and every single one of these children deserve love, a home, a family, and medical care. Each and every single one of these children are worthy, valuable, and important. The children shown below all need families. Please, help me spread awareness and maybe their family will find them.
UPDATE: Since writing this post, Tamara (who is shown below) is now listed on the My Family Found Me page at Reece's Rainbow!!!!!!!