According to Ellie. . .
Mommy, Uncle Matt, and Awa Grandma took me to the mall. I was really excited because I always get to ride the horses [carousel] with Mama. Of course, she usually drags me into Gymboree first and shows me these ridiculous shirts with owls or deer or some other animal when what I really want is a cupcake. Or a puppy.
I digress. I was in the mall and for something about a Christmas list and I was forced to wear a dress. And tights. And, oh I just can't believe this, a HAIRBOW! Mama must have been drinking a little too much hot chocolate to think I was going to wear a bow in my hair!
Then, I had to sit in line. I loved it. I got to look at all of the kids. They were merry. I waved and screamed "AYE".
Okay, taking too long here. I can only show off my amazing beauty to other children for so long.
What on Earth? Who is this guy?
Oh no! He is looking at me!
Hmmm, nice cowboy boots, big guy. Love the hat too. Looks like a real beard unlike last year. Although, I got in trouble for pulling on it last year so I suppose I better not give it a little tug.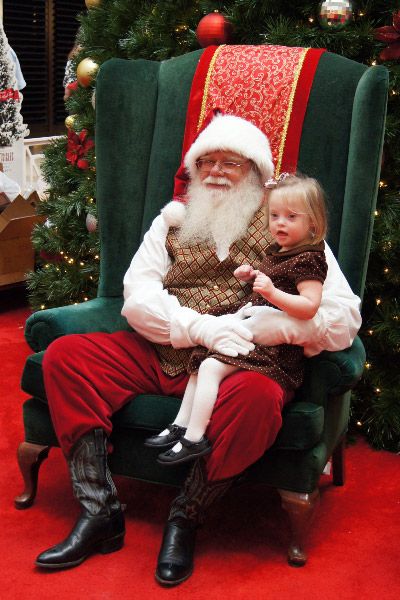 I wonder why I am sitting here? Why are these strange people telling me to smile? STINK EYE! Yeah, that will teach them!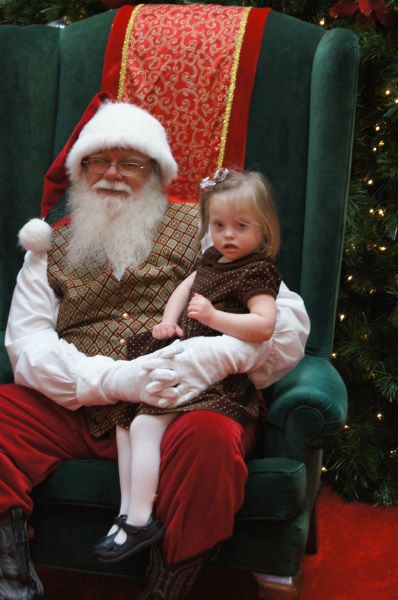 I think I am all done.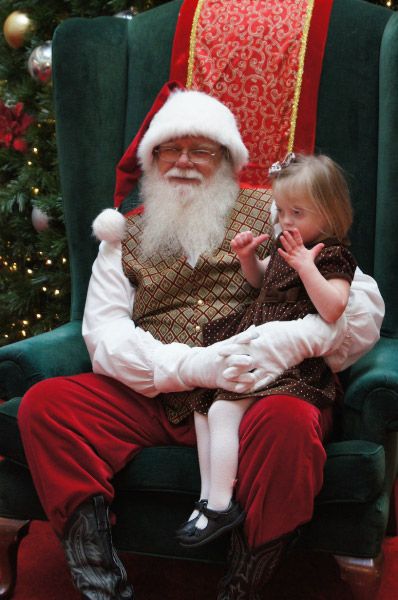 Yep. I am all done. All done now.
Bear literally looked back and forth between me and Santa before signing "all done". When I stated "oh you are all done", Santa signed "all done" and "Thank you." to her! Oh and yes, she did pull off Santa's beard last year at a Breakfast with Santa.