A little belated, but as promised, Easter Ellie!
Growing up, we always had two Easter egg hunts. One was at my Grandparents Bruns' house where all of us cousins would hunt ruthlessly for the "big" egg. The one that held a dollar as opposed to the ones filled with candy and nickels. My cousin Brendan nearly always uncovered the coveted "big" egg. I am relatively certain that he is extremely rich now due to all of those Easter egg hunts.
The second was at my parents' house with just me and my brother. We would be in coordinated outfits masterfully sewn by my mother. Our baskets were filled with chocolate and one year, they each held a beautiful stuffed, white bunny. I ceremoniously named mine Bun-Bun and carried him around with me for years until his eyes, mouth, nose, and one ear detached themselves from his plush body. My brother's bunny remained a pristine white complete with all body parts. Oops, I did not mean to divulge my secret about Bun-Bun. Anyway, the eggs would be hidden indoors behind curtains and under wooden tables because it was often too chilly or rainy in St. Louis around Easter time.
One time, I escaped my bed in the middle of the night to get a glass of water. I discovered the Easter Bunny. Or should I say, my mom. Still, I enjoyed our years of Easter egg hunts and now I am thrilled to be sharing the tradition with my Ellie (last year she fell asleep just before the big hunt).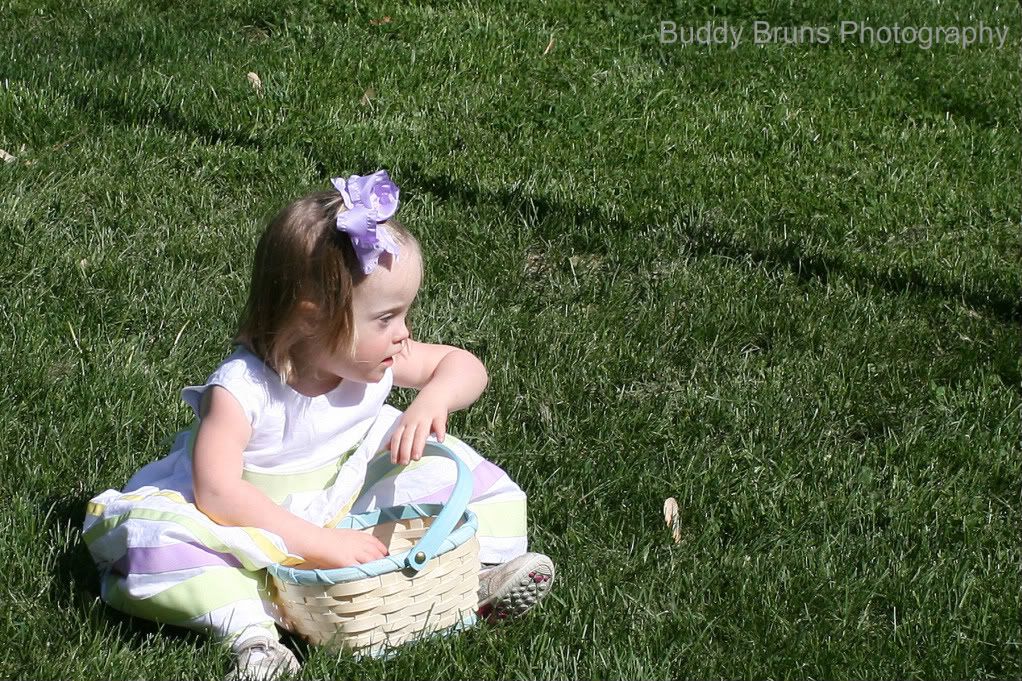 no, your eyes do not deceive you. The Bear is wearing her tennis shoes because she couldn't walk in her nice Easter shoes.
This year, it was actually warm and sunny outside. My parents carefully hid empty pastel eggs around our backyard in what was perceived to be rather obvious places. However, Ellie was more interested in destroying the edible grassy filling in her Easter basket rather than hunting for rabbits, err I mean eggs. Sorry, I have Looney Tunes on my mind.
My father walked around the backyard, kicked each egg into the middle of the yard, and shouted "HEY ELLIE! LOOK HERE!". Ellie Bear has a great attachment to all the men in her life and her "Papa" is no different. She gave him her undivided attention, immediately sauntered over to the egg and plopped it into her basket like a champ.
Little Miss Chunky Monkey enjoyed cracking all the eggs open, dumping them onto the grass, and then putting them back into her basket. This continued for the remainder of our St. Louis visit. Seriously, cheapest toys ever-plastic eggs.
Wishing you a happy belated Easter. Tell me how your family celebrate Easter or Passover!