I am the proud mother of a feisty, defying, sassy toddler Bear. With that comes great difficulty in capturing the "perfect" portrait for a photo Christmas card.
Gone are the days when I could get Ellie to pose like this:
Instead, I am left with a wide array of looking-down, looking away photographs to choose from. I know that I am not alone and I could not help, but chuckle when I read about Becca's woes on
The Bate's Motel
as she tried to capture the perfect photo of dear Sammi. Why must kids be so stubborn and difficult? Do they not know that we need a perfect photo of them gazing happily into our camera lens-eyes open, infectious smile? Apparently not.
Maybe I should choose the one of Ellie removing her shoes with her teeth?
Or the one with the missing shoes and ripped stockings?
Or this one?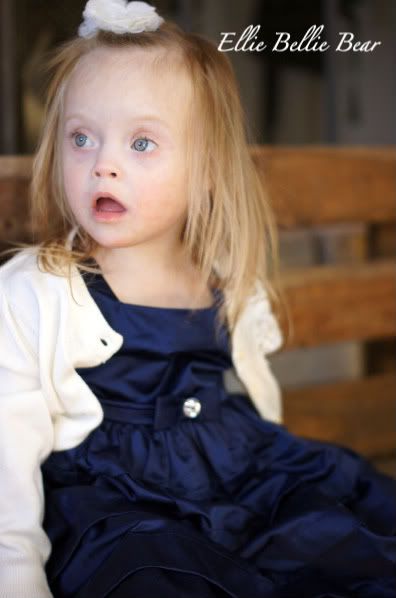 Actually, I am really lucky Ellie kept her bow in her hair and that there were no freak spit up incidents at all over her Holiday finery.
Maybe next year, Ellie Bear will cooperate? Hmmmm. I am not counting on it!