When the levee breaks,
mama,
you got to move.
We all know that our children with Down syndrome tend to have low muscle tone throughout their bodies which happens to encompass all of those little muscles within the intestinal system. Unfortunately, this commonly leads to constipation. The Bear is no different in her propensity to back up, but every once in a while, our methods to uncork can backfire.
Warning
: This post is indeed about poop. Toddler poop.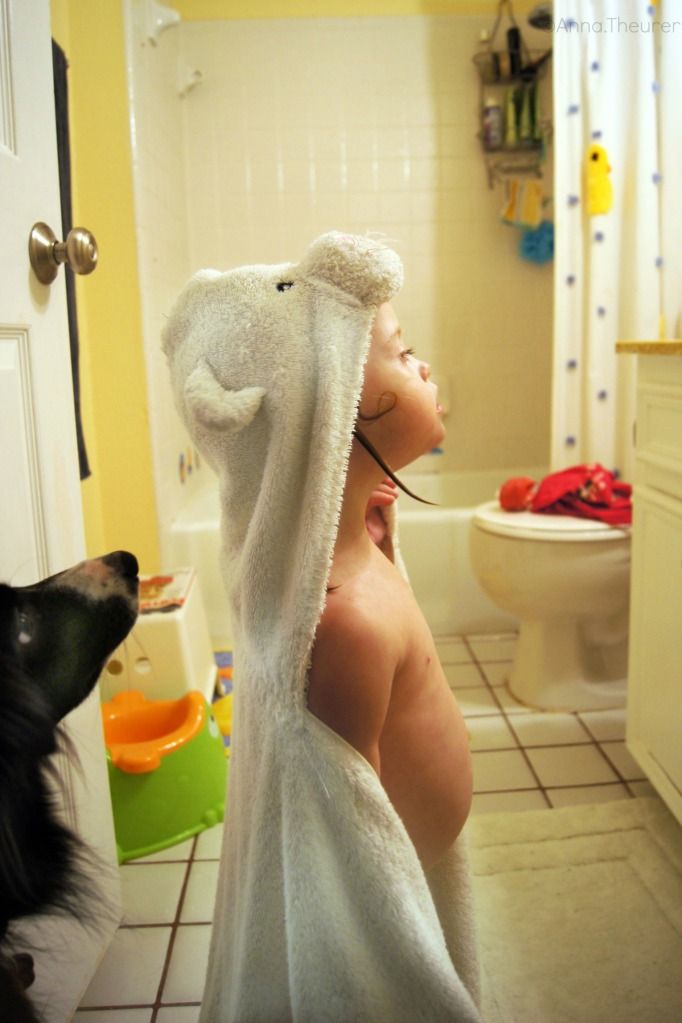 Toddler Bear has been plugged up ever since she stopped her daily 1-pound consumption of grapes. Apparently, heavily processed cheese crackers do not have the same laxative properties as all natural fruit. I turned to Miralax and apple juice for a few days and just little tiny pebbles of stool painfully emerged. Until Thursday at preschool. There was a massive Code Brown situation that involved a change of clothing and a rinse in their industrial kitchen sink. Thankfully, the preschool will welcome her back into their classroom. Big. Sigh. Of. Relief. I saw the discarded, soiled clothing and I thought for sure they would be forever traumatized.
I foolishly believed that the worst was over. I firmly thought that I escaped a massive fecal clean-up that would necessitate a Hazmat suit.
While it does not happen often *wink*, Mama Bear was incorrect. Saturday rolls around and the Chunky Chicken was innocently playing on her pink armchair with
Signing Time
in the background. I was there perfecting my "porcupine" sign because who knows when I might actually need to whip out my vast knowledge of random animal signs like skunk or porcupine. Uh, does anyone know how to sign
kookaburra
? Anyway, I heard a swoosh or a pfffffuuutttt. Then, the stench hit. The air purifier went from green light to red light indicating that the air had become very "unpure".
There was a fecal explosion oozing out of Bear's diaper. Up the back. Out the diapers holes. Dripping down her legs. I was left wondering
"when did she eat an orange crayon?!?!"
After letting lose this torpedo of stool, Toddler Bear was content to play while sitting in all of her soiled goodness. However, this Mama was in a hurry because I feared fainting from the fumes created by a stool that had been cooking since Thursday. Plus, it was ALL OVER. I grabbed Ellie's hand and nearly dragged her to the bathroom. Little nuggets of waste were threatening to plop onto the wood floor from her diaper.
Then. . . she stuck her other hand into the back of her diaper. Really?! As though this wasn't gross or messy enough, my angel of a daughter felt the need to further cover herself in nastiness?
Upon plucking her into the bathtub, she ran her poo-covered hand with little flecks of orange crayon across the tiled shower. I detached the shower head and hosed my little darling down all while she was screaming like a tortured banshee because her head got wet. I felt great satisfaction as I watched rivulets of brown water escaping down the bathtub drain.
Convinced that Ellie was as clean as humanly possible, I removed her from the tub, placed a fresh diaper on her, and went to assess the damage to the floor and the chair. The floor was an easy clean-up. I have a dog. Just kidding! Sophie dog did not indulge in stinky doo-doo. The chair. . . oh the chair had smears everywhere from where the diaper literally exploded from the force of her little bowels evacuating. There was no slip cover on this chair. There was not a detachable cushion. It was all one piece. It looked like a zoo full of monkeys had a hay day flinging poo at it. No amount of oxyclean, detergent, or even pet cleaning fluid could fix the chair. I know because I tried. These chairs are expensive! We paid $10 at a garage sale, but that is besides the point.
We said good-bye to the pink chair, I scoured the bathtub, and I hid the miralax.
Are you sufficiently grossed out?
If not, my blogger buddy Leah has much more entertaining (and disgustingly hilarious) story about her little girl Cora. Head on over to
Our Little Cora Bean
. Warning, her post is not for the squeamish!