I thought that perhaps we would have more time and yet, I am grateful that Ellie is still too young to understand. To know that she was being teased. All because she is different.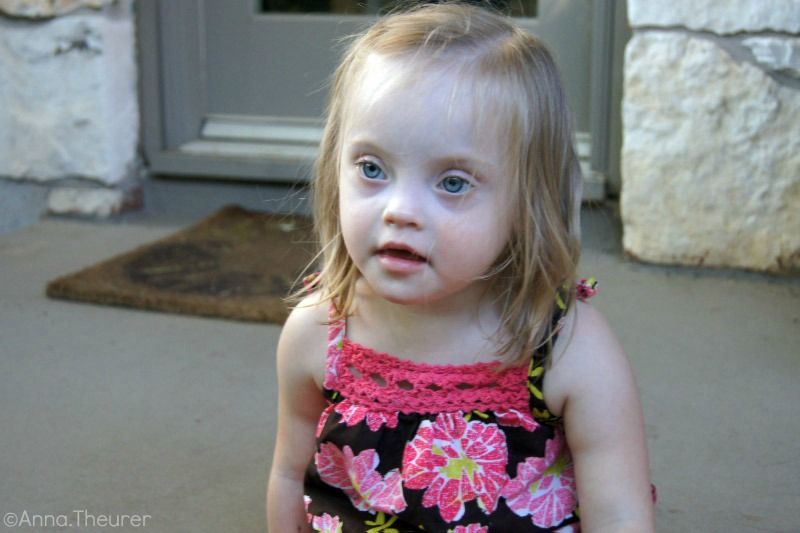 We were at one of our indoor playscapes burning off some excess toddler energy when two 5 year-old boys called my little girl "a creepy baby". She was creepy because she was humming & waving her hands when she was happy and screaming & kicking her feet when she wasn't. She was creepy because she was doing "weird things with her hands". Those "weird things" were signs. She was signing "my turn, help, please, sorry, and thank you" to the kids. Obviously, I do not expect other kids to understand what Ellie was saying to them in her signing, but it still made my mama heart hurt a bit.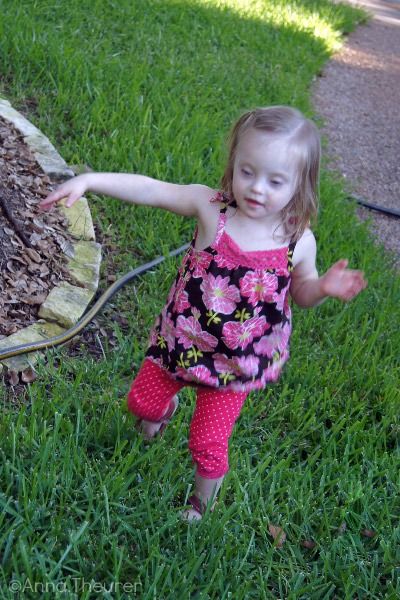 When she is excited, Ellie looks like she is conducting an orchestra!
One of the boys' older sister, told them that Ellie "isn't a creepy baby. She is a
cute
baby". Smart girl! Of course the brother doing what all brothers love to do started goading her sister and saying that my Ellie is "creepy". The boys would run because "oh no! The creepy baby is headed over near the slide!".
I am grateful to the little girl who stuck up for Ellie and recognized her "cuteness".
I might be biased, but I think Ellie Bear is pretty darn cute too.
I graciously thanked the sister who defended my little darling and then I firmly told the two boys that Ellie isn't creepy, but rather she has trouble talking and hence the "weird hand movements". I explained that it is really hard for her to talk so she uses her hands to speak. The one boy seemed to understand, but it was still apparently really funny to called my little girl "creepy". I do not think they were doing this to be cruel. It was more of pointing out that she was different in doing "weird things with her hands" and then it developed a game once the sister corrected them.
Ellie didn't understand. She doesn't know what "creepy" means and she didn't recognize the they were talking about her. She just wanted to run around and do what they were doing on the playscape. However, that will not always be the case. One day, she will understand and she will know that she is the point of ridicule.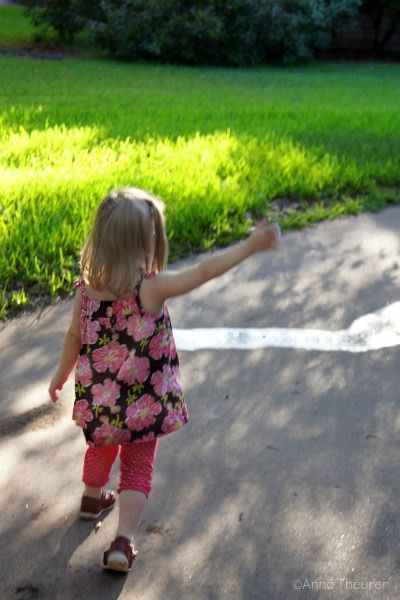 Hmmm. Me thinks The Bear is hitch hiking.
For the most part, I have learned that children can be very accepting and yet, there are those who taunt others Down syndrome or not. I have seen kids tease for wearing glasses or even because they have dark arm hair. I am not ignorant. I do know that my daughter will be ridiculed during her life. I was not prepared to experience it so soon. I also know that I will not always be with her to defend her when she is called "creepy" or what other name someone decides to call her. I only hope that I can teach my little Ellie and equip her with the right tools to be kind to others and to stand up for herself.