...does not look like this.
Please ignore the double chin. In fact, pretend you don't see it.
There is a reason that I rarely post any photos of me and Ellie together. It is because they look an awful lot like this. She will cooperate with Andrew and even with my mom, but with me, she refuses to "perform". Also, I am usually the one behind the camera.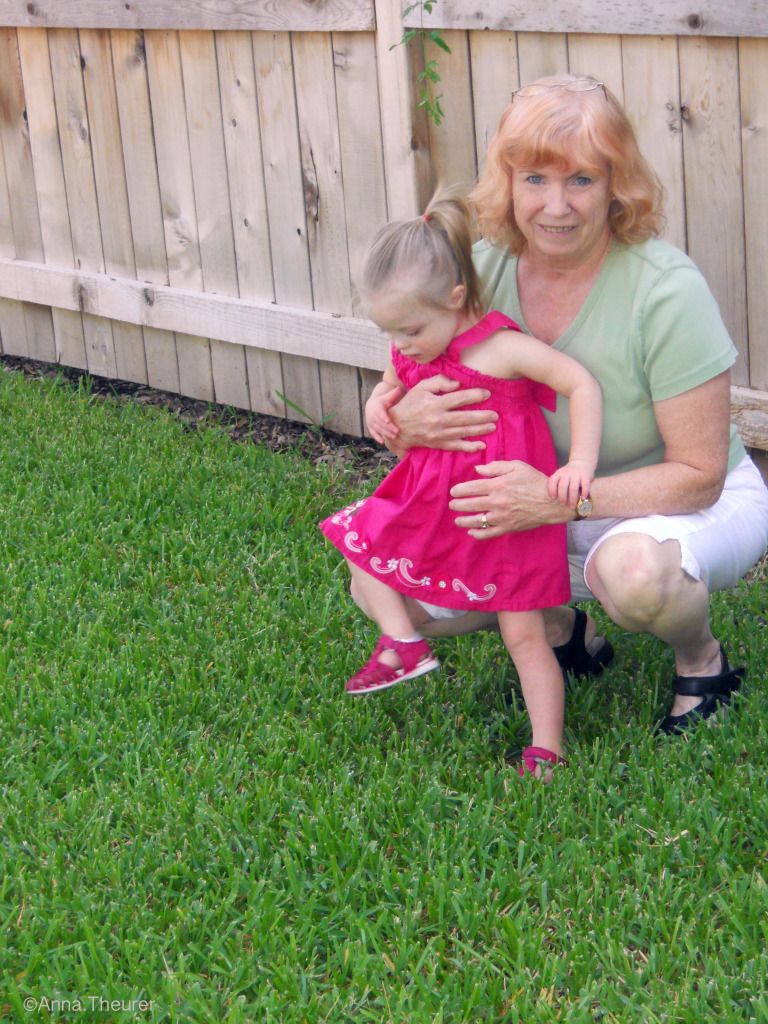 Escapee!
Many of my photos are the direct result of rapidly pushing down the shutter button of the SLR camera while rolling around on the ground at Ellie's level. Remember those shots of Ellie and Jack during music therapy? There were some back bends in there to capture those pics. I confess that I often use the "auto" mode and if I am feeling extra feisty, I adjust the aperture.
What are we looking at? Seriously, what are we looking at?
While live action, candid shots are lovely, sometimes I just want that outdoor "studio-like" portrait of Mother-And-Daughter to place in an Ellie-proof frame by my desk. This requires someone else operating the camera and I certainly do not expect them to roll in the grass in acrobatic form. There are mosquitoes. And ants. Fire Ants.
Close enough. I will take it!
So I try to wrangle my little girl as best as possible and tell my mother or Andrew to just keep pressing the button. We all know that shooting approximately 1,000 photos of a toddler yields about 5 usable pictures. Thank you mom for being brave enough to battle those blood-thirsty mosquitoes and using my extremely slow and dinky point-and-shoot camera!
*Andrew has kidnapped my SLR camera and fully drained the battery. . . oh and left the charger in an unknown location. Therefore, the camera phone and point-and-shoot will be my new friends until the new charger arrives.*