Don't mind the crumbs.
I have essentially given up. I know it is bad to say and perhaps I look like a horrible parent, but I have. I know that my daughter has oral sensory cravings. I know it. Goodness, even strangers know it. She almost always has something in her mouth and now she is gagging herself. On purpose. She sticks her fingers way back in there. Gag. Gag. Gag. Strangers ask "is she teething?" and I lie and say "yes, those 2 year molars are pesky little things" because that is the acceptable thing to say and well, the easy answer. The shocking fact is, Bear has all her baby teeth already. So no, she isn't teething. She is
oral stimming
.
Replacing the object Ellie is chewing on with the appropriate chew/straw/chewlery is:
a. annoying
b. tedious
c. unrealistic
d. all of the above
The person with the correct answer gets a hardy congratulations and a cyber high-five!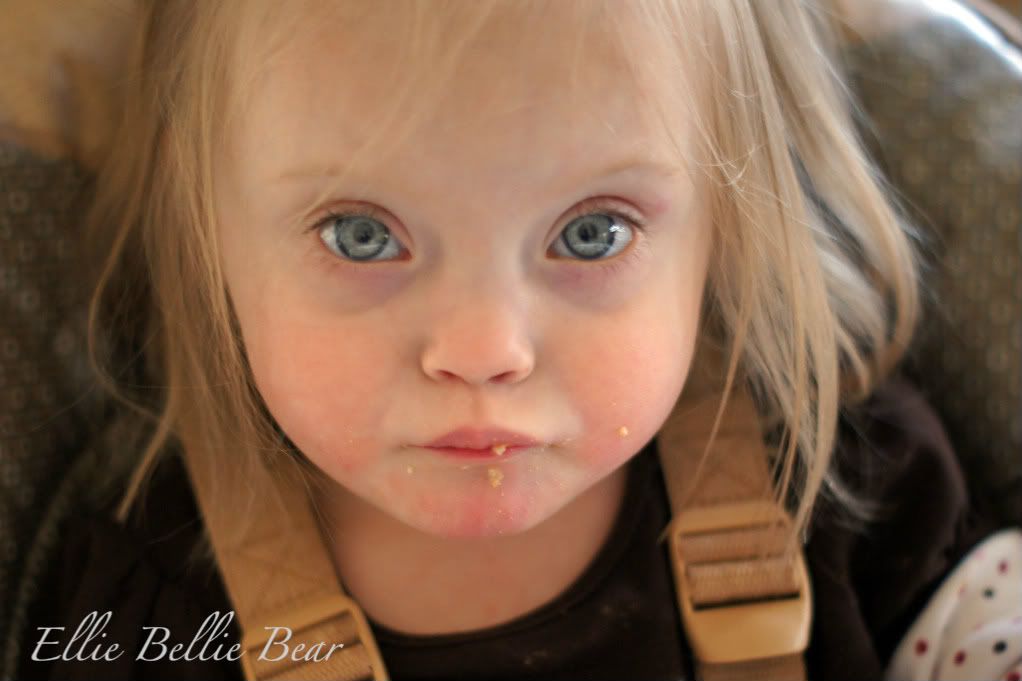 What are you talking about? I don't have an oral sensory fixation. Nope, nope, I don't have anything in my mouth.
We have gone through 5 chewelry tubes/necklaces. They work temporarily and then Ellie throws them. Somewhere. Typically in the mall and I cannot find them despite retracing my steps. We have gone through an entire bag of straws. They sometimes work and sometimes they are also thrown. Okay, almost always thrown. I have stopped carrying them around the house. No longer are my pockets filled with brightly colored straws. They [the straws] were ending up everywhere. Behind the couches, up against the baseboards, in my cats' mouths. They are not safe for the kitties to munch on so I stopped using them. Frankly, it just became impossible for me to keep up with Ellie's mouthing--the immediately cramming a straw into Ellie's mouth as she mouths an object. I cannot do it. I cannot do this back and forth, straw-object-exchange 100% of the time. Also, perhaps the real truth is I DO NOT CARE anymore.
Gasp. Shock. Mouths hanging open. I have said it before and I will say it again, Ellie is a mouther. All I am really doing with the
chewelry
and the straws are giving her a SOCIALLY ACCEPTABLE objects to mouth. Mouthing on the blocks/stacking rings/legos is inappropriate, but a straw is not? Or the rubber "chewelry"?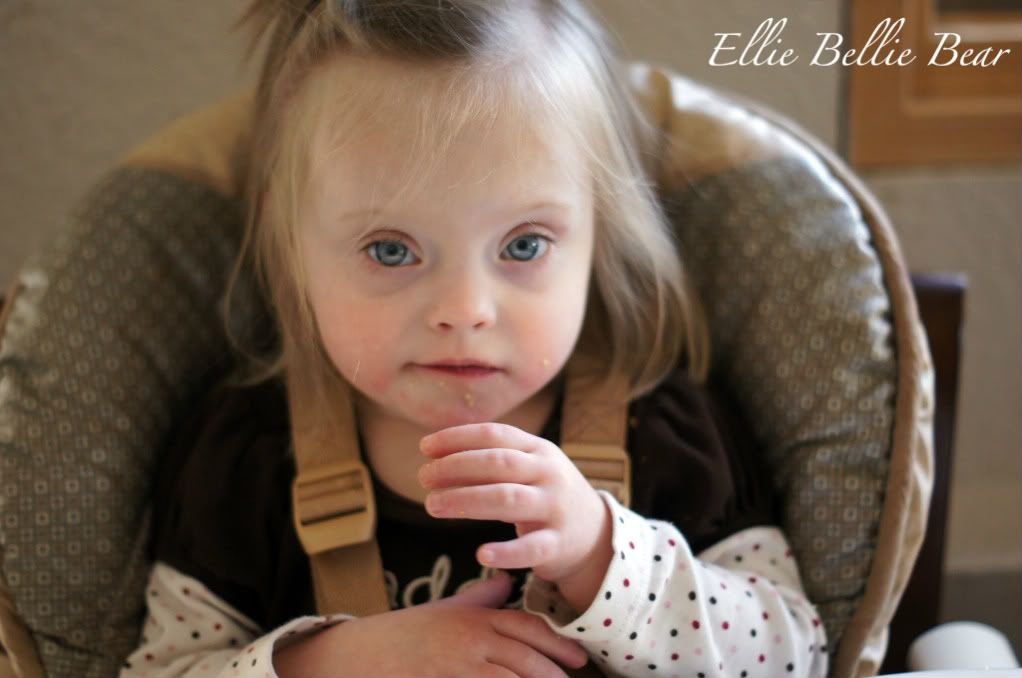 Mmmm. Crunchy crackers.
We still provide Ellie Bear with high sensory input foods at each meal--crunchy crackers, sour fruit twists, the occasional lemon slice. Do they help? I think so because while she mouths each and every toy, she is now
able to play and focus
on the task at hand. If there is something that I really do not want in her mouth such as rocks or finger paints, I just calmly say "no mouth". Surprisingly, that typically works. If not, rather than yanking the object out of her mouth (this gives her the sensory input she so desperately craves), I push into her mouth. This usually causes her to release the object. Is it horrible, that I no longer care? Is it horrible that I have given up?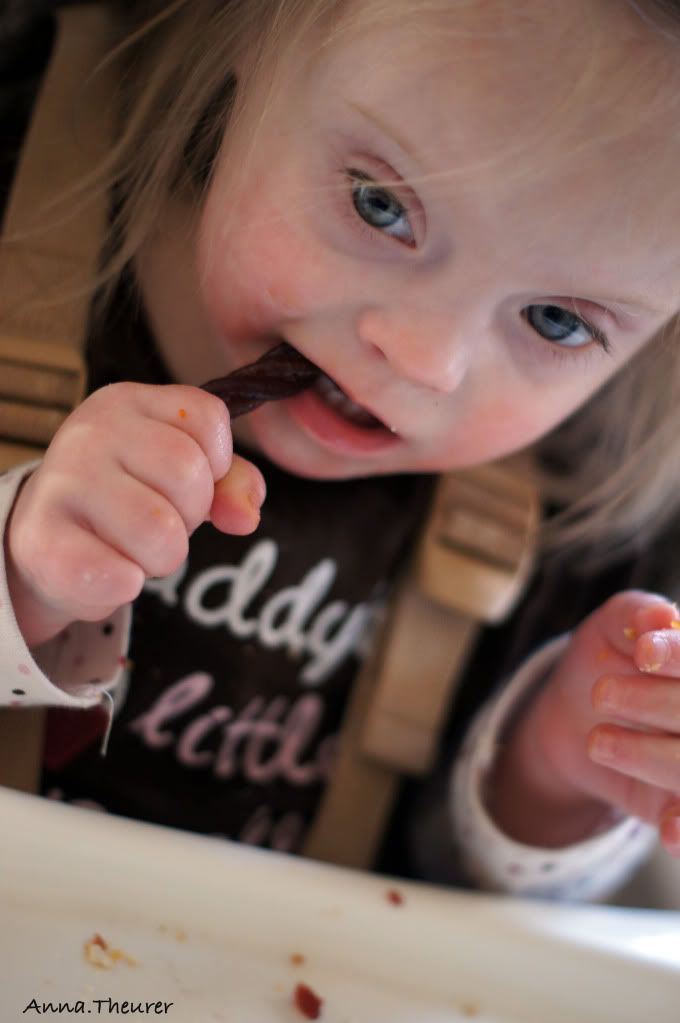 Next on my list of things to try is a motorized toothbrush. We already use one for brushing her teeth, but our ECI therapist recommended taking one with us to use before therapies. The thought is that the vibrating toothbrush will satisfy her oral cravings long enough to get her through speech, OT, and ABA therapy. Eh, it is worth a shot and it seems a whole lot easier than chasing Bear around the house with a straw or chewelry!
You mean use the toothbrush like this?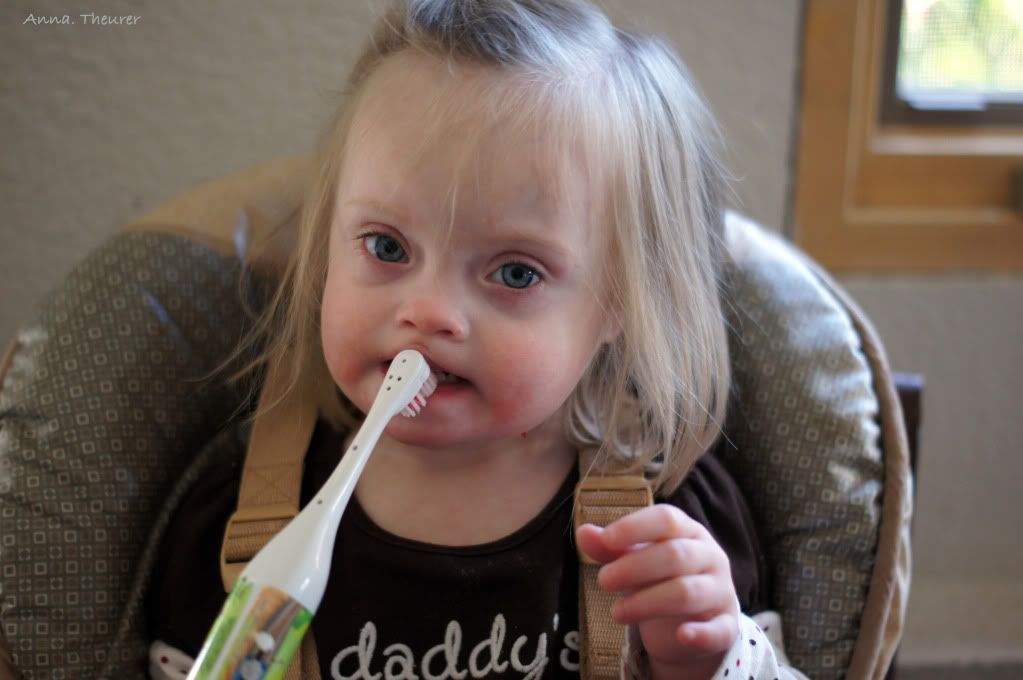 Oh, I see! I do it myself!
So maybe I haven't complete given up. . . after all, I did buy the toothbrush.
I would love to hear your suggestions and what works with your kids!