I believe truancy may be in Ellie's future for I am sensing a pattern. Back in June, my little Bear-Bear became very ill and missed her very
first day of preschool
. Last week, Ellie missed the first TWO days of Pre-K at the elementary school.
Bear was probably holding that thermometer up to her nightlight.
Therefore, Wednesday ended up being Ellie's first official day of school. . . the first day on the bus.
Weeks before this hookie-playing adventure, Ellie and I would watch the
Signing Time
!'s School episode (I learned how to finger-spell
glue
and Ellie learned how to sign
school
and
paint
). We picked out a ridiculously pink Hello Kitty backpack (she wanted an "ick cah" or pink cat) and a hippo lunchbox. I also read her the book
Mouse Goes to School
,
which depicted a bright yellow school bus and a little mouse. The mouse would ride the bus to school, greet his teacher and friends, sit through some classes, and eat in the cafeteria. Exactly like what Ellie would be doing every day in her
PPCD class
. Yes, Ellie does eat lunch in the cafeteria. We visited her teacher Miss K and the classroom prior to her IEP meeting. I continually informed Ellie that her therapy buddy G would be on both the bus and in her class.
Just before Ellie met her teacher.
The first day, the bus driver J and the bus aide L allowed Andrew and I to step onto the bus and buckle her into her car seat. Contrary to what this picture shows, she started off great. Ellie Bear just didn't want to be strapped down. This was a long yellow school bus with a long aisle perfect for running. Hyperactive Bear wanted to demonstrate her wicked sprinting skills.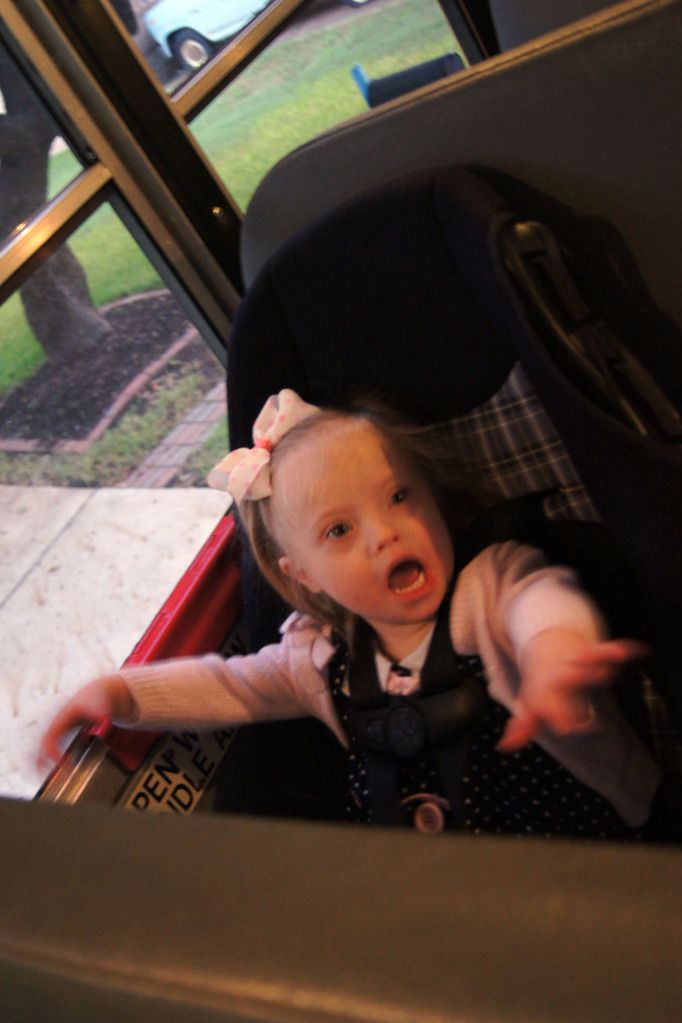 I cried some tears and kept my phone on my person at all times. I frequently checked the phone's screen in case I some how missed a call from the school. I did not leave the house at all. Yes, I was on Facebook most of the time receiving supportive comments from all of my friends who have walked this road before me.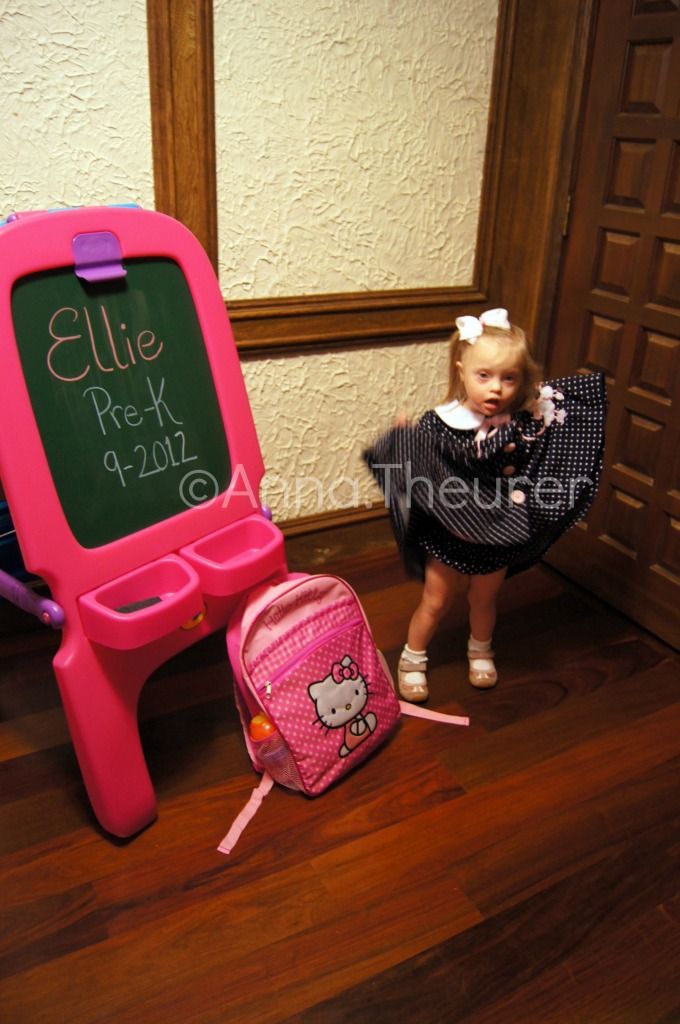 A little more than 2 hours later (early release day!) the school bus approaches, I am beyond anxious. The doors open up and out bounded my little pixy. She happily screamed "
GUY
" [
bye
] several times at the driver. She then signed "
bus
" and waved as the bus turned the corner. She gleefully ran into the house and wanted to watch
The Wiggles
. I figured all went well.
Until I opened her backpack and removed the folder with a daily report from the teacher.
My heart plummeted.
The unhappy face was circled at the top of her report.
"
Ellie was very sad and a bit confused coming off the bus. K held her for about 15 minutes and L (
another student)
sang her some songs. . . . .
"
I felt horrible and as though my heart was ripped out of my chest and crushed into tiny pieces beneath a large, steel-toed boot. I thought that I had prepared her for this day. I mistakenly believed that because she always happily went to her summer preschool that she would love the
PPCD school
. I also thought that she would love the big yellow school bus.
The problem is that explaining vs. experiencing are two very different things. The concept of getting onto a bus without mommy or daddy, riding around the subdivision picking up strange children, and than arriving at school where there are much older children (this school goes up to 5th grade) is a rather difficult concept for most 3 year-olds to grasp. Add in a cognitive delay and a receptive language delay and you have a real scary situation.
At the suggestion of some very wise friends, I created a little online book using the photographs I snapped of Ellie that morning and of some pictures I captured from when she met her teacher. That afternoon and very early the next day, I sat with Ellie on my lap showing the pictures of her with her backpack, her school bus, sitting on the bus, and sitting outside the school.
Ellie is a visual learner and I really hoped that these would help her to understand. However, on the second day, while she easily went into the arms of her aide, she looked pleadingly outside the bus window and screamed while signing "mama". A desperate look on her face and big fat tears rolling down her cheeks which were turning red.
I sobbed this time.
Her daily report looked "prettier". The happy face was circled with a comment of "
fussed for about 5 minutes on arrival
".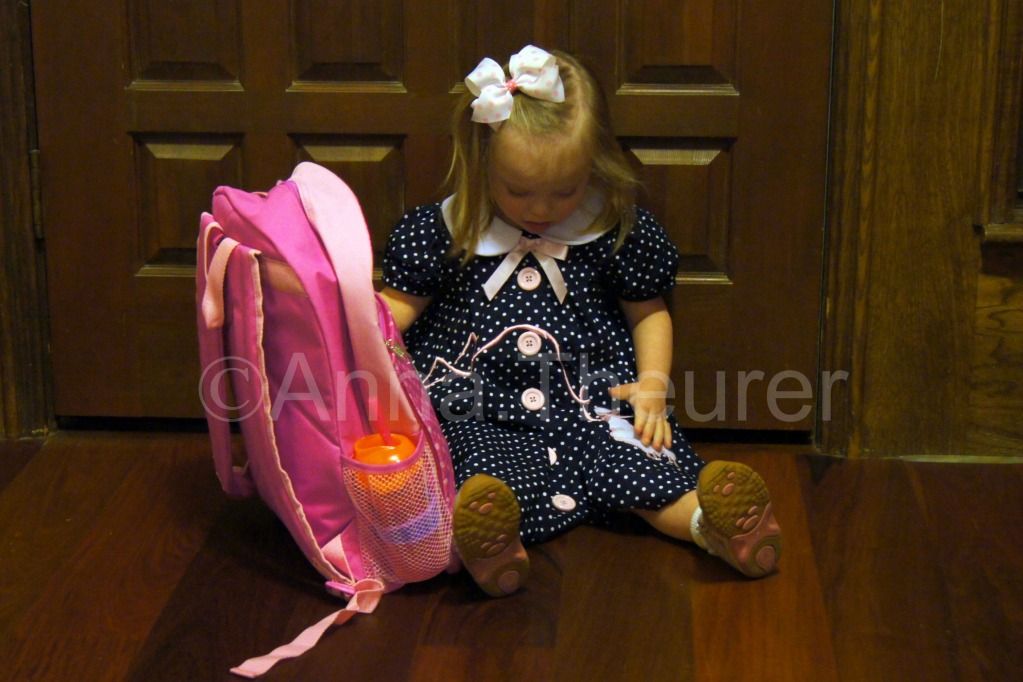 I know that it takes time. I know that this is an adjustment for me and for her. I also know that with a consistent routine, Ellie with come to understand what is expected. She will enjoy, if not love school and she will tolerate, if not love the bus. As I said before, this is a hard concept for her. She WILL get it. Yet, it just breaks my fragile mama bear heart.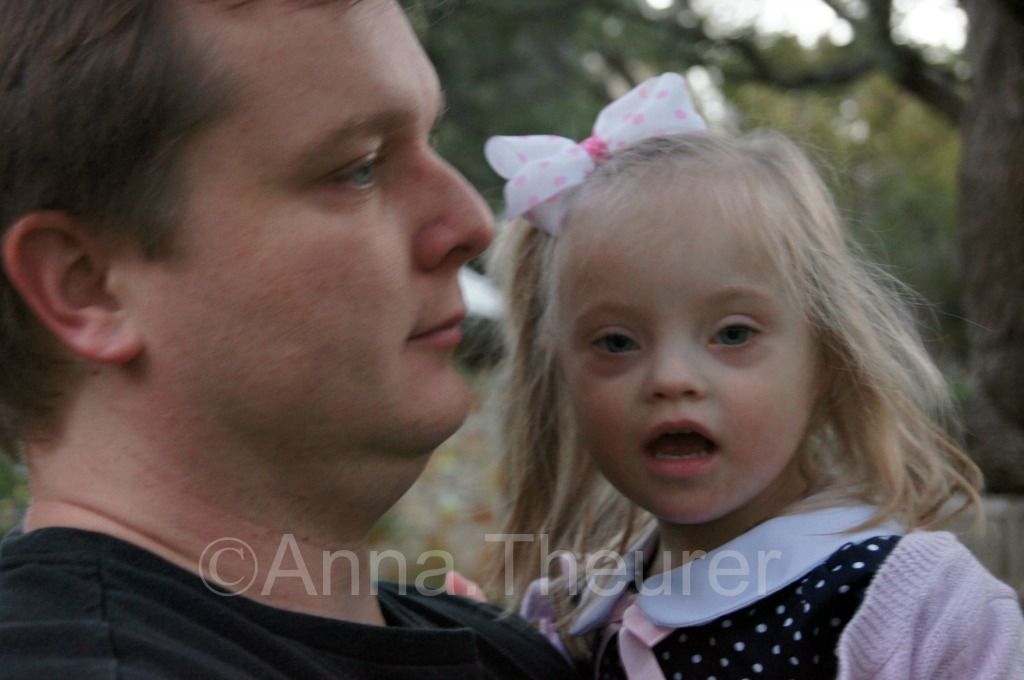 A friend once told me that establishing and nurturing the roots is much easier than allowing their wings to fly. After this past week, I believe that is true.