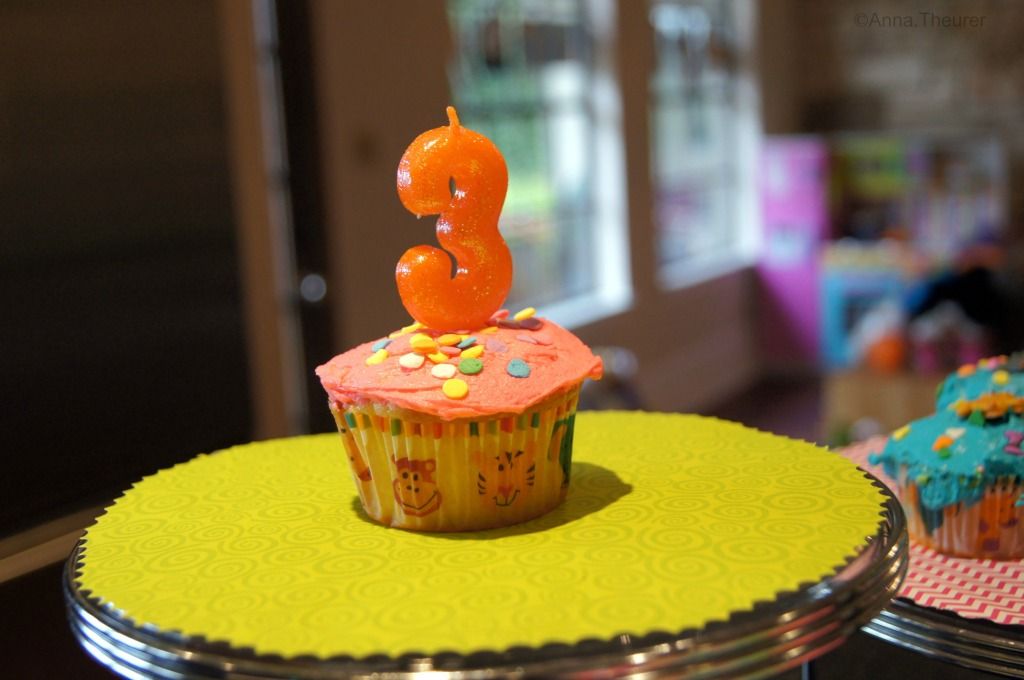 This past weekend Andrew and I threw one ginormous party for the Princess Bear. There were supposed to be 17 children between 1-5 years of age attending, plus their parents. That would be SEVENTEEN children and Ellie. (although in the end it was 12 children due to illness and school functions).
Yes, it was entirely my fault.
No, I was not insane. Well, perhaps, temporarily.
Yes, I had big plans of hiding out at our neighbor's house until the party was over.
Birthdays are a time for family. A time for friends. A time to feed young children tons of sugar-laden cupcakes and to allow them to run wild while the adults sip on beer and coffee. A time to celebrate life.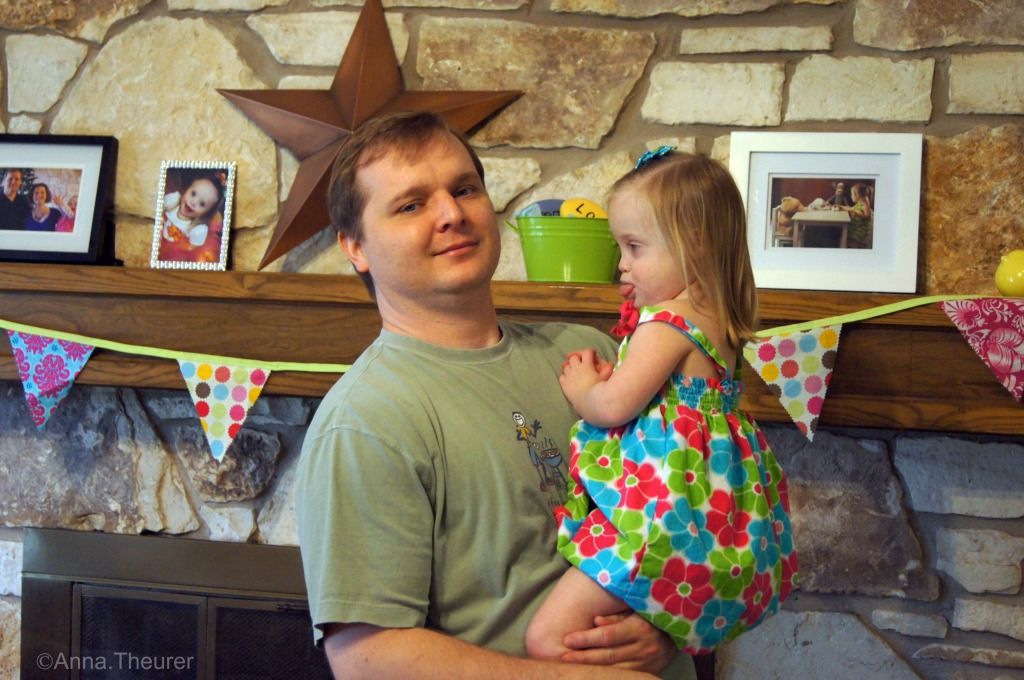 Ellie turned 3 years-old this past weekend and we have never thrown a party for the Bear. Yes, we had cupcakes at age 1 and age 2. I hosted a mini playgroup last year, but never a party. Never anything were there was presents and decorations and party favors and dads. Never anything that required planning.
Then, tragedy and grief battered our tight-knit Down syndrome community. A little boy around Ellie's age passed away. Two other young boys from a cardiac defects. A few of Ellie's friends with Ds became very sick with life threatening illnesses. I also witnessed amazing miracles. It was a huge wake up call. Our children are fragile, but they are fighters. Life is a gift and as such, we must celebrate it to its fullest.
Hence, the rather large birthday party. If we were going to celebrate, we were going to do it Texas-style.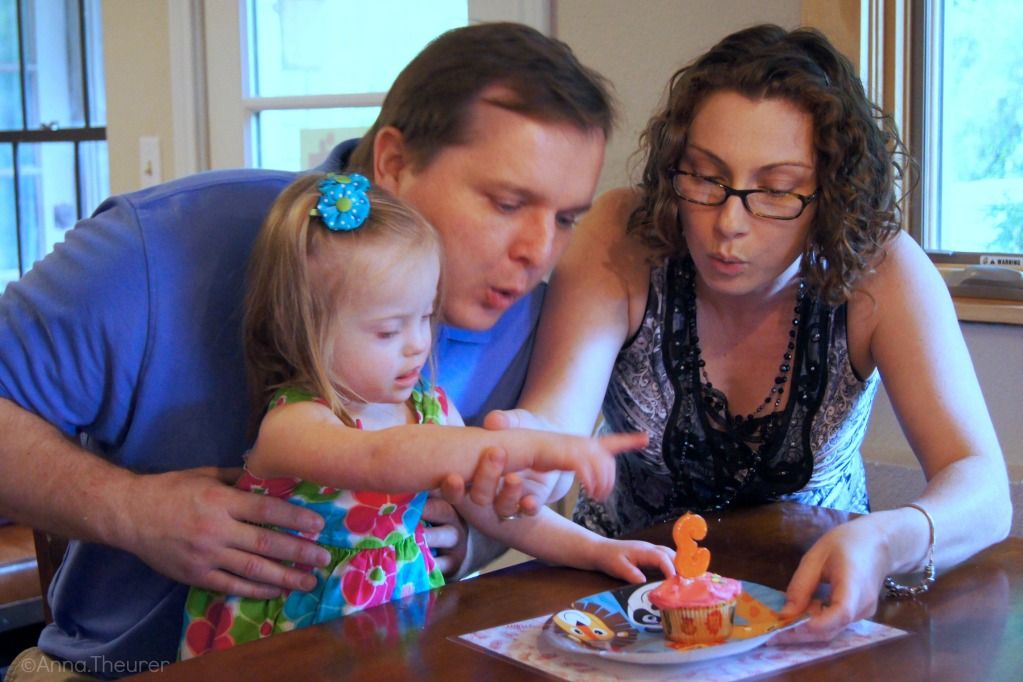 Of course it was at our house. We had the backyard all spruced up. You know, with grass. That green stuff that grows from the dirt in the ground. This is the first year we have had grass (okay, we had sod installed) since I lived here. The sandbox was ready. The mini playscape was ready.
It rained. There was mud.
Eh, what is 12 kids plus 20 or so adults crammed into a kitchen and living room?
A GIANT playdate!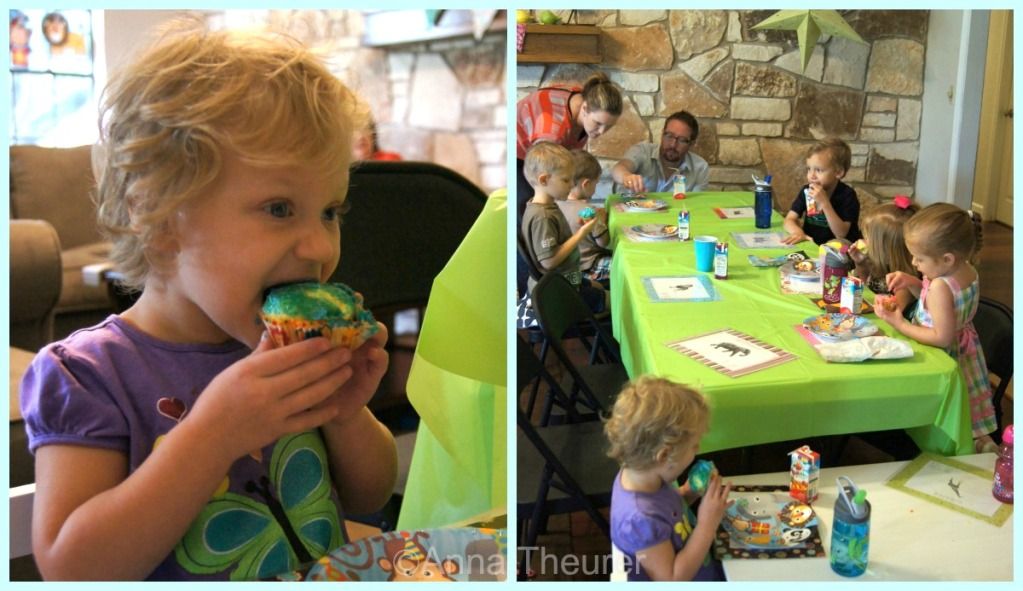 Ellie Bear loves
Signing Time!
. Loves it, but you know that there are positively no decorations or party-theme
Signing Time!
products? I decided to go with theme Zoo-Train, an episode from
Signing Time!
Lions and Tigers and Bears and a train!
Whoo hoo hoo hoo. Choo choo choo chooo. Here it comes, all aboard. Let's watch the Zoo Train!
Confession time: yes, I did coordinate everything to Ellie's dress.
At the beginning of Summer, my mother-in-law bought Ellie this fabulous dress with bright pink, green, and blue flowers. Yes, the dress in all of the pictures. I fell in love and decided that those colors must be incorporated into her birthday party. Hence the cupcakes, the little banners, and her make-shift zoo train being bright pink, green, and blue. This was a relatively cheap party--I used mostly left over fabric for the little banners, but bought a few quilters squares and bias tape at Hancock Fabrics. Forty-eight feet of banner! Do you know how many craft stores I had to go to to get enough Lime Green and Berry Sorbet bias tape?
I really want to scrapbook. I really do but I never seem to get around to it. Therefore I had tons of fancy, colorful paper piled up in my little sewing corners. These pieces of paper were used to make each kiddo a placemat. I went to
www.babysignlanguage.com
and printed out the flashcards (at 75% size) for the various animals. Sadly, I only have a black and white printer so the placemats were were rather boring. I used a mini laminator that I bought at Costco a while back for $30. It even came with several 8x10 plastic sleeves. This is how I tied in the
Signing Time! Zoo Train
. It was such a treat to watch the kids at the party (and their parents) try to sign the various animals. I felt like for a moment, they were in Ellie's world of communication!
Ah, the cupcakes. Some of you know this already. When I had the final headcount, I realized that if each person wanted a cupcake, I would need to make 36 cupcakes. What if people wanted extras? I made 48 cupcakes. Andrew came home after an afternoon of my baking and just couldn't help himself. By that evening, I had 47 cupcakes to make icing for and decorate. My baking is from scratch, but it is not pretty. I cannot make those really exciting elaborate cakes that look like Rapunzel (Tangled) is in a tower or a cake that is shaped like a train. I just do not have that talent. Sigh. I did however make sure that there was as much sugar and food dye as possible in these little balls of sweetness.
I believe the party went well. No one was injured. There were no ambulances or fire trucks called to our address. The house is still standing and many of the children didn't want to leave. Ellie was very overwhelmed though. She does really well with one to two other children, but more than that can be a bit much for her. Ellie spent a huge portion of the party, when not stealing other children's pink cupcakes, playing quietly with her toys in the corner. Once her buddy Jack arrived, she was happy and up to her usual antics.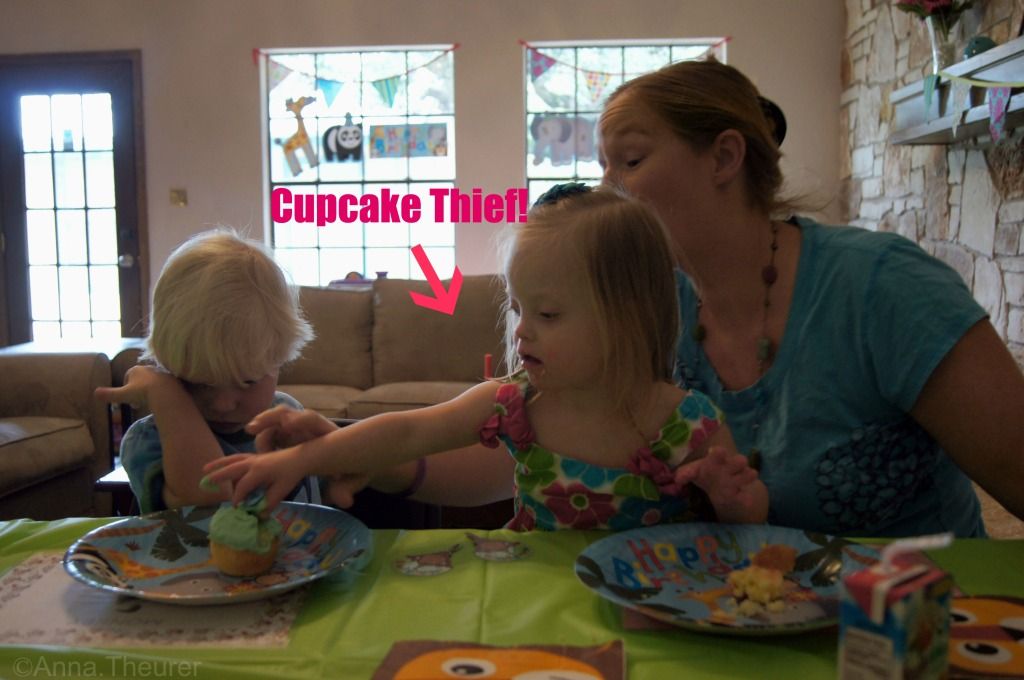 Sorry this pic is so dark.
My floors are sticky and covered with icing. I still have 3 packages of hot dogs and an entire bag of animal crackers left. Plus there are a few rhino-shaped watermelon slices hanging out in the fridge, but my girl had a great time and that is what counts. Oh and we still have 1 dozen cupcakes left. Any takers?

Cupcakes from the past: