Once upon a time there was a beautiful little boy named Peter. Peter, the little sweetie that he was, had the misfortune of being born in an area of the world that did not appreciate his uniqueness, his chromosomal enhancement also known as Down syndrome.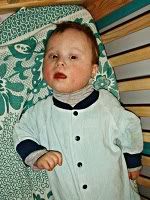 Peter
Peter is living in an orphanage because he is considered "unworthy" of love and care.
Then, an email was sent as a result of Are You My Mommy on "A Perfect Lily" blog back in January. A very important email. Julie opened the email to see a picture of the beautiful, soulful Peter. She looked into the eyes of this special boy and knew. She knew that she was his mommy.
Peter
An ocean away lives Peter. He does not know the Kehm family. The family that has pledged to bring him home to love and care for him. The family that refers to him as "their son". He does not know that he is loved.
How does this story end?
You can help the Kehm family in their journey in bringing Peter home. . .to Texas. Peter has medical problems that need to be addressed quickly and in the United States. He is on borrowed time as he is facing the institution. Video on institutions here.
Read their journey
here
and pray or think positive thoughts if you are not a prayer. You can repost Peter's story to FB/Twitter. You can blog about Peter. Or, you can donate
here
.
Many of you have asked why is the International adoption of a special needs child so expensive (~$25,000-30,000) when it seems the country doesn't want them? Yes, it is horrible that we are essentially "buying" these sweet children from these horrible institutions, but from what I can gather, most of it is travel expenses and legal stuff (both for the United States and the other Country). I have compiled these costs from various friends who are adopting via RR. They vary based off of where the child is being adopted from and where the child will live.
These are just estimates
.
Reece's Rainbow Donation: $1,200
Passports: $250-300 Remember, you are going over seas
Documents (birth certificate, marriage certificate, etc): $100+
Health Assessment for the family: $100-150
Fees for bringing and international orphan into the USA and fingerprinting: $1,000
My understanding is that these are all paid upfront.
Flights for 2 trips to EE with both parents: $5,000-10,000
Fees for liaison (agent working with EE, translator, dossier assembly): $8,000
1st trip (lodging, transportation, supplies for 3 weeks): $3,000
2nd trip (lodging, transportation, supplies for 2 weeks): $2,200
Visa and Medical Costs for Child: $500
Orphanage Donation: $1,000