Sleep Study Results Revealed and Explained
We have known about Ellie's sleep study results for about a week now. There has been a lot of information to process and of course, a lot of researching on my end. (Hey, I used to order sleep studies, not interpret them!)
Oh where to begin. For a recap of her sleep issues, visit here. For more information about the sleep clinic appointment, visit here.
My little sleep deprived movie star.
According to the doctor:
"
Ellie is a 5 year-old with trisomy 21. She has evidence of mild pediatric obstructive sleep apnea. However, the patient has evidence of nocturnal hypoventilation and moderate-to-severe oxygenation instability as a result of her sleep disordered breathing. She requires intervention for her OSA.
"
Polysomnography showing apnea with oxygen desaturations and arousals following apnea.
Photo: www.northcountryneurology.com
Ellie sometimes stops breathing while she sleeps aka has apnea. According to her sleep study report, she only had 3 apnea episodes, each lasting approximately 10 or more seconds. It is obstructive because her physical anatomy (small mid-face, tongue, palate, etc) affects her ability to breath while laying down. Central apnea would involve a problem with the brain signaling the chest muscles to move and this type of apnea has been ruled out. Pediatric apnea is defined as a pause in breathing. In children, the pause can be any length of time while in adults, apnea is defined as pauses in breathing that lasts ≥ 10 seconds.
Hypoventilation is the reduction of airflow by 50% for two respiratory cycles accompanied by reduction of saturation by 3% or arousal from sleep. Right. So in layman's terms, the amount of air that flows into the lungs is 1/2 of what it should be and as such, her oxygen saturations [SpO2] go down.
Ellie's overnight sleep study. How can one sleep with all those wires?
Respirations, Carbon Dioxide, Oxygen Saturations:
Ellie is diagnoses with nocturnal hypoventilation because she takes very few breaths while asleep and those breathes are very shallow aka she has hypopnea. Each hypopneic episode lasted 20 + seconds. This causes poor inhalation and exhalation as well and a decrease in oxygen saturation.
Oxygen Saturations: looking at oxygenation levels during hypoventilation. Say that Ellie's normal O2 sats are 100% (okay, her sats really do sit at 100%), if she drops to 97%, it is logged as hypoventilation ( or say when she dropped into the 80's as seen during her sleep study).
Carbon Dioxide Levels: Breathing also involves the exchange of oxygen and carbon dioxide [CO2]. As you breath O2 into the lungs, you expel carbon dioxide out through your nose and mouth, My daughter's inhaled CO2 levels are very high. For 81% of the time she is asleep, her CO2 levels are 50-62mmHG. Normal CO2 is 35-45 mmHg. Think of it as breathing face down into a pillow . . . for a huge chunk of the night.
Respirations: A normal respiratory rate for a 5 year-old is ~ 20 breaths per minute. While asleep, Ellie's was at 9-12 breaths per minute. Too few breathes = hypoventilation = increase CO2 + decreased O2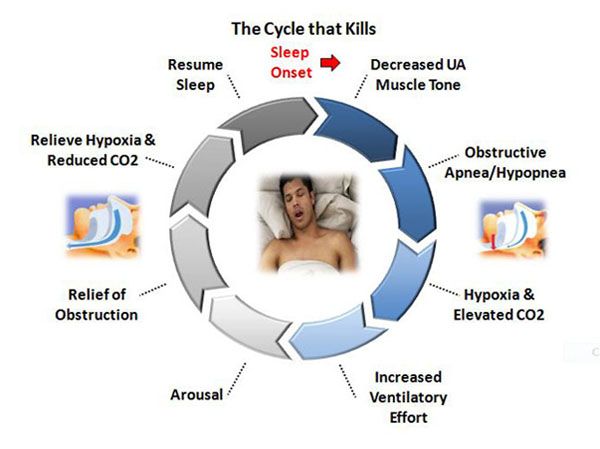 Photo: www.proacthealthsolutions.com
Quantity vs. Quality and Arousal.
It should be noted that Ellie managed to sleep 7 hours and 48 minutes during her sleep study. She fell asleep quickly and her arousal index was 15.1 (normal 9-16). She spent 33.3% in REM sleep which is age-appropriate. All of this is good, except REM sleep is where everything goes down hill. Here is how it goes, your brain recognizes that your CO2 levels are rising, this causes an arousal. With that arousal, you wake up a bit and trigger a bigger inhalation of air and thus increase your oxygenation and bring down the CO2 from the danger zone. This is why people who have apnea tend to wake up alot through the night or never feel rested during the day. Even if the quantity of sleep is there, the quality is not.
Apnea Hypopnea Index [AHI] looks at the number of apneas and hypopneas per hour of sleep. For Ellie, her AHI was 4/Hr which placed her at mild OSA. However, during REM, her AHI was >12/Hr which is severe.
SpO2 nadir is a fancy way of saying "the lowest SPO2 recorded". Ellie's lowest sat was at 81%. This is not good, but it didn't require intervention with supplemental oxygen during the sleep study.
Oxygen Desaturation Index [ODI] looks at the number of times per hour, a person's oxygen saturations drop by 3% or more. For Ellie, her ODI was 6.8 during stage 1&2, but then jumps to 9.5 ODI during REM sleep. This is another reason why she has "oxygenation instability".
Someone thought that should would take a little rest during dance class.
This blog post is turning into a term paper here so I will sign off now and write another post later on what the plan is for Ellie.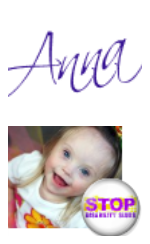 Follow us on Facebook!
http://www.facebook.com/annatheurerfitness
http://www.beachbodycoach.com/annatheurer
https://www.facebook.com/pages/The-Chronicles-of-Ellie-Bellie-Bear/216738345037166