I have known for a little while now that when their lease is up, our local Quiznos will shut its doors. For at least 6 months, they have been the only business in that strip mall and with the owners' other business,
Moonie's Burgers
in North Austin, taking off, it is a savvy business move for them and their family.
Taken at one of our last visits.
It may seem a little ridiculous that I am dedicating
another blog post to a sandwich place
. I mean, yes, there are sandwiches, but it is so much more! We have been visiting Quizno's weekly for nearly FOUR years. Many things have happened at this Quiznos. Things that have been of utmost importance to Ellie's development and to my sanity.
We started going there back before Ellie could even hold herself upright independently in a high chair. Goodness, in the beginning she didn't even eat there because she couldn't have anything made in a plant that processed oats. Instead, we would accompany my friend and her two children there for lunch. Eventually, things evolved it became a weekly, post-therapy ritual for mother and daughter to dine at Quiznos.
This picture of Ellie has been hanging behind their register
for the past 2 years.
After my daughter's oat allergy resolved, we introduced to her gluten, only she never wanted anything to do with it. It was at the Q that she first tried a flatbread sandwich, but only ate the flatbread. This went on for a while and she then would have a cheese flatbread with the cheese and bread separated out. You couldn't cut the flatbread. Oh no, because then it is "broken". The cheese and bread couldn't touch each other either. Everyone at Quizno's knew her food idiosyncrasies and every new employee would learn them pretty quickly.
We can spend big money for therapies and spend a lot of time chauffeuring back and forth to speech and OT, but sometimes it is the day-to-day actives can produce the biggest milestones.
My daughter placed her 1st food order about 2 years ago with prompting. She signed "sandwich cheese cookie please". Later, she was able to order cookie verbally . That's right, the very first time Ellie said "cookie" was at the Q.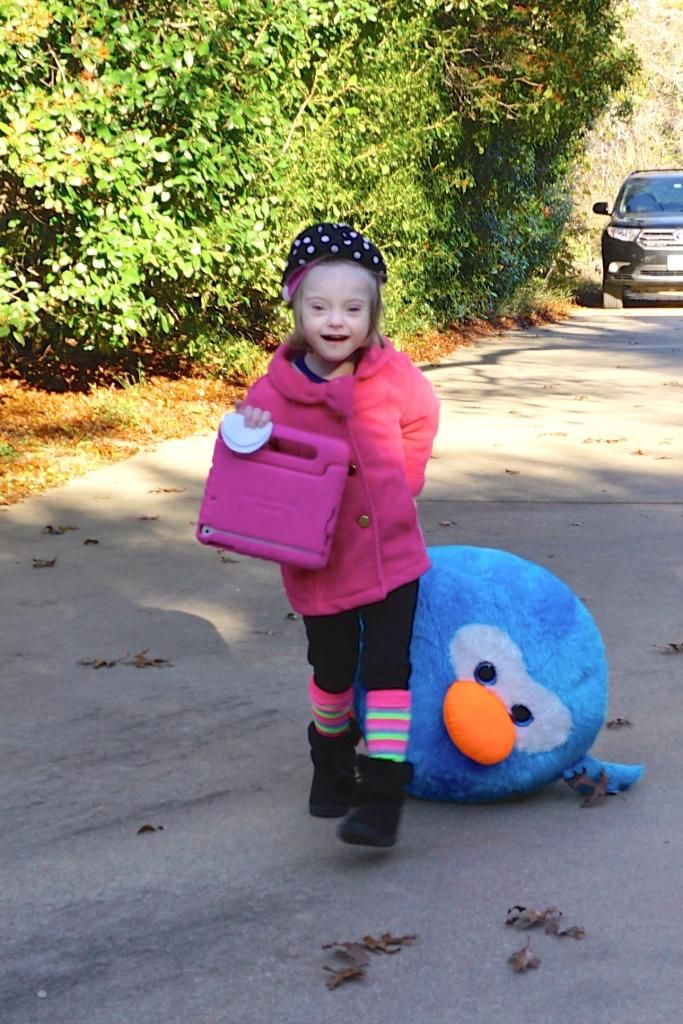 The Bear dragging her bright blue penguin to the bus stop,
a Christmas gift from the Quizno's family.
Later, she drank from a straw for the first time ever at Quiznos. She held the big cup buy herself in her tiny little hands and was able to purse her lips and get proper closer around that red straw.
After paying for our order, I would tell Ellie that we need two straws and count them out. I have worked on teaching Ellie numbers and counting in general, but I never really knew if she was getting it. Then one day, I told Ellie to get me 2 straws and she brought two straws! It may not seem like much, but this was huge!
This past summer, when Ellie was on a starvation diet an only consuming a handful of calories a day while losing weight, I would talk her to Quiznos. She wouldn't eat much during that time, but she did eat. It was the one motivator that I know would work. Eventually she started eating again and we were able to introduce chicken to her diet. Chicken with pesto.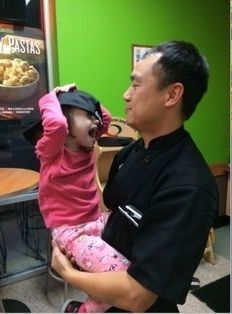 Ellie with the owner's husband who was helping out that day.
The greatest blessing of all, is the Quizno's family. When you visit a small business weekly for 4 years, you start to know the owners and the workers. You also get to know their kids.
Ellie wiggled her way into their hearts and I was able to have enjoyable adult conversation. I really do love being a SAHM and it truly is a joy, but sometimes it can be rather lonely. Eating at Quizno's was like a social event and a fun one at that!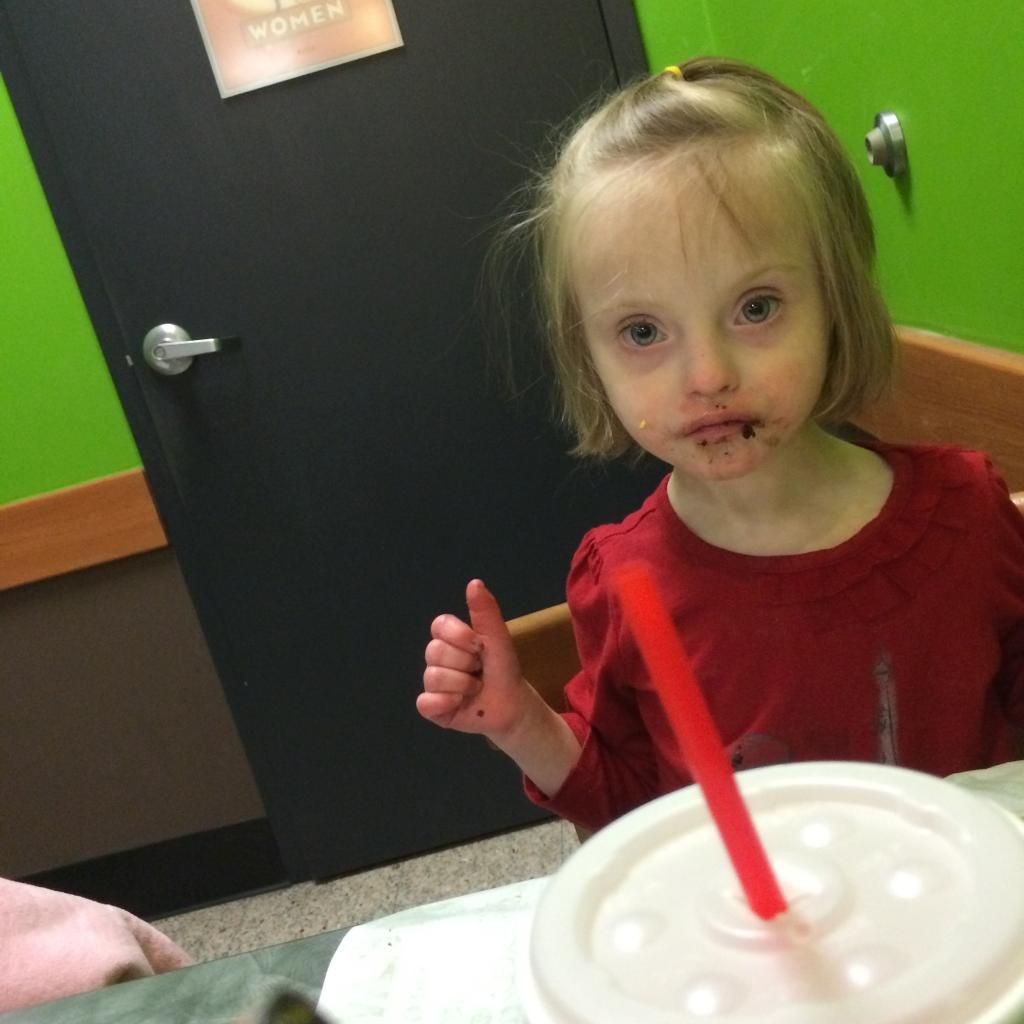 Ellie eventually switched from cookies to brownies.
I do not know how I am going to break this to Ellie. Nor if she will understand. We went to the Q the other day after her therapy not realizing that they cut back their hours for this last week. They were closed. I showed Ellie the darkened store and had her try the locked door. She started to cry. She started to sob as I buckled her into the car all the while pointing at Quiznos and signing "sandwich". Then as I pulled out of the parking lot, she lost it. We pass Quiznos along the way home from horse therapy and I imagine that I will be finding an alternative way home for the first few weeks that they are closed.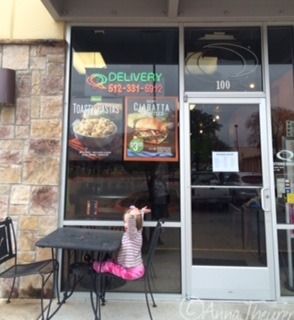 Good bye Quizno's and thank you for all you have done for our family. We will miss you, but I imagine Moonie's Burger will become our new hang out.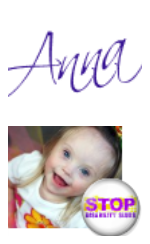 Follow us on Facebook!
http://www.facebook.com/annatheurerfitness
http://www.beachbodycoach.com/annatheurer
https://www.facebook.com/pages/The-Chronicles-of-Ellie-Bellie-Bear/216738345037166