I am really excited about this blog post. Several parents came together to make this happen and I am so appreciative of them. All people are unique, wonderful individuals that shouldn't and cannot be defined by their disabilities. I'll let the children tell the story:
*After I had Ellie, this was one of the very first blogs I read about a child with Downsyndrome!
In loving memory of Margaret "Peggy" Bruns, my Aunt.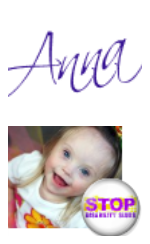 Follow us on Facebook! http://www.facebook.com/annatheurerfitness http://www.beachbodycoach.com/annatheurer https://www.facebook.com/pages/The-Chronicles-of-Ellie-Bellie-Bear