October is Down Syndrome Awareness Month. This is our 5 year of celebrating all of those rock that extra 21st chromosome. I am not going to write about all sorts of facts and statistics. I have done all of that in the years past. This year, I will share photos of our day to day lives. To show that Ellie is more alike other children, than different.
I am here to tell you that it is all going to be okay.
I know that shock, guilt, and fear that you felt when your child was first diagnosed with Down syndrome. Whether in utero or shortly after birth, like with our Ellie.
It is okay to feel joyous at the birth of your child, yet scared and unsure of what your life will be like. How it is much it different than the one you envisioned. It is okay to mourn for that child you thought that you would have, the child that never was.
It is okay that you harbor guilt over those first feelings. It will pass. It may take days. It may take months. Or like me, even years. Yet, it will pass and you will learn to forgive yourself.
Trouble!
There is a reason that there are so few blogs about older children, teens, and adults with Down syndrome. It is because life is happening. Life just like any other child, with or without and extra chromosome. The rawness of it all wears off. We become immersed with family outs, play dates, after school activities, and yes therapies and the occasional doctors appointments.
Loving school!
There will be days when you cry. Nights where you lay awake worrying. There will be times where you witness something seemingly innocuous and it will send you into tears. Times where you scream "why does it have to be so hard for her?!"
For there will be times of great joy and celebration. That moment when your child sits up and walks after months of therapy & hard work. There are the times when your child learns to color between the lines. She learns to read. Her first play date. Her first sleep over. Her first team sport. Her first job. Her first love. Those triumphs are that much sweeter as you know how hard she has worked and persevered.
This is a month for Down syndrome awareness. A time for us to celebrate our loved ones who have that extra 21st chromosome. A time for us to educate others about the wonders that extra chromosome brings to our children, grandchilden, siblings, nieces, and nephews. I wish that there was more comprehensive, positive information out there when my Aunt Peggy was born. I wish there was more support for my grandparents, the trail blazers. We have come a long way since 1958, but still have a ways to go.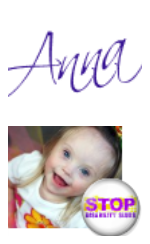 Follow us on Facebook! http://www.facebook.com/annatheurerfitness http://www.beachbodycoach.com/annatheurer https://www.facebook.com/pages/The-Chronicles-of-Ellie-Bellie-Bear