About 5-6 months ago, we had Ellie tested for a whole slue of things due to her random\ frequent intermittent fevers (which she still has), her propensity to develop cellulitis any time she gets a bug bite (still happens), and her excessive fatigue (which has resolved). We discovered during all of this that she also had lead toxicity. You can read more about it at "
my daughter has been poisoned
" and at "
leaded ground
". The lead poisoning was not extreme enough to require chelation therapy, but it was enough to warrant the testing of items around the house along with our piping, paint, and built-ins. After frenzied testing and hoarding lead-testing at-home kits, we learned nothing. Well, we learned that our house and Ellie's toys were not poisoning her by depositing lead into her tiny system. Everything was popping up negative. We were then advised that we follow the annoying "wait and see approach".
Semi-recently, Bear has been having other health issues involving, well poop, and while I will spare you the gross details, the doc decided to do some blood work and an x-ray, and strange acts of preschooler torture involving a purple nitrile glove [yuck]. I requested that she throw in a repeat lead level while she was at it since it had been 6 months.
This is Bear's reaction when she found out about getting her blood drawn:
I have no idea why she is wearing her winter hat. Maybe because it goes with her outfit? Upon seeing the nurse, she ran out into the hallway, threw herself onto the ground, screamed "bye bye". When the whole ordeal was over, she graciously thanked the phlebotomist "ank ooh ank ooh" while dramatically giving her the princess wave.
This is Bear getting her "reward" for having 4 vials of her blood sucked out of her like a vicious leech.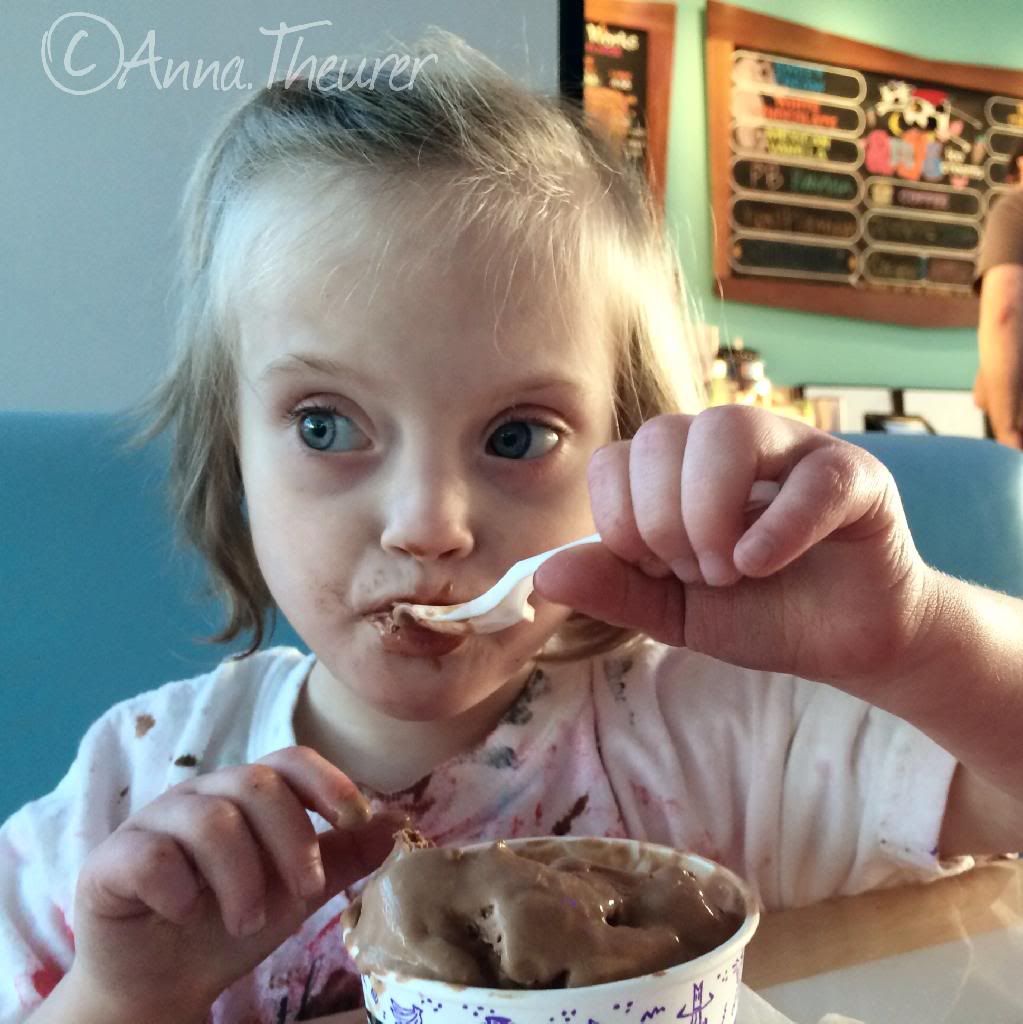 Ellie doesn't want to look at me. She is afraid I will steal her ice cream. She is right, you know.
This is Ellie when she found out her lead levels were NORMAL!
Yeah, she didn't really care. So this is what I was doing:
We may never know what caused the lead poisoning. Maybe it was a whole bunch of mini-exposures from back when she mouthed everything. Maybe she swallowed something that had lead and finally cleared it. I do not know, but I am relieved that this issue is resolved.