I know it has been a long while since I have written about
Reece's Rainbow
or the plight of orphans over in Eastern Europe. Yet, they are never far from my mind. It has just been too hard. Too difficult. Too heartbreaking for me to write about my other daughter. My Tabitha.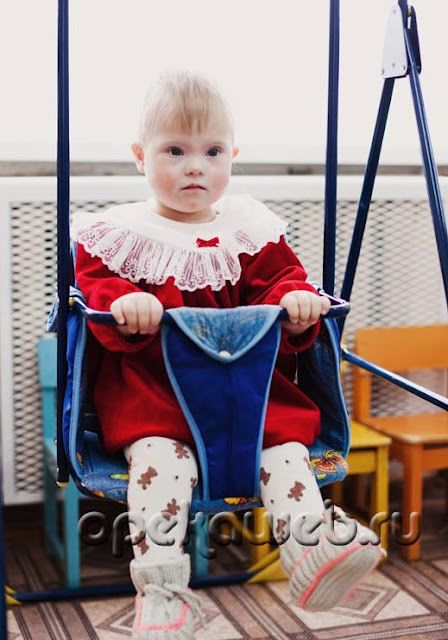 While circumstances prevented Andrew and I from adopting my beautiful Tabby, I rejoiced when her forever family found her. I was excited as I anticipated her being "an orphan no more". To know a mother's love. To be held. To be properly fed and nourished in both body and in soul. To be read to. Sang to. While I couldn't be her true mommy, I felt such relief knowing that she would soon have one.
It wasn't meant to be.
The day when Putin banned all American-Russian adoptions, my heart plummeted. A spirited, red-head girl with a little something extra would be trapped. Trapped in that orphanage. Her forever family unable to reach her. What if Andrew and I tried harder? Would we have been successful? Would we have had her out of there and secure in our homes before this ban? What if I lied about my history of depression and anxiety? Would we have been allowed to adopt then? What if? What if? I feel so guilty.
A child, my child sentenced to a life without a mother and father.
Is she loved?
Is she receiving affection?
Is she receiving enough food and water?
Is she receiving proper medical care?
Does she have friends?
My Tabitha turns 4 years-old this May. As many of you know, this means "imminent transfer". Transfer to a mental institution. As many of you know, this is a horrendous sentence. Wasting away.
I couldn't write about her. Because you see, if I wrote about Tabby, it meant it was/is real. It solidified that her forever family wasn't coming for her. With tears streaming down my face, I beg you to please pray for my other daughter. Pray for her and let us not forget that while our country has come a long way (and still has a ways to go) in our treatment and views of children with disabilities, many other countries still shuttle them away from the public eye. Labeling them as "unworthy".
So yes, I haven't written about these children in a long time, but I have been thinking about them daily. My heart ever so heavy. Breaking for these kids. For my Tabitha.