I apologize for taking so long to write this post. I got a little preoccupied with Bear's diagnosis of
Primary Immuo-Deficiency
aka Immunoglobulin IgG Subclass Deficiency and
Lead Poisoning
(an update is coming soon!).
The room is pink. Pink. As in
p.i.n.k
. I am slowly coming to terms with the fact that my little princess is a girly girl. I gave in and created a room that catered to
her
tastes because the room is, after all, hers. Hence the pink walls, BUT only two of them are a
diminutive pink
that resembles the pale satin of a ballet shoe. The other two walls are a
pale bluish color named "sigh"
. If I listened to the Bear, her room would be a cross between magenta and bright purple.
There was a lot of DIY craft-tastic fun, but have no fear because this non-creative mama bear actually figured out how to make a few items that did not require a lot of time or effort. The links in this post either show you where to buy the items or how to make them.
Personalized Art Creations:
Modge Podge Personalized Letters:
I am shouting out to my dear friend Cathy who first gave me the idea.
DIY Personalized Letters
Letters: can be found at Michael's or Hobby Lobby
Photo Memory Board:
DIY Photo Memory Board
Fabric: Hancock Fabrics
Bow Organizer:
This is super easy. Just follow the beginning directions on the Photo Memory Board tutorial. Then instead of criss-crossing the ribbon, run the ribbon vertically with about 2.5 inches between each ribbon. Ta-Da!
DIY Bow holder
.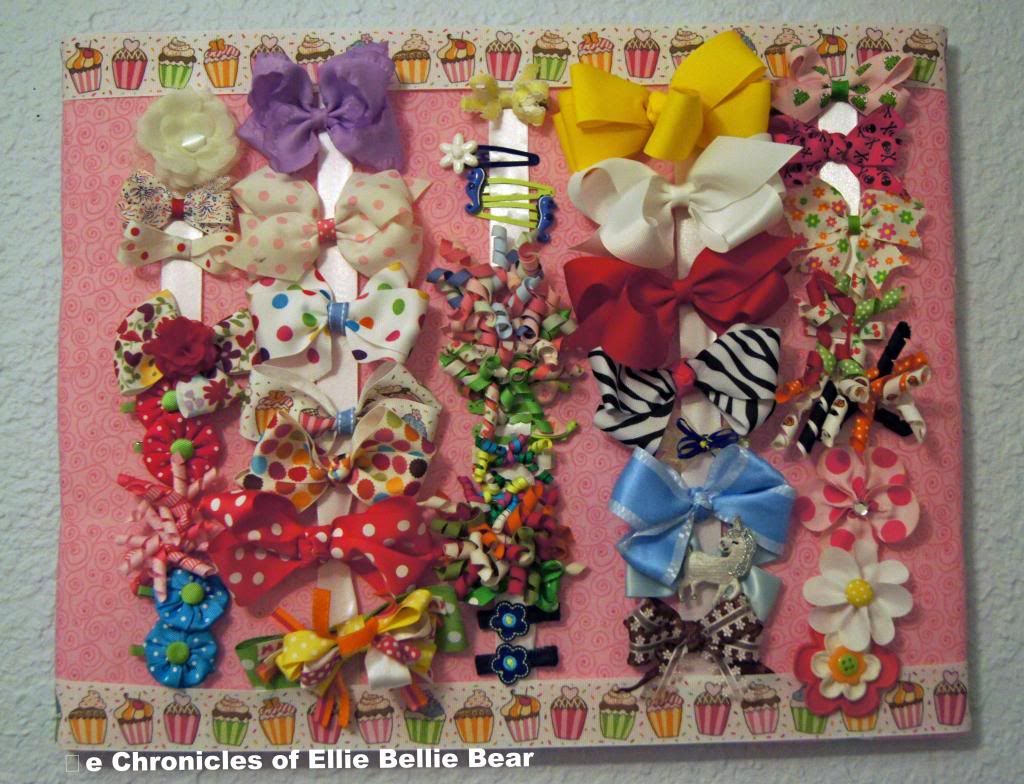 Fabric and Ribbon: Hobby Lobby
Wall Art:
Etsy is Your Friend. As is Pinterest.
Blond Girl Prints:
These four pictures I found from Etsy Seller
rkdsign88
by searching for "cupcake". What I love about her art work is that you can do a
grouping of 4 pieces
measuring 8x10. You can choose the hair color too. I saw this print and thought it was my Ellie.
"Making Cupcakes"
These prints were my inspiration for the rest of the room--Cupcake Meets Princess. I bought frames for $4 each at IKEA. A great deal that comes with some issues. Such as trying to hang them equally and getting them to hang straight. When I get around to it (i.e. in a year or so), I think that I will attach my own frame mounts to the back of the frames). All four are hanging in a grouping over Ellie's dresser.
Top Left: Oops More Lovely Cupcakes
Top Right: Adorable
Bottom Left: A Princess
Bottom Right: Making Cupcakes
Scrapbook Cupcake Wall Art:
I am announcing that I actually made something from one of my pins on Pinterest. Typically, I just pin and pin and well, never do anything after that. I found the cupcake hole puncher at Joann's. This piece of art is hanging over Ellie's bookshelf across from her bed.
How-To from
Patches of Pink: Cupcake Picture Frame
Shadow Box: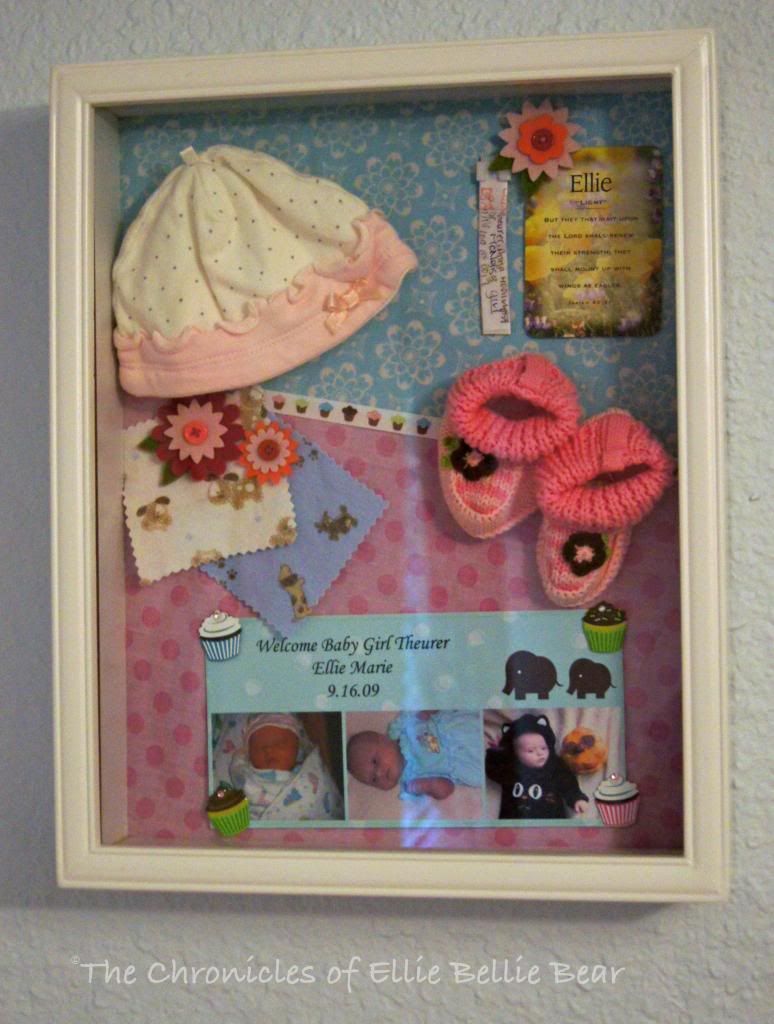 Fabrics and Linen:
The fabric that I used is seen throughout the room--in the Shadow Bow, within the embroidery hoops, on the Bow Holder and Fabric Photo Memory Board, as well as on her bedding.
Embroidery Hoop Wall Art: (aka cheapest wall art ever)
I mainly used Fat Quilting Quarters from Hancock and Joann's, but used ~ 1/3 yard with the flannel cupcake fabric. Yes, I mixed my fabrics. Cotton
and
flannel, together. I was going to spray paint the flimsy wooden embroidery hoops, but got too lazy so they are hanging out au-natural. The Bear is able to remove the blue one and the large cupcake one by standing on her bed. I am not overly concerned because they will not cause an injury (well, maybe a splinter or something equally anticlimactic) nor will it be a huge deal if she breaks the $0.59 hoop.
Bedding:
The Chunky Chicken is not a big fan of a flat sheet, a quilt, a duvet, or even a blanket so I tried to spice things up with pillow cases. Not that she sleeps with pillows either. I used the same flannel as the embroidery hoop--from Hancock. The other cupcake fabric is from Hobby Lobby. If you can sew a somewhat straight line, then you can do this. Here is a great
youtube Tutorial.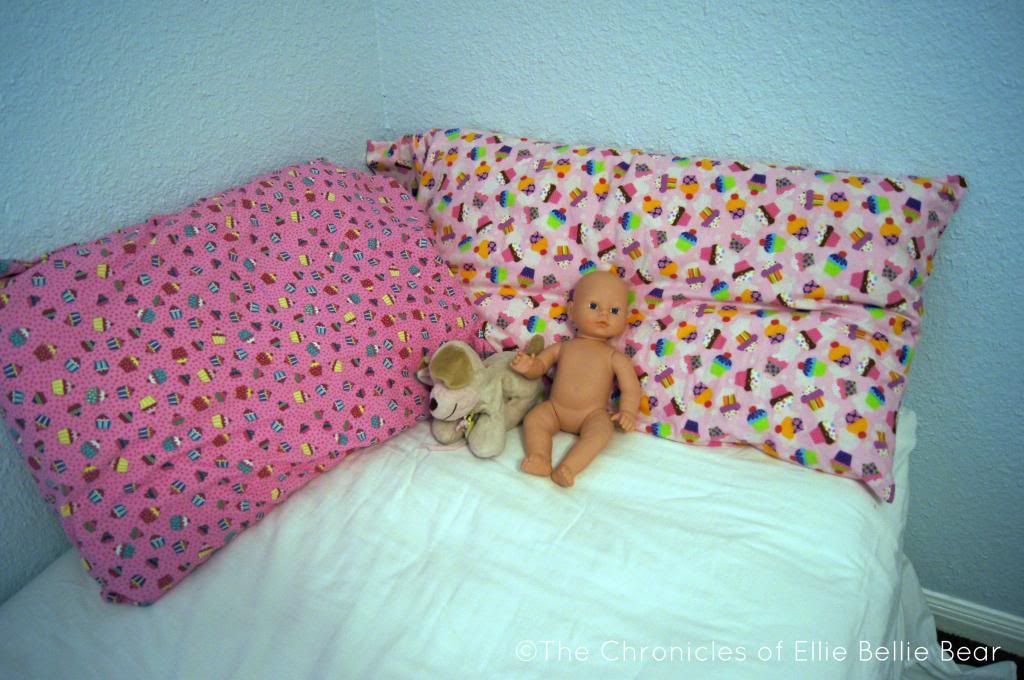 Curtains:
Again, if you can sew a straight line, you can do this. I purchased 6 yard of this fabric from Hobby Lobby. Cut it in half--so ~3 yards for each panel. I double hemmed the sides, top, and bottom of each panel. I then folded over the top of each panel by about 3-4 inches and sewed a straight line, creating a tunnel for the curtain rod to slide through. I used the left over fabric for a small
envelope-style pillow
[not pictured].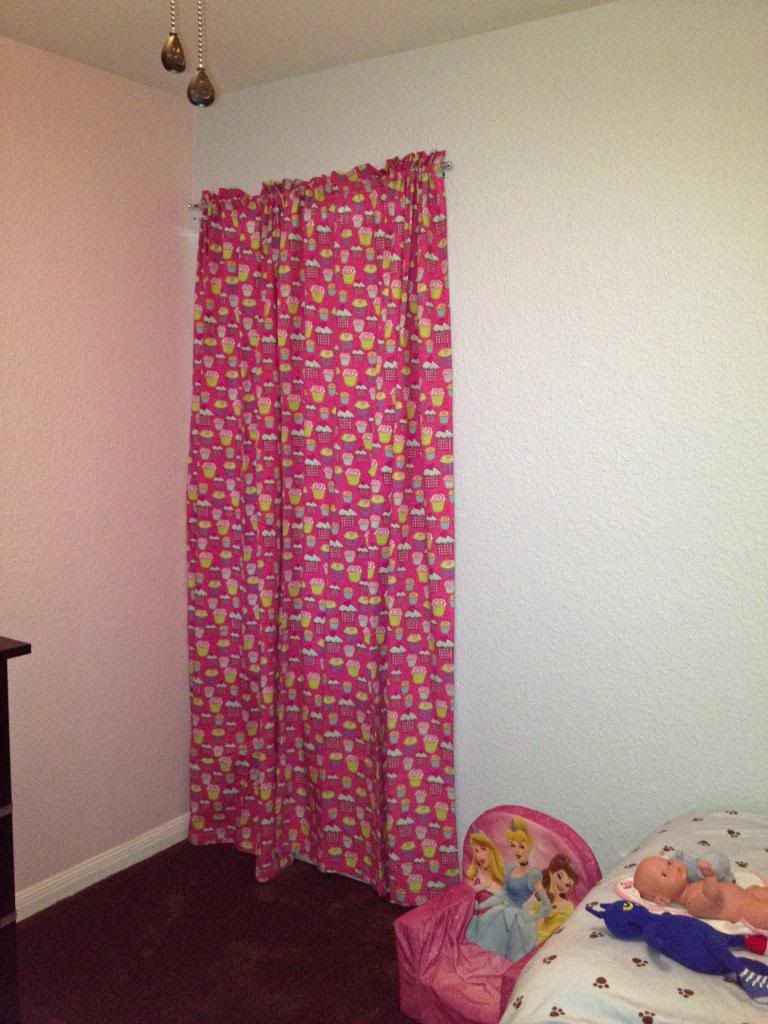 I know I said that there were 2 pink walls and now you can finally see the pink wall in this pick.
For all my griping about the pink, I really need to embrace the girly-ness of my awesomely sassy daughter. After all, my husband thinks nothing of walking out of a Walmart with a bright pink plastic swimming pool because he "thought she would like the pink over the blue". I should be more like my husband. Andrew, if you are reading this post, ignore the previous sentence. Like, erase it from your mind completely.