The above picture may not look exciting to many of you, but to me, it is a symbol of how far my Ellie has come. Two months ago, the above would not have happened. Two months ago, I would not have strayed far enough from my daughter to take a picture of her while playing with chalk. I would have sat right with her, practically on top of her, ready to whisk that chalk away before she devoured an entire piece. Or box. of chalk.
"Why this blue positively makes my eyes 'pop'!"
Pink and blue, her personal favorites.
It isn't just the chalk. Ellie's consumption of non-edible items extend to crayons, paper, the tips of colored pencils, and markers. Yes, markers and by that, I mean the tip as well as biting through the plastic. All of our board books display teeth imprints. Most of Ellie's clothing has little holes along the collars from where her pointy teeth have poked through. Then there is the mouthing. The mouthing of blocks, Little People toys, balls, balloons (dangerous!), and any toy in general.
Ellie has
sensory processing disorder
mainly with oral seeking tendencies. Everyone has some sensory issues, but Ellie's affect her ability to function as a little girl--she has trouble playing and she has difficulty interacting with friends. I have frequently heard "Ellie ate my chalk!" and "Ellie, we don't want to play with you because you chew our toys". As a mama bear, I want to cry. I want to shelter her and place her in a protective bubble. I want to yell at the kids even though they are correct-she does eat their chalk and toys. However, I know that none of that will solve anything. Ellie needs to have her oral cravings satisfied, but not at the expense of her social life.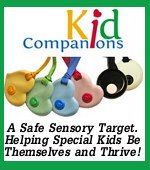 I was recently contacted by
KidCompanions Chewelry
to see if one of their products would help Ellie and her intense mouthing, chewing, and gnawing. They graciously sent one of
their necklaces
for Ellie to try. I was a bit skeptical. Would Ellie actually wear this thing around her neck? Would she actually chew it?
Go back and look at the top photo--Yes, Ellie is actually wearing her KidCompanion necklace AND she is not eating chalk. She is. . . drawing with it!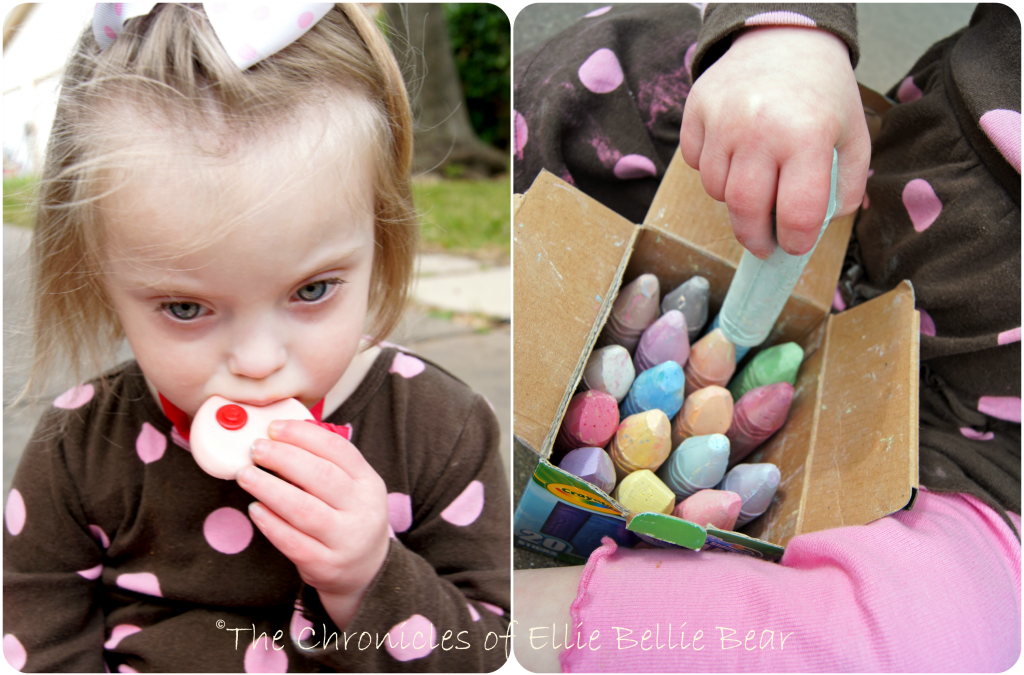 Do you see?! There is no chalk around her mouth!
As a parent, here are the characteristics that I like about the
KidCompanions Chewelry Necklace
:
I am going to state the obvious here: it is a necklace! As in worn around the neck. As in my daughter can attempt to throw it and it is still there. She can keep it in her mouth and still use both of her hands to manipulate toys or torment the dog. When she lets it drop out of her mouth, it is still there. What all of this means is: it does not get lost! (they also have clip-on options as well, but Ellie is a fashionista and needed the necklace)
It is safe. It has a break-away type clasp in the back. If Ellie decides to yank on it or it happens to get caught on a piece of play equipment or a jealous child tries to steal it, the necklace clasp opens and does not choke my beautiful little girl
It is latex-free. Since I am allergic to latex and I have to handle this necklace, this is a big pro. It is also free from lead, BPA, PVC, and Phthalates.
Is is top-rack dishwasher safe. I love that. The Chunky Chicken is a rough and tumble kind of girl. She plays in the sand, mud, puddles (when Texas actually gets rain), paint, and mulch. Sometimes, some warm soap and water just doesn't cut it.
The pendant is extremely durable. Ellie bites and when she does, it is HARD. This thing has stood up to some serious gnawing and biting. Plus, this mama bear no longer has beautiful bruises of various colors decorating her arms and Ellie Bear no longer has red, excoriated sores on her thumbs from gnawing.
Ellie is not a big fidgeter (she is more of a climber), but I am. I am always grabbing my earring or rubbing my fingers along my necklace. I am someone who needs to keep my hands busy. This pendant has a little dot in the middle (Ellie's is red) that is a different texture. It is perfect for rubbing your fingers over.
Here is what Ellie likes:
It is pink and red. Her two favorite colors. . .she got to pick her colors.

Circle vs. Heart
Color choices: white, black, pink, yellow, green, blue
Lanyards--length of 18" or 20, hand-dyed or undyed organic cotton
If Ellie had her choice, she would own all of them because this girl likes to accessorize

She can chew on it and not get into trouble
She can have it in her mouth and still use her hands
She can wedge it relatively far into her mouth to get the molars and not choke or gag
She thinks she is hot stuff wearing a necklace.
KidCompanions
has offered to give away one of their
Chewelry necklaces or clip ons
to a
The Chronicles of Ellie Bellie Bear
reader. To enter, you must be a resident of the United States or Canada. Please leave a comment to this post that includes the necklace you would like if you win--heart/circle, color, length of lanyard, dyed or undyed. Winner will be drawn at random on Saturday March 30, 2013.
*In writing this post, my daughter Ellie received a free Chewelry necklace from
KidCompanions
for her review. The views and opinions stated in this post are entirely of my own.*