Just when I thought I really, truly had everything child-proofed, Ellie Chunky Monkey decides that sinks are positively delightful to sit in.
Seriously, no one warned me about this. (Why don't kids come with WARNING labels and instruction manuals?) I did not learn this in nurse practitioner school. Well, technically we did learn about childproofing and climbing, BUT the climbing was usually about not having drawers open because they could be used as steps.
So how did my little darling of an angel get into the sink? Um. . . I am not entirely sure. You see, I went to put some bath toys into the bathroom and I turned around and there she was. Me thinks she grabbed onto the lip of the sink/counter and used her mad
chin-up skills
while scaling the cabinets with her suction cup feet.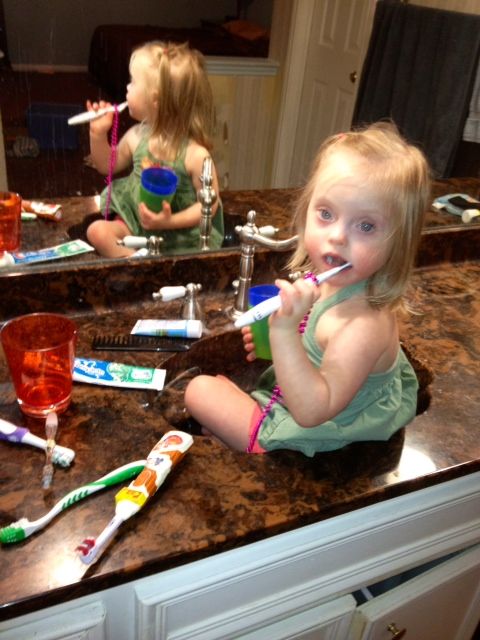 Ellie is really into dental hygiene.
It is important to utilize 4 different toothbrushes all while wearing Mardi Gras beads.
We thought our master bedroom was safe. Clearly not. You see, our house is from the 1970's where it was apparently really cool to have the bathroom sink and a few cabinets outside of the actual bathroom. That means we cannot close off the sink from the bedroom.
Come on! She HAD to turn the water on?
This counts as a bath, right?
Where on earth did this obsession with sinks come from? As a wee little baby, I never bathed her in the sink. I mean, just look at our sinks! They are nasty little cesspools of toothpaste and germs. Yuck!
This morning I thought to warn the preschool of Ellie's propensity to treat the sink bowl as her personal throne of Bearity-Bearness and guess what Miss T said "I though you knew for she has been doing that here for the past few weeks." Gah!
Jillian, look out! This is what you have to look forward to this Fall!
Someone please tell me what is going to be next. Tell me what your kiddo has been up to and how they are causing your gray/white hairs.