This really was meant to be an Easter post, but it really is about a dress.
Growing up Catholic, Easter was
the
holiday. The pentacle of our religion. The celebration of Jesus Christ rising from the dead. The whole family would gather for a huge brunch--grandparents, aunts, uncles, cousins. Usually there was an egg hunt for the little kiddos filled with candy and then the extra large egg that held a quarter. Yes, we wore our Sunday best along with new dress shoes. The Easter Vigil was always beautiful and moving. We would enter the church holding little white candles as our only means of illumination. After 40 days of no singing, the glorious sound of the choir bursting into the Gloria was mesmerizing. To my not-so-very-religious husband, Easter is about
the dress
. He has learned through Facebook, friends, and family members who have little girls that the dress is important. . . I sort of feel like we are talking about a wedding dress and not a little girl's Easter dress!
Location: Play for All Abilities Park
Nonetheless, Ellie's Easter dress was quite adorable. The dress was a gift from her "aunties" Meeta, Preeti, and Jen. Here is the
link for the dress
since so many of you have asked about it. Chick-A-Boom LOVES this dress. It is frilly. It has a pink bow. It is girly. She can wear cupcake leg warmers trimmed in pink tulle with this dress.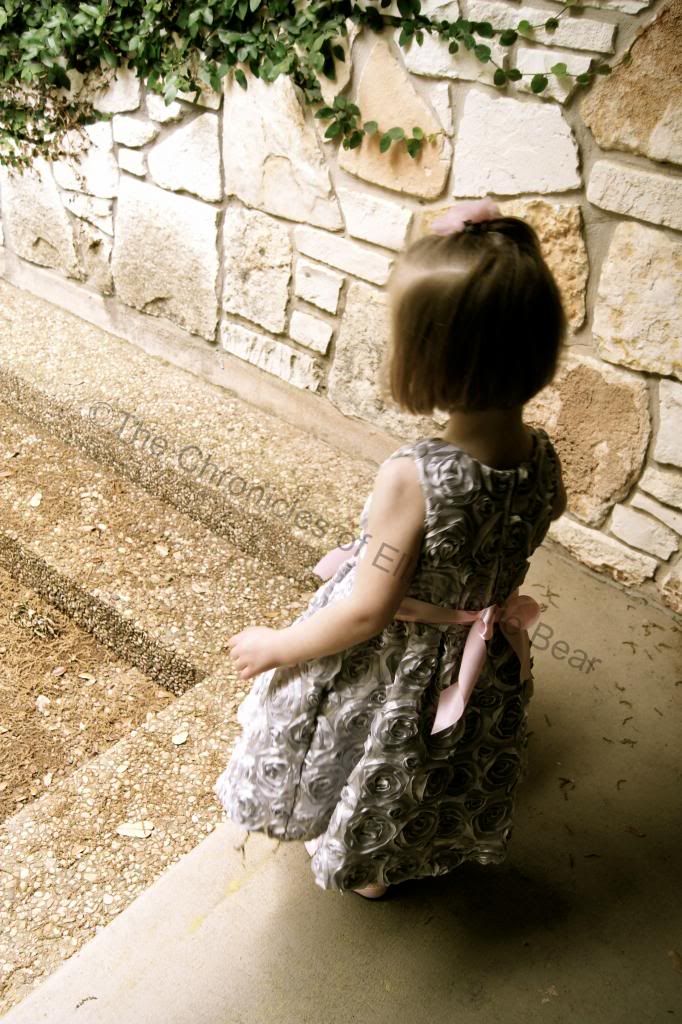 The first time she wore the dress was at the Play For All Abilities Egg Hunt. I wrote a bit about this
event last year
. This is a great opportunity for children who have different needs. It is sensory friendly and accessible. Eggs are "hidden" on the ground, on ledges of the playscape, and hanging from fishing wire--the perfect height for toddlers, those in strollers, and those in wheelchairs. Ellie is just now getting the knack of egg hunting. She gets that you are supposed to take an egg, but she gets distracted. She shakes the egg. Opens it. Eats the candy. Closes it. Then Opens it again. Tries to close it. Repeat and repeat. She finally puts it into her basket. In most egg hunts, that would have been her only egg because she spent all that time manipulating that one and only egg. At the All Abilities Egg Hunt, the eggs are in obvious places and each child is allowed 12. No more. Plus, the parents are allowed and encouraged to help out their children. The egg hunt is overwhelming? No worries, there are swings and a merry-go-round low to the ground! Having trouble waiting your turn to join the egg hunt? No worries, there is plenty of room in the sandpit! Petrified of the Easter Bunny? Again, no worries as half the kiddos there are scared too. Can you tell that I love Play for All Abilities?
Note the cupcake leg warmers on the left.
I have no idea why she is studying that egg so intently. I think I put Little People in there or a princess sticker.
Don't ask about the cups. She is obsessed with them and had to accompany her on her egg hunt.
Easter was a laid back event at the Theurer household. We have plans to visit my in-laws in Plano next weekend and my parents stayed in St. Louis. To celebrate, we invited over a few friends of ours for Easter lunch. . . Texas style. Translation: smoked brisket, potato salad, beans, and berry cobbler. I assembled little Peep Bunnies driving a Twinkie car for the kiddos. Just before the guests arrived, I heard
smack smack smack
. Someone, who goes by the name of Bear, retrieved these sugary concoctions from the middle of the kitchen island. Both Twinkie cars were missing their pretzel wheel and one little Peep was missing half his car. Yep, that's my girl. Climbing and devouring pure sugar.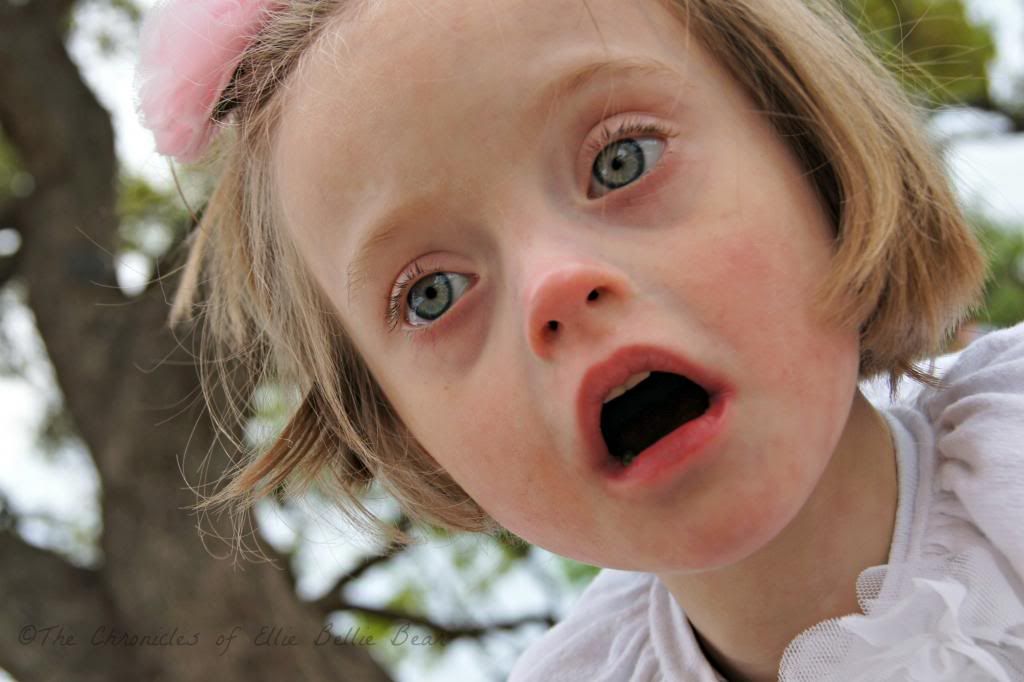 Well I am not really sure where I am headed with this post other than Ellie wore a dress that she refused to take off. The Play for All Abilities Park had a great inclusive egg hunt and my husband smokes a good brisket. Finally, next year I will only give Ellie empty eggs in her basket seeing as that there is nothing she likes better than opening, closing, and stacking those colorful pieces of plastic!