In true Anxious Anna form, I started to feel the time crunch about the
2nd
1st week of December. I tend to live in a perpetual state of stress, but like so many others, the Holidays do me in. I then did the unthinkable. I wrote an email to my family explaining the State of Affairs in the Theurer Household. It looked like this:
Hi everyone!
First off, we are super excited that the family will be together this Holiday season! Our tree is up and only the bottom half of the lights are working. I am hounding Andrew to remedy this catastrophe as soon as possible. I have our snowman mugs out and ready for coffee and tea. And hot chocolate! Today I will be wrapping the gifts. Do not be alarmed by the shoddy wrapping job. I am using real tape this year and not packing tape. You all should be relieved that pocket knives will not be required to open gifts this year :)
Now onto the important matter. . . the house will not be clean. I have 5 excuses:
I have 2 cats, a long-haired border collie, a rambunctious preschooler named Ellie, and a husband.
The husband is the problem. He doesn't put anything away. He also brings in stuff from the garage. Things that I don't even know the name of. The dog herds the vacuum. This means that as I vacuum, more hair is being shed. It is a no-win situation. (yes, I have tons of allergy medications on hand). The cats are relatively clean unless they are leaving me presents in the form of dead woodland creatures, but those tend to stay outside. The preschooler. . . well, her playroom is also the guest bedroom. Mom and Dad, not to worry, there will at least be clean sheets and the Little People shall be corralled into IKEA bins. As for the guest bath. . . well, it seems to be the bathroom that everyone uses. Including the dog. And the cats. You see, when ever Ellie and I enter the bathroom, the fur babies seem to think they need to follow us in there. I suppose they are supervising Ellie's potty training efforts. I am cleaning today. The house will probably remain clean for about 3 hours. I am apologizing in advance for the hurricane that has gone through the bathroom. The important thing is that there will be toilet paper and clean towels. And hot water.
M and A, you get the best deal of all. . . your own SOUND PROOF space. In fact, I may be joining you during your stay to escape the madness. Just kidding! The chairs in the room recline so if you want to sleep on those, Matt, that would be fine or we can lay out my sleeping bag. Think of it as camping! Please ignore the dining room/office/storage facility that you see when you first walk into the "in-law" suite. It is a multipurpose room and it is best to just ignore it.
......... [a bunch of private stuff not for blogging eyes]...........
We are going to X prior to everyone's visit. This is why I am cleaning now. We do not drive back until Christmas Day. This is a 4 hour drive. It isn't horrendous, but I will not be cleaning on Christmas Day. So, this is why I am cleaning now! This also leads me to. . .
. . . our lack of groceries! If we buy them before our X trip, they will go bad. The stores are closed on Christmas Day. This means I will be out scavenging for food on the 26th. I know that it will be your first full day in town, M and A. It also means that we will be feasting on donuts that morning for breakfast. Yum!
I think that I covered everything. Hopefully, you all will enjoy your visit. I know that we are very happy to have everyone under one roof :)
Love you all,
Anna
I confessed my shortcomings and the thing is, I actually followed what I wrote. I didn't clean. Sure I laid out clean sheets and towels. Yes, the bathrooms got a quick swipe, but that was it. I didn't even
try
to be superwoman. I let it all go. Instead, I focused on the important things like this:
My Snuggle-licious Husband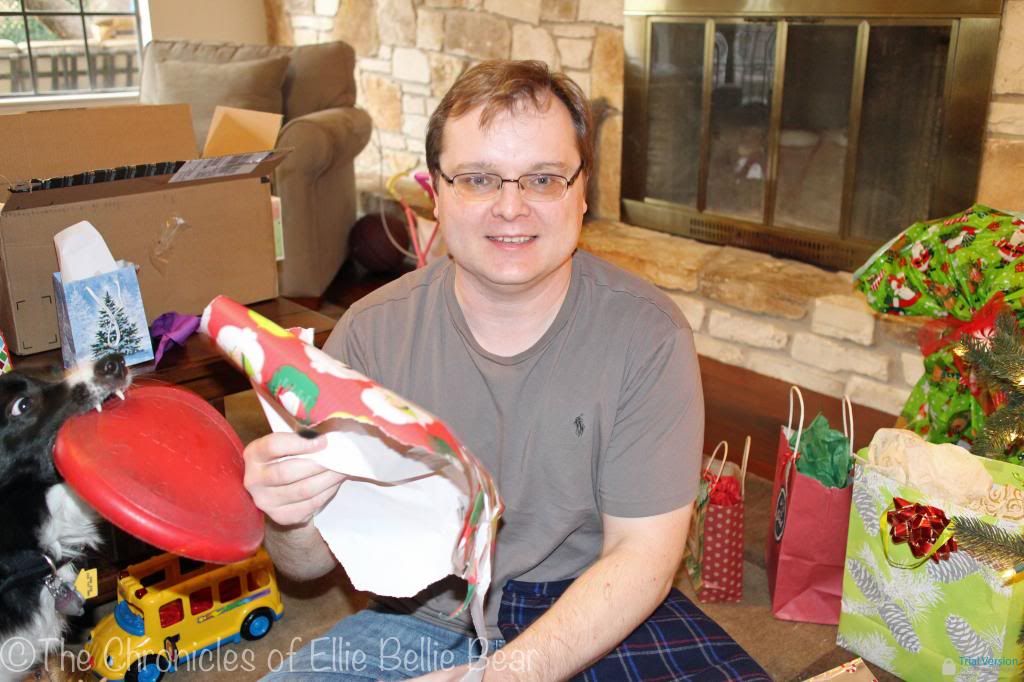 Check out Sophie Dog photobombing on the left. See those fangs? The Princess Puppy brought that frisbee through the dog door. Apparently opening gifts = fetch time
Family Traditions
Left: Ellie with Grandma Dunja. Yes, she is wielding a heavy meat mallet to make schnitzel
Right: Ellie with Awa Grandma helping herself to the flour for our annual sugar cookie baking.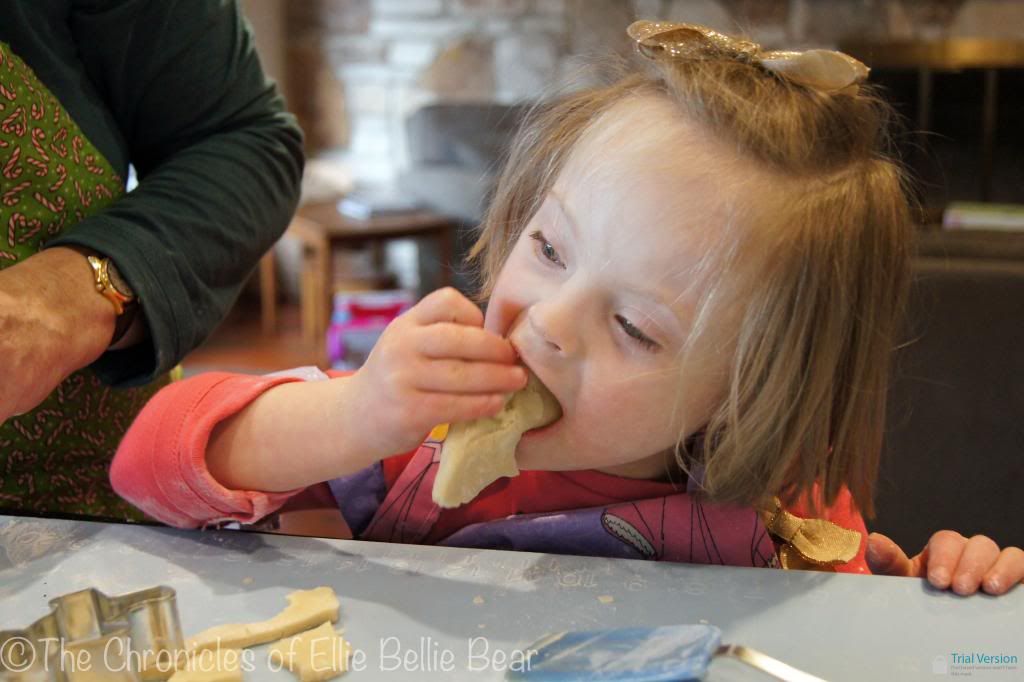 I enjoy building up Ellie's immunity against salmonella
Prime Rib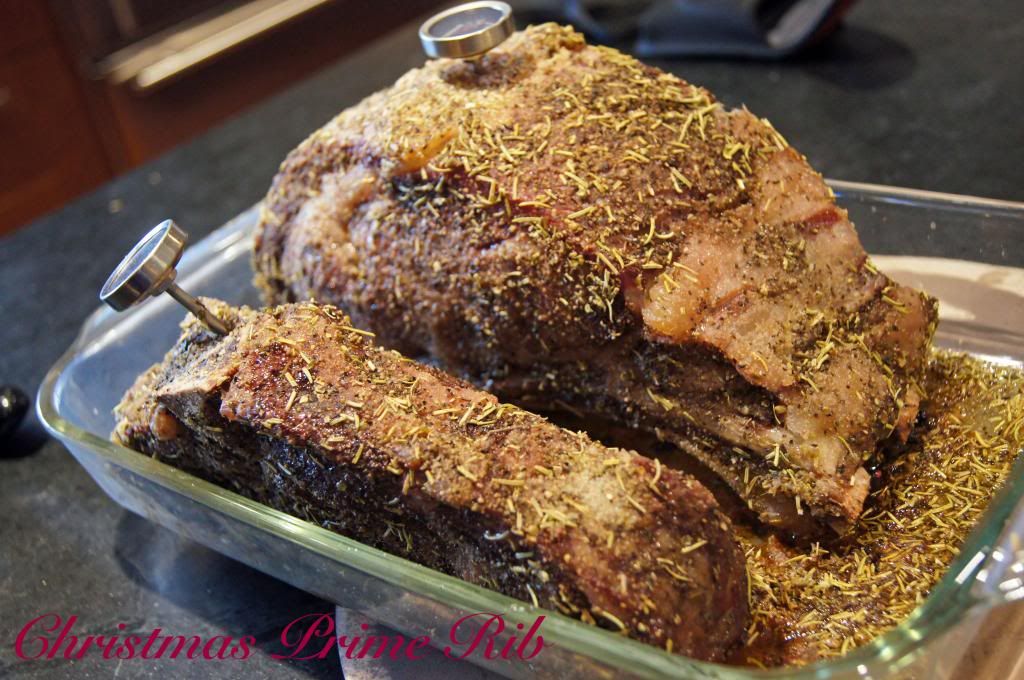 Isn't it beautiful? It was quite delicious.
Presents. . . just kidding! It isn't about the presents, but I did enjoy watching Ellie's little face light up.
Did I mention Family?
My brother Matt who is Ellie's most favorite person. She said "Un-Cah" [uncle]. Amber is my future SIL! She is fabulous, but I forgot to ask permission to share her photo with the world. She is as friendly as she is gorgeous. Matt is very lucky :)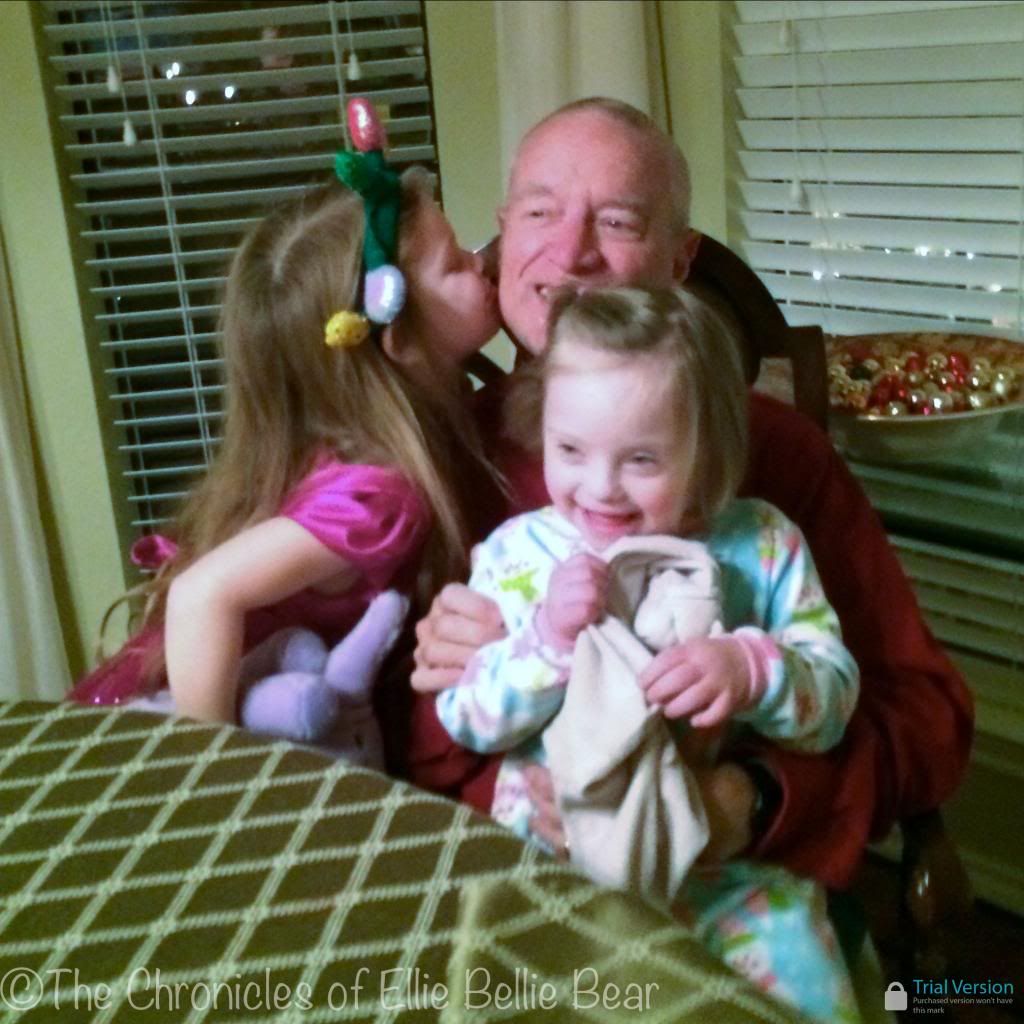 Ellie, Papa C, and my beautiful niece H
The Christmas cards are still sitting on my desk. I actually ordered them on-time and then ran into a stamp problem. As in I didn't buy enough stamps. Seeing as the post office in December elicits panic attacks from me, I never rectified the problem. I apologize to you all who didn't get an actual card from us this year! The laundry is threatening to take over the master bedroom and little pieces of wrapping paper are still littering the already dusty, fur-covered floor. Yet, I am going to sit down with a cup of coffee, a little bit of Christmas chocolate, and snuggle with my loved ones . . . while staring at a half-lit Christmas tree.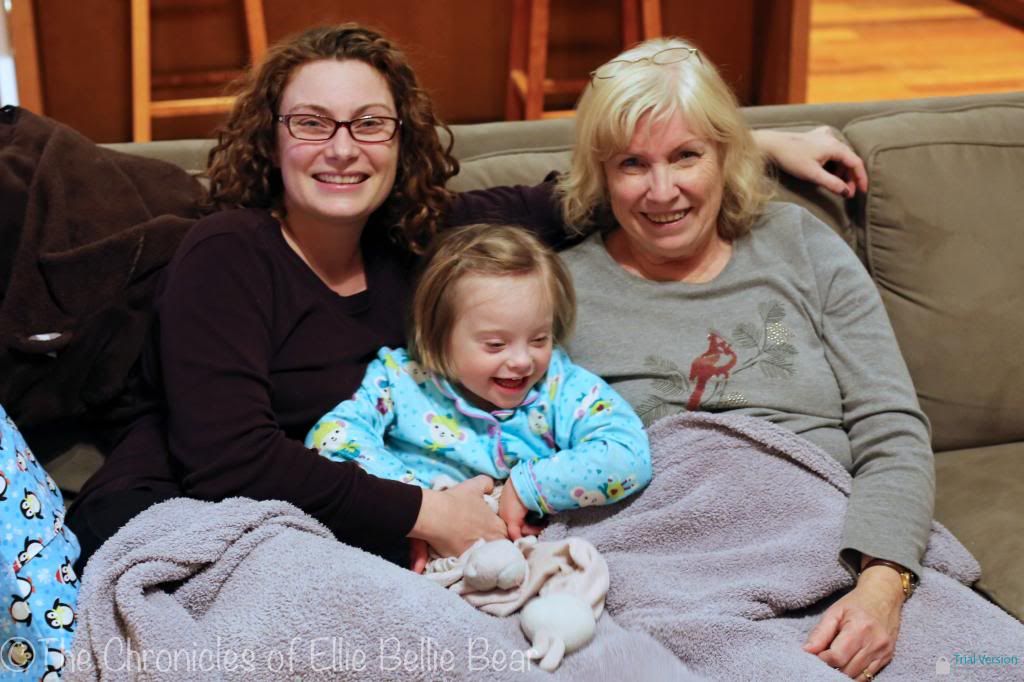 Three Generations of love.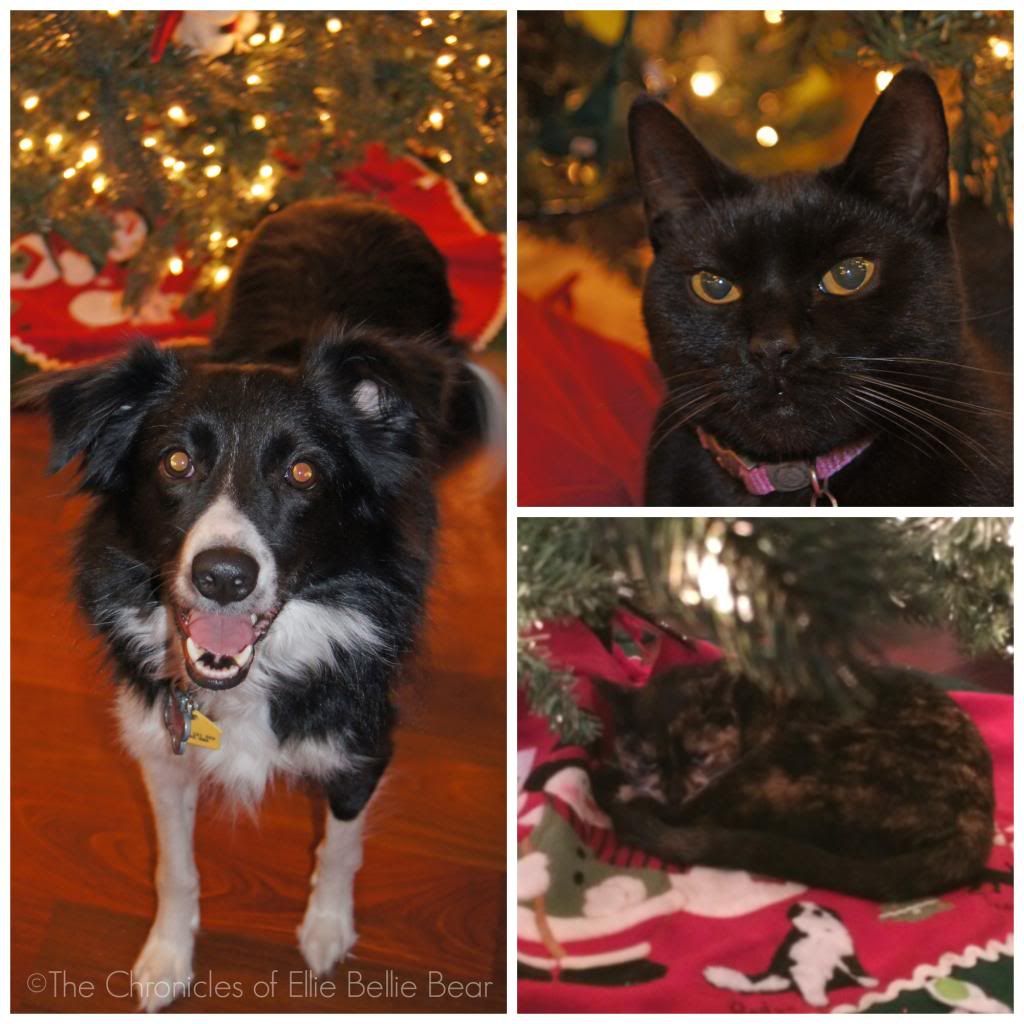 My 4 legged children--Sophie, Tama, and Amelie
We are wishing you all a very happy, safe, productive, healthy 2014!