A few weeks ago we hosted a Minnie Mouse Birthday party. It was essentially a huge playgroup with Ellie's closest buddies. I forgot to ask permission from the parents to include photos of their kids so you must resign yourself to seeing only photos of Ellie.
Welcome to Ellie's Bow-Tique!
I made this tutu. She wore it for about 5 minutes. The 5 minutes it took to snap a few pictures. It took me must longer to make this tutu. That being said, a photo can last forever.
I ordered this personalized shirt from a vendor (doodlebugdesigns) on
Etsy
. I really like how it turned out.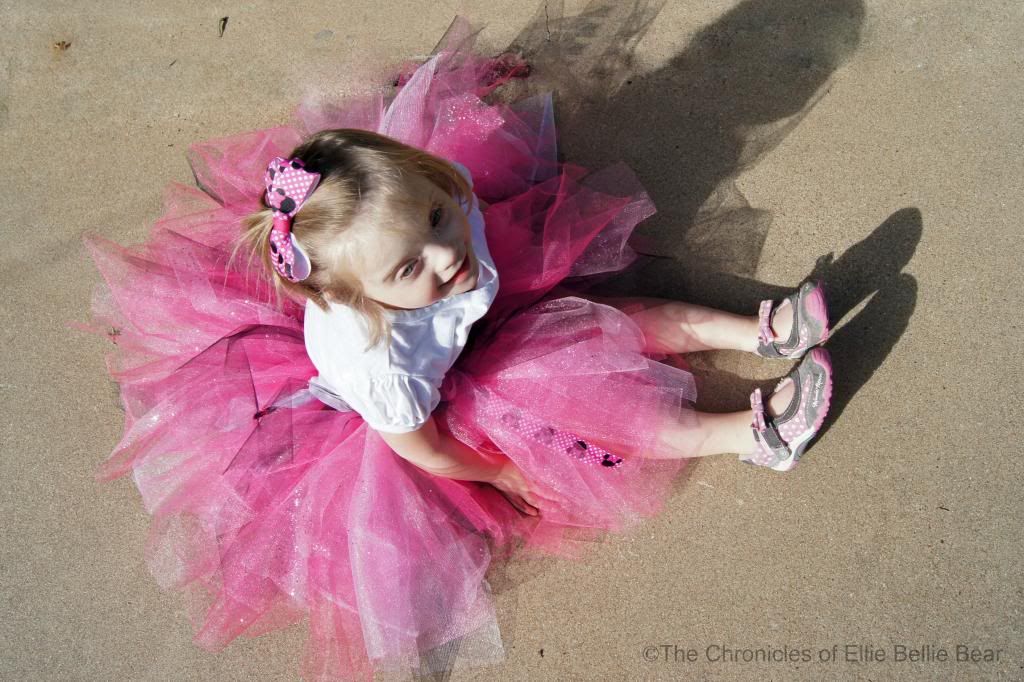 Complimenting Minne Mouse hairbow--Me! I found the ribbon at Hobby Lobby. Hairbows are super easy to make. There are all sorts of super easy tutorials on Pinterest or you can just Google to your hearts content.
So the Bear had the outfit. That she didn't even wear to the party.
Random fact: I can bake. . . but it never looks pretty. Yet, it tastes scrumptious and that is the important thing, right? Right? I found the Mickey Mouse cookie cutter on Amazon and used it to cut out rice krispe treats. I melted Wilton's chocolate and dipped the ears into it. I would like to thank my fabulously crafty friend Megan for this idea.
The cupcakes were baked from a new and awesome recipe. Thank you, Pinterest!
Perfect Vanilla Cupcakes
by Tide & Thyme and they do taste perfect. The blogger's confections are gorgeous. Like what you would buy from a bakery and pay the big money for. Mine, as you can see, look like Ellie decorated them. Which she didn't. She would eat all the icing. I thought that the pink sprinkles would add a little oomph. Or at least distract you all from my icing mishaps.
The icing. . . well, go with your favorite icing recipe or better yet, buy it!
Anna's Vanilla Buttercream Icing
1 stick (8 TBSP) Butter, room temp
2 tsp Vanilla Extract
4 cups Powdered Sugar
3-4 TBSP Milk
Place the butter, vanilla, and 1 cup of powdered sugar in a large bowl. I used a stand up mixer to blend for about 30 seconds or so.
Alternate adding 1 TBSP of milk and 1 cup of powder sugar. Mixing about 30 seconds each time or until well incorporated.
Beat for another 1 minute until fluffy.
Taste it. Taste it again. Perhaps taste it for a 3rd time just be sure it is okay.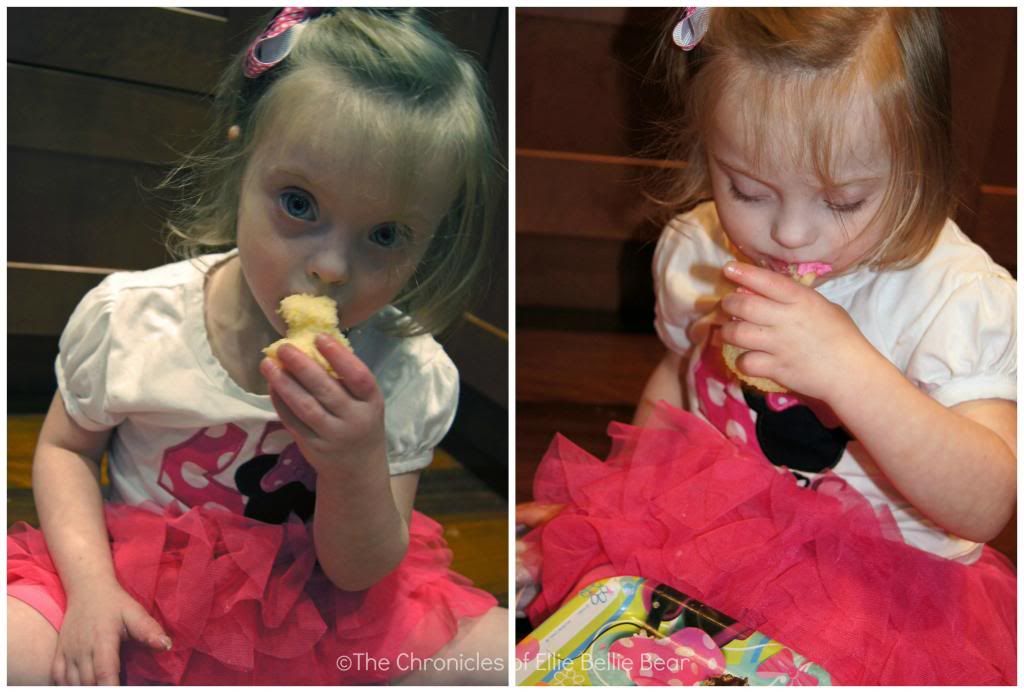 My official taste tester. Yes, she is sitting on the floor. We didn't have enough chairs and table space for everyone.
The birthday banner was another result of Pinterest. There is a free template to print out on card stock. It can be found here at
Sugar Fresh Designs.
I found the tiny little pink polka dot bows at Hobby Lobby. In a HUGE bag. They are taking over my house so if anyone needs some. . .
Target is your friend when it comes to party favors. Especially the $1 section. I found plenty of coloring books, stickers, and temporary tattoos in the $1 section at Target. I found little boxes of Minnie Mouse crayons at Party City. Each ridiculously bright pink Minnie Mouse bag contained a bow that I constructed with Minnie Mouse ribbon from Hobby Lobby. Now don't be too impressed. Bows are super easy to make and you get to use a hot glue gun. Check out Google or Pinterest for instructions on how to create hair bows.
Seeing as no blood was shed during this shin-dig and everyone ate something, I consider the party a success!