Exasperated is what I am feeling right about now. I had been so worried about kids being mean to her because she is different that I never thought about Ellie being the kid hitting and shirt pulling. I was so worried that kids wouldn't want to be friends with her because of her Down syndrome that I never thought she'd have her aggressive, grabby behaviors would prevent her from forming friendships with kids in her class.
My daughter, while her intentions are innocent and are not maleficent, is not very kind to her fellow classmates, therapists, or her own mother. When she doesn't want to do something, she lashes out with her hands. Slapping at us. She doesn't want to wear shoes, I get hit. She doesn't want to work on that book with her therapist, the book gets hit and shoved violently away.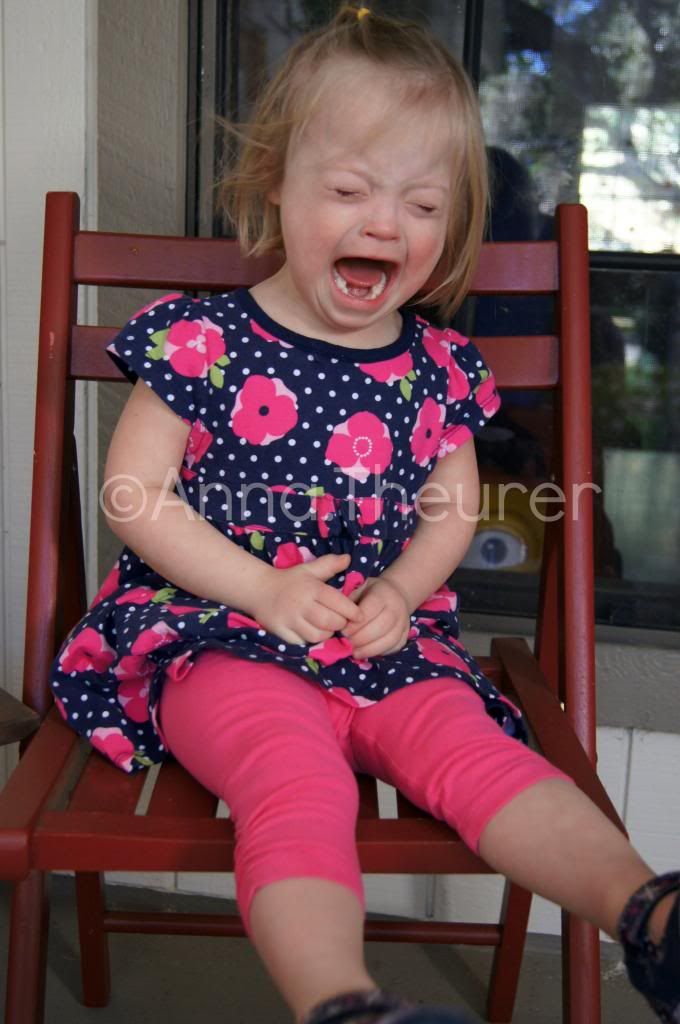 She has something the school and I call the "arm sweep". It isn't exactly shoving, but rather a sweep of an arm to move a child away from her. Some of these kids are up in her personal space (although Ellie has no concept of other people's space--sure, let me climb all over you and sit in your lap) and she performs the arm sweep to move them away. A child may be on top of the slide waiting to go down, but my impulsive little
angel
performs the arm sweep and goes barreling down the slide.
Then there is the shirt pulling. It used to be she grabbed a kid's shirt or hoodie if it was brightly colored. Or sparkly. Especially if it was sparkly. Now she does it to physically pull the "friend" to her. It is her not-so-very good way of saying "play with me". What child wants to be strangled with their shirt by a grabby little 4 year-old?
If you are an adult, hold onto your glasses. Many times Ellie steals glasses to perform a "trade". An, I give you my necklace, hat, or sunglasses for your glasses or hat. She likes to use my glasses for a trade. She also likes to remove my glasses in a huff because she is angry at me. She knows it irks me so I am trying to be much calmer and use a nice soft voice. It may or may not be working. I cannot tell.
Yes, she has communication difficulties. Yes, she has social deficits. Yes, she has a naughty temper.
I have the mean kid at school. The kid that "arm sweeps". The kid that is "grabby" and "can't keep her hands to herself". The kids that pulls shirts and slaps at adults. I have the child that will have trouble making friends because who wants to hang out with the kid that might hit them.
I have learned that immediate consequences do not change her behavior. Immediate scolding. Immediate time outs. These do nothing. She repeats the undesired behavior. . . immediately. We are working with Ellie's ABA therapist and have started a
Social Story
on the iPad. This story has sad and happy pictures of Ellie and myself. It has audio that goes something like this "hand are not for hitting. hands are for eating. hands are for drinking. hands are not for hitting.". We are also showing her how to use "soft hands". The school and I worked together to find a
PEC
that Ellie can use to say "I want to play." rather than shirt pulling. The kids at school are told to say "Ellie, hands down". I do not know if any of this will work, but my heart is broken. I want my daughter to have friends and to be loved. Plus, I am tired of getting beat on.