It has been far too long since I last wrote. Life seems to be speeding by at a fast pace lately and I don't want to miss one minute of it! Every time I sit down to write, I am called away and as such a few weeks pass and so here I am trying to get all caught up on writing.
Earlier in March, Ellie and I headed off to Connecticut to visit my best friend Megan for Spring Break while my husband stayed behind and installed a ridiculously large hot water heater (Yes, this would be the hot water heater to replace the one that went out back in December. Yes, I said December. Yes, I have more pictures with a story behind the laundry room demo, but that is another blog post all together.). I also have the most awesome laundry room sink, but those pics will come later. As in once the laundry room has walls and the sink is hooked up and well just check back in a few months.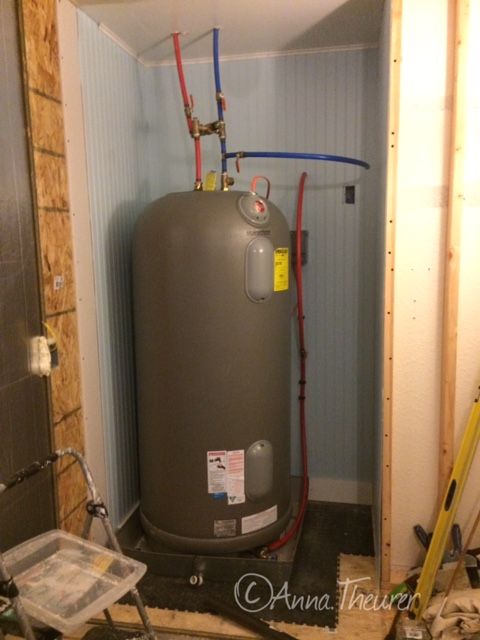 My beautiful, energy efficient water heater.
It is actually located in what used to be a doorway to a closet.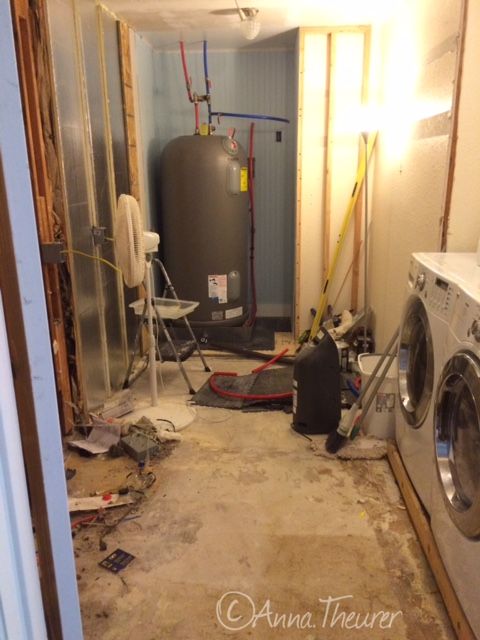 Our ridiculously large water heater wouldn't fit in the original laundry room.
So we knocked down a wall that connected the old laundry room to a closet.
The washer/dryer are in the old laundry room and the water heater sits in what used to be a closet.

Moving on! Ellie and I took a 6 hour long flight to Hartford where I was
finally
reunited with my best friend. It had been
years
since we had last seen each other and while "distance makes the heart grow fonder", I really wish there weren't so many miles between us. Megs, I am signing the "Lonely" song for you right now.
Aren't they beautiful? You know what? Megs is pregnant in this pic!
I am going to be an "auntie" again!
The Chunky Chicken was awesome on the flight up there. We had a 2 hour layover in Atlanta and that was fun. Well, not really and I have a few words over Southwest Atlanta's idea of what "disability pre-boarding" is. (Let's just say that they let a bunch of other people [like 30] from another plane board before the 3 people in the wheel chairs and the teenager on crutches. Seriously, I got all assertive and respectfully asked the attendants just how far these people were supposed to walk to their seats and how much of a sensory overload meltdown do they want to see with my Bear? The pilot overheard me and requested everyone in the front row of the plane to move back to accommodate those with ambulatory difficulties.). Anyway, to distract Ellie from all the noise, the altitude pressure, and a small closed in area with a gazillion people, I implemented most of the strategies that I outlined a few years ago with regards to flying. Although not the passenger escort tip. Nor the carseat. Girlfriend was in her seat solo and was pretty proud of being a "big girl just like mommy".
Traveling with a Toddler Part 1
Traveling with a Toddler Part 2
Amazing things happen when you go to a new country. . . er. . . state.
Megan's son, C, is around the same age as Ellie and I cannot get over how much he has grown. Of course, the last time I saw him he was 6 weeks old! It was really good for Ellie to be able to play with another kid her age and being able to see him go through the day-to-day activities such as sharing meals together, bedtime, bath time, car rides, etc. Since Andrew and I cannot provide Ellie with a sibling and our play dates are few and far between, this was quite the treat for Ellie. As as well as quite the developmental nudge that she needed.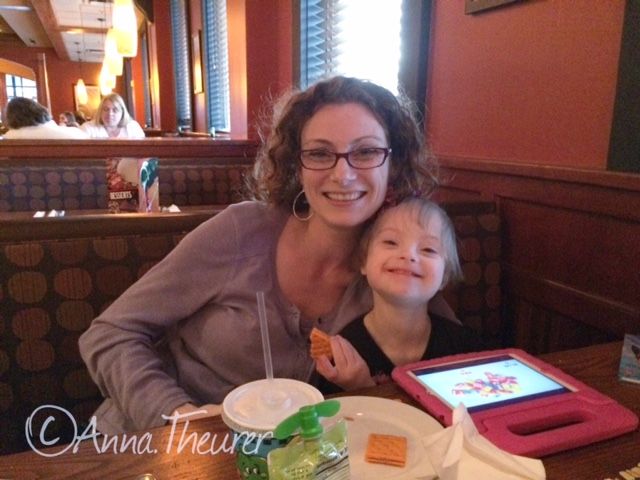 Hanging out at Bertucci's. Bear touched and licked pizza twice.
During the visit, Ellie tried a bunch of new kid foods such as pizza. She didn't like it, but she tried it twice. We are talking about melted cheese, tomato sauce, and crust all together. Like 3 foods touching each other. TOUCHING! This was HUGE! She also tried and loved: a hot dog, multi-grain crackers with Havarti cheese, and penne pasta with artichoke sauce. She actually just hopped into my lap and devoured half of my pasta. . . my dinner. . . she stole it. I about peed my pants with shock and excitement.
AND she
slept
! As in all night for more than 5 hours at a time. On a fold out futon. In a strange place aka the playroom. She slept past 2:30am each night. Did I mention that Bear slept!? As in sleep. As in shut eye. As in counting your Z's. It official, y'all! We are moving to Hartford and into Megan's house for my own sanity's sake. Megan, here we come!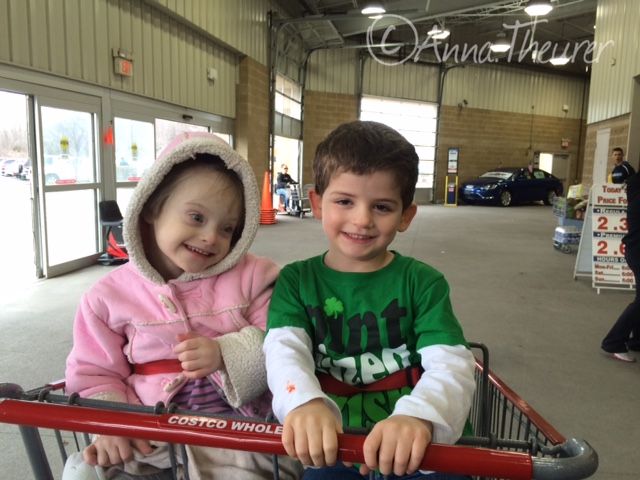 "My darling C with those puppy dog eyes. I just love you. I will sit so nicely next to you
in this cart and share my cracker with Havarti cheese with you."
Oh and girlfriend sat in a Costco grocery cart without screaming, standing, or climbing out. Nor pulling food off the shelves. Or pitching a fit. Or me having to bribe her with ice cream. Why? Because she was
in-love. "Oh my darling, C. You are so handsome and strong and sitting in that cart so nicely. I must sit next to you and make eyes at you. Sigh. "
The most heartwarming thing was to see C and Ellie play together. C would come home from school and ask to see his friend Ellie from Taxis (Texas). He treated her just like any other kid, which is sadly something we no longer see too often, even amongst family. C is a little charmer with a big heart and these big brown eyes that seemed to hypnotize Ellie into being on her best behavior.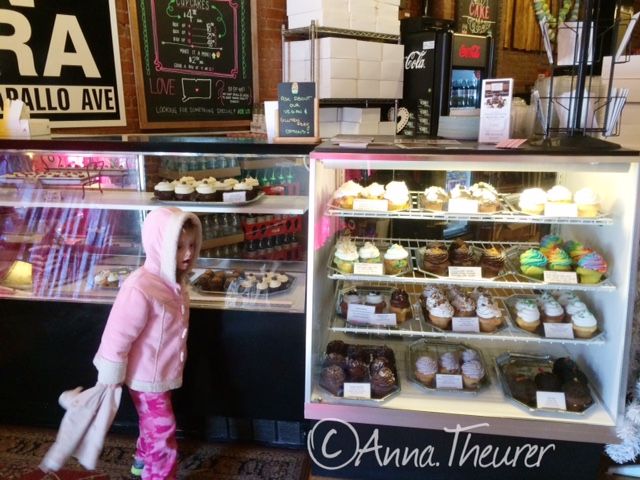 After going to the Kid City Children's Museum, we checked out this local cupcakery.
Bear was so excited to see the mini-chocolate iced cupcakes. Strangely, she didn't eat more than 1 bite
of the cupcake. I am questioning whether or not she is truly my child.
For myself, I have to say that most exciting part of the trip was the lack of electricity for several hours. You know, when you have a well that runs off an electric pump so that you not only have no lights, but also no water? Yep. No water. Not to fear, y'all! Apparently, this occurs more often than my best friend would like to admit as she owns a back up generator. When it became apparent that the power wasn't coming immediately back on or just back on in the near future, the excessively loud, roaring generator gave power to the refrigerators, the well pump, and to some of the outlets in the master bedroom. Most importantly, there was power to the television in the master bedroom and we got to watch
The Mocking Jay Part 1
. It was just like old times.
Added bonus, Megan and I went out alone, together, without the kiddos to a movie. Like a real movie in a movie theater with no lights, stadium seating, and popcorn. Not a TV. Not a sensory screening. Not during the day. But a newly released in-theaters-only movie in a real movie theater at night after dark. Now don't laugh, but Megs and I saw
Frozen Fever
. Yeah yeah, I know. Kid cartoon without the kids. So shoot me. It was fun! "
some day my prince will come. la da da da da".
Oops, wrong princess song.
Facebook Friend Meet!
While in the frozen tundra, Ellie and I had the privilege of meeting up with my other Megan (Megan M.) and her daughter A who made a 5 hour round-trip drive just to see us! Megan M. and I met through Facebook and have chatted on an almost daily basis for a few years and yet, we never met. It was so lovely to see her in person and spending a day with her and her darling daughter. As it turns out, we are both talkers. Every time Megan M. would say"it is time to leave", we would then chat for another 20-30 minutes. This repeated a few times until it was so late, it would be dark for a huge chunk of her drive home! Isn't it amazing how you can form such a connection with a person that you have never met? I am forever grateful for our two daughter bringing us together.
Hello Kitty rainboots. Check!
Double socks, shirted, pantsed. Check!
Borrowed winter coat. Check!
Borrowed hat. Check!
Borrowed snow gloves. Double Check!
You can find most of these things in Austin in March, FYI.
Our visit was over all too soon, but we encountered an unexpected surprise. Ellie and I were supposed to return home on a Friday, but the first leg of our flight was canceled due to bad weather in Baltimore. While we could have been routed through 5 other cites, all flights to Austin were fully booked until late Saturday evening. Thank you SXSW for bringing much business and traffic to our eclectic city of music. Consequently, the Bear and I got to spend the rest of Friday and a huge chunk of Saturday with Megan and family! It also meant that Ellie got to play in the snow. . . something that just doesn't happen in Austin. Being the perfect imitator that she is, Ellie learned how to shovel snow, make a snow angel, and sled as well as get intense sensory input by "tasting" a snow ball. Oh how I miss snow!
Don't worry. . . it wasn't a "yellow snow cone"
Because the flight from Baltimore to Austin was after her usual bedtime, she slept almost the entire way! That means I got to start reading a good book,
Motherhood Unexpected
by Deanna J Smith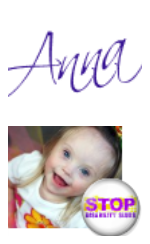 Follow us on Facebook! http://www.facebook.com/annatheurerfitness http://www.beachbodycoach.com/annatheurer https://www.facebook.com/pages/The-Chronicles-of-Ellie-Bellie-Bear/216738345037166